Jump to Footer
D2L: A Quick Start
D2L is a course management system used by Shippensburg University to enhance face-to-face instruction or in our Online courses. To get started with D2L you will need to know the following basics:
Requirements for D2L
About My Home
About Course Home
Requirements for D2L
For students and faculty D2L requirements are:
An Internet connection
A Shippensburg University email account
A web browser such as Internet Explorer, Safari, or Firefox that can accommodate both JavaScript and Java
Appropriate software and hardware
Accessing D2L
Faculty Email Accounts
As a new instructor you will need to obtain a University ID and a library card. Your department will help you obtain your email account. Once your email account is established, you will need to make sure that your name is listed as the instructor in the courses you are teaching. The information transfer process may take between 24 to 48 hours and you will not have access to your D2L course(s) until your name is propagated through the University, Info.Ship, and D2L systems.
Established instructors do not have to go through this process, and you should automatically be able to access their new courses once they have been generated by the D2L System.
If you are having difficulty with your Shippensburg University email, you should contact Computer Services at x4357 or you can visit their help page at http://www.ship.edu/its/helpdesk/faculty/.
Student Email Accounts
Students should already arrive in class with a Shippensburg University email account. Students who have their email forwarded to other email services such as Hotmail or AOL may not receive email. Please emphasize the need to use their un-forwarded Shippensburg email account when communicating in D2L or with any communications with you.
Students having difficulty with their email accounts should first read the instructions listed on http://www.ship.edu/its/helpdesk/student/student_e-mail/ and if they are still unable to solve the issue should use this alternate email account to send a message (helpdesk@ship.edu). Students should include the error message they received during login. Students may also call X4357 or bring their student ID card to the Student Help Desk in Math & Computing Tech Center Room 054 for assistance.
Logging in
Location: http://d2l.ship.edu
Username: Full Ship Email Address
Password: Ship Email Password
About My Home
The My Home page is the starting point to D2L courses.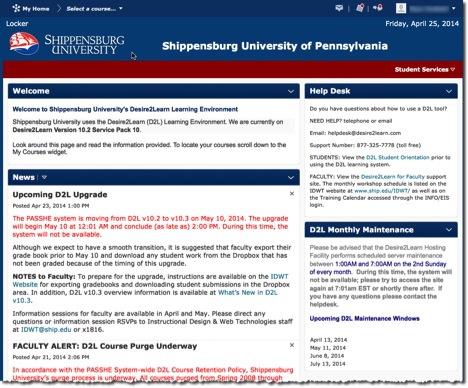 Included on the My Home page are the following areas:

My Home
This link remains present whether you are in the My Home or Course Home page and provides a way to return to the My Home page.
Select a Course
Use this drop-down menu to make quick course selections and pin courses to the top of the menu by clicking on the pin next to the course name.
Alerts
The alerts let you know when you have updates for specific areas of the D2L site. 1. Message alerts

 let you know when you have a new message, 2. Update alerts 
let you know when you have new or updated posts and upcoming due dates, and 3. Subscription alerts 

let you know when there are new discussion posts or posts in forums or topics that you subscribed to.
Personal Menu
The personal menu links you to your personal Profile, Notifications Account Settings, and the Log Out option.
News
The News widget contains system announcements such as maintenance windows.
My Courses
The My Courses widget provides links to courses listed by semester.
Help Desk
The Help Desk Widget provides a link to the 24/7 Support Center and the D2L Student Orientation Tutorial.
Admin Tools
The Admin Tools Drop-down menu in the red toolbar that allows access to the Admin Tools that an instructor has access to.
The Course Home Page Overview
From the My Home page, you can choose which course home page you would like to access by clicking on the course link in the My Courses widget or searching using the "Select a course…" button. The Course Home page appears. The Course Home page provides access to course content, discussions, quizzes, grades, and several other tools.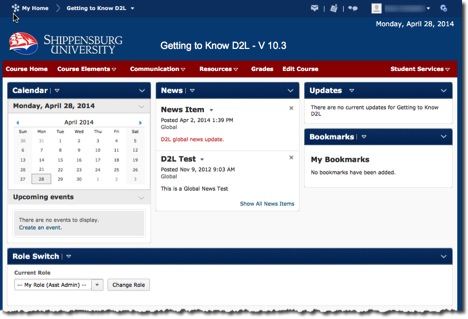 Widgets
On the Course Home page several items will be present. The items contained within separate windows are referred to as widgets such as News and Calendar. The widgets in this document are default and may be customized.
Calendar
The Calendar widget allows instructors to place personal or course events on a calendar.
News
Important course announcements, such as due dates, are displayed in this widget. This widget also contains the search feature.
Updates
The Updates widget contains to-do items in the platform such as ungraded or unread quizzes and is available to instructors and students.
Bookmarks
Allows you to create bookmarks to content items.
Course Tools
Faculty can choose which tools are available on the navigation bar (Edit Course/Navigation & Themes). The course tools are located on the Navigation bar. Descriptions of each are listed below.
Course Home:
Returns you to the Course Home page.
Course Elements:

Checklist
Instructors can create checklists to highlight important aspects of their courses and students can use them as a guide for a specific assignment or for a specific unit in the course.
Content
Contains course-specific modules and topics. Topics may be in HTML format or consist of multimedia such as PowerPoint slide shows. Clicking a module or topic link allows you to navigate through detailed information one topic at a time.
Discussions
Takes you to the forums and topics list pane where you can read messages of classmates and post your own messages on a specific topic.
Dropbox
Contains folders for uploading files for faculty members to view when available.
Quizzes
Provides access to quizzes.

Communication:

Chat
Allows you to exchange information with class members and the instructor(s) in real time. Clicking chat displays a list of chat rooms available to the course. You can enter a chat room or create your own.
Classlist
Displays the names and email addresses of faculty members and students enrolled in the course. Users highlighted with a yellow background are currently online. Users with a white background are currently offline. Here you will also find tools that allow course members to submit information for a profile or a website.
Groups
Set up, edit, or enroll users in groups; create group work areas. Allows faculty to create a designated number of groups of a designated size. Faculty can then enroll the students manually or the students can enroll voluntarily.
Online Rooms
Blackboard Collaborate is a system that combines Wimba and Elluminate to provide a better learning experience through online, blended, and mobile learning.

Resources:

Attendance
Allows you to track student attendance.
Calendar
Allows faculty to edit the course calendar which the students can then view.
Locker
Allows faculty to create checklists for students to view.
Surveys
Allows faculty to create, administer, edit, copy, view, and delete course surveys.

Grades:
Displays grades received on assignments and quizzes. Specific statistics and comments associated with each item may also be available.
Edit Course:
The Edit Course link provides access to the following areas:

Course Offering Information
Edit the Course Offering name or code, change the colors used for this Course Offering, change the location where files are stored, or modify other settings.
Homepages
Select a homepage to use for this Course Offering, edit the appearance of the current homepage, or create custom widgets for the homepage.
Widgets
Create, edit or delete widgets. Share widgets across the organization. Upload thumbnails for custom widgets.
Import / Export / Copy Components
Import course components from a file or copy them from another org unit; export components to a zip file.
Intelligent Agents
Create agents to notify users of course activity.
Manage Files
Upload and delete files, create folders to organize files, or create content topics from files.
Tools
Activate or deactivate tools for this Course Offering, rename tools, or customize tool help.