Jump to Footer

LGBTQ+ Pride at Ship!
This center offers a focal point in making the institution an inclusive and supportive environment for all university community members, including lesbian, gay, bisexual, trans, queer students and their allies.
The center offers:
A welcoming and safe environment
A wide variety of helpful resources and referrals
A commitment to trusting relationships
A place of contact for concerns related to LGBTQ+ communities
We encourage members of the LGBTQ+ community, as well as family, friends, and supporters, to explore our website. You will find information regarding "coming out," upcoming events, Safe Zone trainings, and organizations at the university. We also have provided links to connect you with community resources and LGBTQ+ news.
LGBTQ+ (lesbian, gay, bisexual, transgender, queer) as an initialism is an attempt at recognizing myriad of complex and intersecting identities within this population. Yet, it is not an entirely-inclusive term. For example, individuals with a spectrum of additional identities often go unnamed and may feel further marginalized with the singular, overarching usage of LGBTQ+. If you would like more information about other terminology related to the LGBTQ+ community, please check our definitions tab.
Events on Campus
Safe Zone - Open Sessions
Student Open Session
Oct. 9th | CUB MPR A | 3:30-5:00pm
Faculty/Staff/Administrators
Oct. 10th | T-Room | 12:00-1:30pm
National Coming Out Day
Oct. 11 | CUB Amphitheatre | 1:00-3:00pm
Come out to the CUB Amphitheatre to celebrate coming out, raise awareness, and support the LGBTQ+ Community. We would like to honor all who have come out as LGBTQ+ or as a straight ally for equality.
Out For Work
Oct. 11 | Orndorff Theatre | 3:30-4:30pm
Learn about LGBTQ+ identity in the workplace with a panel and discussion. This event is sponsored by the Career, Mentoring, and Professional Development Center.
Speaker in Honor of Transgender Day of Rememberance
Nov. 29 | Grove Forum | 3:30-4:30pm
In honor of Transgender Day of Rememberance (which is observed November 20th) President of TransCentral PA, Joanne Carroll, will be coming to campus to speak on Aging within Trans Communities. This is in collaboration with the Gerontology minor and LGBTQ+ Concerns Committee.
Lavendar Graduation
April 28 | CUB MPR | 3pm
A Lavender Graduation is a ceremony meant to honor LGBTQ+ and ally students to acknowledge their contributions to the institution, prior to them graduating. Please note that this event does not take place of the University Commencement. If you are graduating in 2019, please look for more details in the Spring semester. This event is co-sponsored by SU Women's Center, Multicultural Student Affairs Office, LGBTQ+ Concerns Committee and Dining Services.
Candlelight Vigil for Orlando Victims
Students speak out about Orlando --Chambersburg Public Opinion
Don't Say...
The Shippensburg University Student-Athlete Advisory Committee launched a "Don't Say" campaign as a way to create an awareness of the inappropriate language used toward various groups of people. Go to the the SAAC homepage to check out the campaign in full!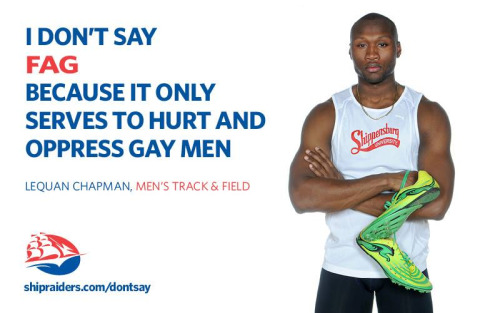 What LGBTQ+ students want their professors to know…
Here's a quick video that captures the diversity that is gender & sexual identity and highlights key issues and concerns!