Jump to Footer
Wireless (Wi-Fi) Access on Campus
Wireless Internet access (Wi-Fi) is available campus-wide in all academic buildings, residence halls, and even in many outdoor areas.
Connect to Wi-Fi
To connect to Ship's wireless network:
Choose the "Connect to network" option on your computer. In Windows, this can be found by clicking the Wireless icon in the system tray (beside the clock), or on the menu bar on a Mac.
Choose ship from the list of available networks.
Open your web browser (i.e. Internet Explorer, Firefox, Chrome, Safari, etc.) and browse to the page of your choosing.
If this is your first time connecting, you will be re-directed to the network registration page. Enter your Ship e-mail address and password to register your device.
shipsecure Secure Wireless Access
Shippensburg University now provides shipsecure, a wireless network that enables an encrypted connection to our servers and the Internet. While on campus, you will see two available wireless networks. The first will be the University's current open wireless connection (seen as ship), while the second will be the secure wireless connection (seen as shipsecure).
shipsecure provides protection against password, identity, and data theft. The secure wireless connection is the recommended connection for users who have this option available to them. In order to connect to the new secure wireless network, users will need to follow the walkthroughs below based on the operating system they are using.

---

shipsecure Setup Instructions
Click on the links below to view walkthroughs for setting up shipsecure on your device...
---
Wireless Map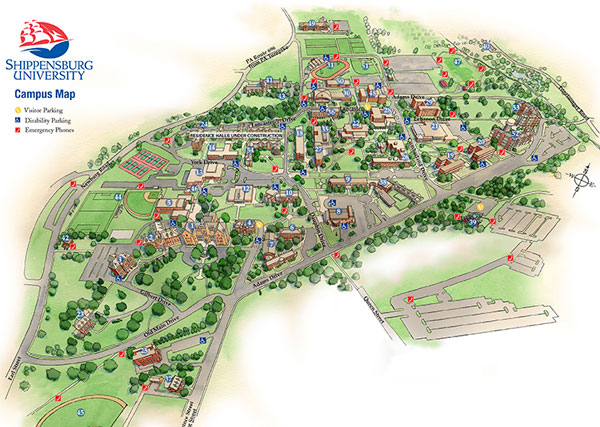 | | | |
| --- | --- | --- |
| # | Building | Description |
| 49 | Conference Center | Coverage in Main Lobby and Conference Rooms |
| 28 | Ceddia Union Building | Coverage Throughout |
| 34 | Etter Health Center | Coverage Throughout |
| 22 | Ezra Lehman Library | Coverage Throughout |
| 36 | Franklin Science Center | Coverage Throughout |
| 3 | Gilbert Hall | Coverage Throughout |
| 36 | Grove Hall | Coverage Throughout |
| 10 | Huber Arts Center | Coverage Throughout |
| 30 | Heiges Field House | Coverage Throughout |
| 5 | Henderson Gym | Coverage Throughout |
| 2 | Horton Hall | Coverage Throughout |
| 12 | Kriner Dining Hall | Coverage Throughout |
| 8 | Memorial Auditorium | Coverage Throughout |
| 35 | Math and Computing Technologies Center | Coverage Throughout |
| 23 | Martin House | Coverage Throughout |
| 1 | Old Main | Coverage Throughout |
| 48 | Performing Arts Center | Coverage Throughout |
| 21 | Reisner Dining Hall | Coverage Throughout |
| 7 | Roland/Shearer Hall | Coverage Throughout |
| 13 | Reed Operations Center | Coverage Throughout |
| 31 | Seth Grove Stadium | Outdoor Coverage |
| 39 | Spiritual Center | Coverage in Most Offices |
| 4 | Stewart Hall | Coverage Throughout |
| 50 | Student Rec Center | Coverage in Main Exercise Areas |
| 9 | Shippen Hall | Coverage Throughout |
| 18 | Wright Hall | Coverage Throughout |
| 33 | Seavers Apartments | Coverage Throughout |
| 29 | Mowery Hall | Coverage Throughout |
| 15 | McCune Hall | Coverage Throughout |
| 16 | Keifer Hall | Coverage Throughout |
| 17 | Lackhove Hall | Coverage Throughout |
| 19 | Naugle Hall | Coverage Throughout |
| 20 | McLean Hall | Coverage Throughout |
| | McLean Hall II | Coverage Throughout |
| | Presidents Hall | Coverage Throughout |
| 41 | Stone Ridge | Coverage Throughout |
| | Outdoor Coverage | Coverage Outside the Following Buildings: Seth Grove Stadium, The Student Rec Center, Ezra Lehman Library, Franklin Science Center, Shippen Hall, Horton Hall, Old Main, Presidents Hall, Kieffer Hall, Lackhove Hall, Seavers Hall, McClean2 Hall, Ceddia Union Building, and Robb Field |