Jump to Footer
Math Placement Testing at Shippensburg University
About the Math Placement Test:
SAT-M (Prior to March 2016)
SAT-M (AFTER March 2016)
ALL Math Placement Testers
Review for Math Placement Test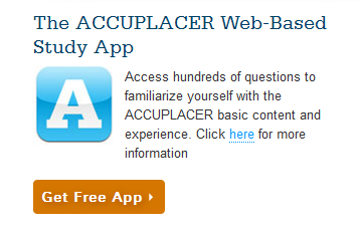 It is highly recommended that you spend time reviewing before taking the Math Placement Test—small amounts of studying can go a long way. If you don't know where to start, go to the ACCUPLACER website and download their free, easy-to-use, and very helpful App. We created a step-by-step TUTORIAL (shown below) that explains how to get started.
Tutorial for Accuplacer App
Creating an Account
Scroll down to bottom of page.
Click on Get Free App.
Click on Add to Cart.
Click on Check Out.
Fill in your information and click Continue.
You will be taken to the Review Order & Pay tab.
Decide if you want emails about new products and product updates. If not, uncheck box.
Click on Continue.
You will be directed to the Order Confirmation tab.
Check the email that you provided and open the confirmation email.
Lastly, follow the instructions provided in the confirmation email.
Using the App
We highly recommend that any student who plans to be a Math, Science, Middle-level Education, or Business major work up to the College-Level Math practice option as it will best prepare you for the questions you will need to answer correctly for optimal Math placement at Shippensburg University.