Jump to Footer
First-Generation Students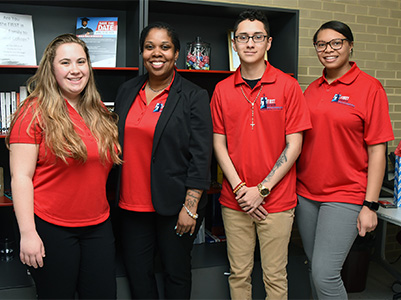 Shippensburg University's Office for Students First serves first-generation students from recruitment to graduation through research-based programs, best practices, campus-wide advocacy, and resources. Our focus is to enhance the academic quality of life for all students who aspire to be the first in their families to obtain a four-year college degree.
A first-generation student is defined as:
An individual, neither of whose parents or legal guardian(s) completed a baccalaureate degree
An individual who, prior to the age of 18, regularly resided with and received support from only one parent and whose supporting parent did not complete a baccalaureate degree
An individual who, prior to the age of 18, did not regularly reside with or receive support from a natural or adoptive parent
If your parent(s) and/or guardian(s) attended college but do not have a bachelor's degree (i.e., did not graduate), you are considered to be a first-generation student.
Relationships - The Office for Students First establishes healthy relationships will all its first-generation students and families, the college community, and the local community, while teaching our students how to build positive relationships.
Advocacy - We are advocates for all first-generation students and we empower our students to self-advocate.
Persistence - We will persist and be diligent in engaging with every first-generation student on campus. No first-generation student is insignificant and all of our first-generation students matter. Further, we will educate every first-generation student on persisting in all areas of academic so they achieve success.
Service - We are here to serve first-generation students by meeting them where they are on their path in life. We also teach them how to serve themselves and others so they become role models and leaders in their communities and within their careers.
Intrusive - We are an intrusive program and actively engage with all first-generation students, ensuring that the highest level of success is achieved. Further, we empower all students to be intrusive within their academic careers so they gain the greatest benefit of their education.