Jump to Footer
About Catholic Campus Ministry
The student-run organization
fosters students' faith through religious activities;
promotes unity through social interaction;
provides opportunities for outreach programs;
supports efforts of Catholic Campus Ministry across campus & beyond.
The Leadership Team is a group of student leaders who plan and direct activities sponsored by Catholic Campus Ministry. This is an excellent way to get involved and show off or develop your leadership skills. All are welcome!
2018 Leadership Team
(L to R) John Weakland, Fr. Dwight Schlaline, Roxanne Dennis, Sydney Schrack, Jessica Reinsfelder, Seth Buletza, Vincent Acri
Worship with Father Dwight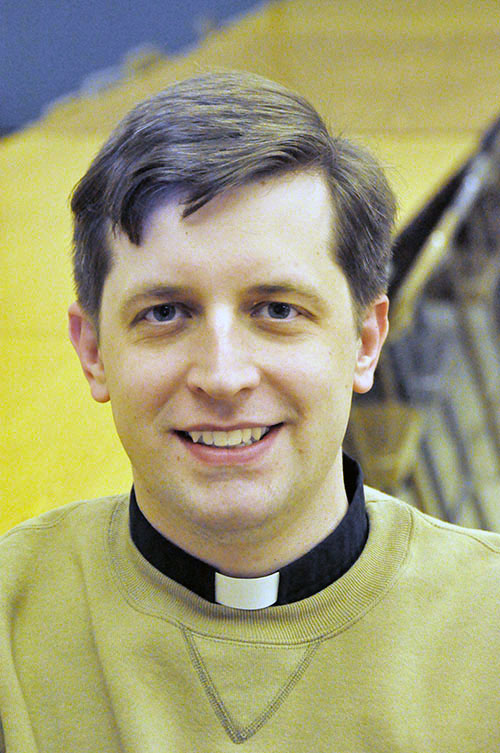 Mass Times
Our Lady of the Visitation Parish
305 N Prince St. Shippensburg
Saturday Evenings @ 5:00 P.M.
Sundays 8:30 & 11:00 A.M.
Consider volunteering for a Liturgical Ministry.
Fr. Dwight invites you to consider being a: Special Minister of the Eucharist, Lector, Choir Member or Musician
NOTE: Find times and location information for special services in the "Worship" section of our Website.
Associate Director of Campus Ministry - Nichole Schneider

Nichole invites you to participate in Campus, Parish & Community Service projects.
Share your God-given gifts of time, treasure and talents with those in need. There are many opportunities to serve the Lord while stationed here at Shippensburg University. Simply go to: * The Catholic Campus Ministry calendar
* This website
* The Bulletin at Our Lady of the Visitation Parish
* Our weekly e-news
(Receive weekly e-news. Send your email address to: Catholic@ship.edu)

Campus, Parish and Community Outreach Ministries have proven to be a benefit to students when making choices for future plans and for completing resumes. They fulfill our Christian obligation to know, love and serve God in this world. They also offer better ways to understand the Seven Principals of Catholic Social Teaching to which we are called. These themes from Catholic Social Teaching are about building a just society and living lives of holiness amidst the challenges of modern society. Click here for information concerning our Catholic Social Teaching.
Catholic Campus Ministry Office Manager - Jessica Reinsfelder

Jessica serves as the Office Manager on a part-time basis throughout the school year. We thank God for blessing us with Jessica's insights and assistance as we go forth to know, love and serve the Lord.

In Loving Memory of "Father Dave" our Pastor, Our Lady of the Visitation Parish and Campus Minister from 2006-2014