Jump to Footer
Welcome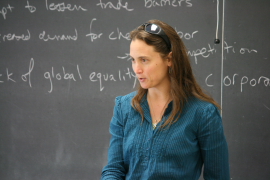 Welcome to the Honors Program! Each year, more than 100 Shippensburg University faculty participate in the Honors Program by teaching Honors courses, guiding Honors research projects, serving on the Honors Program Advisory Board, leading advising workshops, and mentoring or supporting Honors students in many other ways.
Feel free to explore these faculty pages to learn about the opportunities available for Shippensburg University faculty to participate in the program. For more information, please contact the Honors Program director, Dr. Kim Klein, at kmklei@ship.edu.
Faculty have the opportunity to teach a variety of courses in the Honors Program, including Honors general education courses, interdisciplinary seminars, core seminars, and the Honors Colloquium, the Honors Program's capstone seminar. (See descriptions below.) If you are interested in teaching a course in the Honors Program, please contact Dr. Kim Klein, Honors Program director, at kmklei@ship.edu.
Advising Worksheets
The Honors Program has developed the following worksheets to assist Honors students and their faculty advisors. The worksheets summarize the Honors Program curricular and co-curricular requirements and allow Honors students and faculty advisors to track students' progress toward meeting the curricular requirements.
Pizza with a Prof
The Honors Program's Pizza with a Prof series provides several opportunities each semester for Honors students to meet with faculty members informally over a pizza dinner. At the dinners, students and professors discuss the professors' fields of study and other interests, graduate school and career options, and current events. If you are interested in hosting a Pizza with a Prof session, please contact Kim Klein at kmklei@ship.edu.
Applying to Graduate and Professional School Workshops
Each spring, the Honors Program coordinates a week-long series of workshops on applying to graduate and professional schools. Recent workshops have focused on applying to law school, medical school, and graduate programs in business, the humanities and social sciences, and the sciences. If you are interested in coordinating an applying to graduate or professional school workshop, please contact Kim Klein at kmklei@ship.edu.
Major Scholarship and Fellowship Advising
The Honors Program is seeking faculty volunteers who have won major national scholarships and fellowships for graduate study (e.g., Fulbright, Rhodes) and who would be interested in mentoring Honors students as they prepare their own major scholarship and fellowship applications. If you are interested in this advising opportunity, please contact Kim Klein at kmklei@ship.edu.
Honors Program Advisory Board
The Honors Program Advisory Board is an enthusiastic and involved group of faculty and students who help develop and implement the Honors Program's vision and mission. Representatives from all three colleges and the Honors student body serve on the advisory board.
Honors Read
Honors Read is a book discussion series in which an Honors student and faculty member team up to lead a small-group discussion about a book of their choice. Two or three Honors Reads are held each semester and usually include pizza or snacks. Books can be selected from any genre of fiction or nonfiction. If you are interested in co-leading an Honors Read book discussion, please contact the Honors Read committee chair listed on the Honors Student Organization page.




Honors Read Co-Chair Madelyn Moyer-Keehn discusses Wild by Cheryl Strayed.