Jump to Footer


LGBTQ+ Concerns Committee
Welcome to the online presence of lesbian, gay, bisexual, transgender, queer+ (LGBTQ+) resources and organizations at Shippensburg University! We encourage members of the LGBTQ+ community, as well as family, friends, and supporters, to explore our website. You will find information regarding "coming out," upcoming events, Safe Zones, and organizations at the university. We also have provided links to connect you with community resources and LGBTQ+ news.
LGBTQ+ (lesbian, gay, bisexual, transgender, queer) as an initialism is an attempt at recognizing myriad of complex and intersecting identities within this population. Yet, it is not an entirely-inclusive term. For example, individuals with a spectrum of additional identities often go unnamed and may feel further marginalized with the singular, overarching usage of LGBTQ+. If you would like more information about other terminology related to the LGBTQ+ community, please check our definitions tab.
Publications in the SU student newspaper, The Slate
Events on Campus
Amelia Gapin
"I Am Entirely Me"
October 10, 2017
Out for Work Panel, 3:30pm in Orndorff Theatre
Lecture, 7pm in CUB A/B
Candlelight Vigil for Orlando Victims
Students speak out about Orlando --Chambersburg Public Opinion
Don't Say...
The Shippensburg University Student-Athlete Advisory Committee launched a "Don't Say" campaign as a way to create an awareness of the inappropriate language used toward various groups of people. Go to the the SAAC homepage to check out the campaign in full!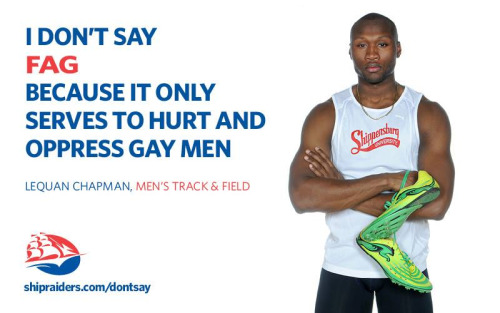 What LGBTQ+ students want their professors to know…
Here's a quick video that captures the diversity that is gender & sexual identity and highlights key issues and concerns!