Jump to Footer
49 States, 1 Tuition!
Shippensburg University's new tuition saves undergraduate students from out of state $30,000 toward a high-value undergraduate degree.
The significantly reduced out-of-state tuition of $5,100 per semester (plus fees, meals, and housing) affords students access to a world-class education in a premiere and culturally diverse college town in south-central Pennsylvania!
Enjoy the great outdoors, a vibrant lifestyle on campus and downtown, and take the journey from classroom to career at Ship!
Shippensburg is committed to providing an affordable college experience to all students. In addition to this great tuition rate, you might be eligible for an academic or housing scholarship.
Connect with Us ...
Loading...
---
Find Your Success!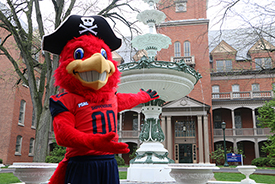 Think you missed the deadline to apply? Ship offers rolling admission, so you can apply at any time during the year.
With approximately 5,100 undergraduate and 900 graduate students, Shippensburg has the comfort of a small school with the energy of a thriving community.
Shippensburg offers nationally and internationally recognized programs—the John L. Grove College of Business has maintained its AACSB International accreditation since 1981 and the criminal justice, communication/journalism, and engineering programs are of a select few accredited nationwide.
---
Raider Regional Transit
A free, local bus system serving the University with routes around campus, the Shippensburg community, local shopping areas and the nearby regional Chambersburg Square. ship.edu/rrt/
ShipShare
Need a Bike? Ship has you covered! As a Bronze Level Bicycle Friendly Campus as awarded by The League of American Bicyclists, sustainability is more than a buzzword, it is a way of life at Ship. There are countless places for two-wheeling adventure! Bike to class, explore downtown, or enjoy the Cumberland Valley Rail Trail, which extends from campus about 13 miles. Off campus, discover trails in more than 250,000 acres of state parks and forests. ship.edu/student_life/bicycle/
Residence Halls
Your life, your way! With six suite style room types featuring private bathrooms or a traditional dorming experience, Ship has you covered. Using the MyCollegeRoomie app, students can select their roommate and suite style, making the process quick and easy. ship.edu/housing/
Greek Life
The Greek life on Ship's campus allows for students to make connections, involve themselves in giving back to the community, and experience leadership roles that will broaden their careers. Approximately 500 students make up the unique and diverse Greek Life community, with more than 20 organizations to compliment your lifestyle. ship.edu/ofsl/community/
E-sports + Clubs
In addition to 20+ intramural club sports and 150+ student clubs, students can now join an E-sports league. Take your love for gaming to the next level, playing with campus friends in a global arena.
On Campus Dining
Ship offers 14 on-campus dining options, including a Starbucks, Dunkin', and Pizza Hut. ship.campusdish.com/
Luhrs Performing Arts Center
Luhrs Performing Arts Center hosts a variety of entertainment from comedians, symphonies, reality television shows, concerts, and more. luhrscenter.com/
Graduate Assistantships
Want to obtain a master's degree without going into additional debt? Shippensburg University offers over 100 Graduate Assistantships across campus. These positions cover tuition while allowing students to gain professional experience with administrators and faculty. ship.edu/graduate/assistantships/
Walking Distance from Campus:
Restaurants a Short Drive From Campus
India Café: Grab some Indian food over a lunch buffet or dinner. https://www.indiacafechambersburg.com/
Volcano Japanese Restaurant: Hungry for sushi or hibachi? Head to Volcano Japanese Restaurant for a variety of house sushi rolls or special rolls. http://www.volcanopa.com/index.html
Korean Bulgogi House: Recommendations and reviews online tout this restaurant as a hidden gem with a helpful staff and fantastic food!
Montezuma Mexican Restaurant: Great Mexican food just a short drive away. https://www.montezumamex.com/
Restaurants you know and love a short drive from campus
Ruby Tuesday
Red Robin
Fuddruckers
Cracker Barrel
Olive Garden
Longhorn Steakhouse


Hiking
Biking
Rails to trails: These public paths are great for hiking, biking, or jogging. Created from former railroad corridors, these paths are a fantastic way to enjoy the outdoors and stay healthy! https://www.railstotrails.org/about/
Skydiving: Looking for an adrenaline rush? Visit the Chambersburg Skydiving Center. This center has been in operation for more than 30 years with world renowned skydiving instruction.https://www.skydivingcenter.net/
Escape Room: Steel Key Escape room boasts state of the art technology, interactive puzzles, and Hollywood quality sets. Grab your friends for a fun night out! https://steelkeyescape.com/