Jump to Footer
SUMMER 2017
Voyage en France—Été 2017
A group of students in the French Program (Brad Foreman, Noel Garcia, Nicole Hallahan, Dijana Katic, Elyse Keegan, and Liz Vinette) had the wonderful opportunity to study in France for 17 days in May 2017 with Dr. Mitaut. Thanks to the partnership established by Dr. Mitaut with the St. Jo School in northern France, the students stayed with host families in Boulogne-sur-Mer and explored the Pas-de-Calais "département" for a week (with one special day in Bruges, Belgium), and then spent another 10 days in Paris, with day trips to two additional French regions: Normandy (Caen and D-Day beaches) and Burgundy (Beaune, Dijon). Please click on the link to their travel blog below and follow them on their cultural and linguistic adventures.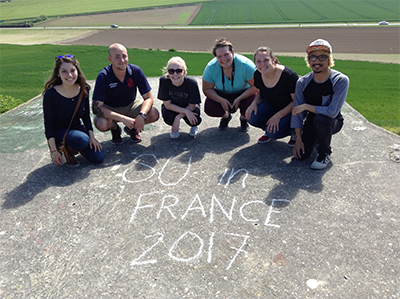 SUMMER 2016
STUDY ABROAD IN MOROCCO
The French Program offered this summer its first study abroad in Morocco, under guidance of Dr. Agnes Ragone. Classes (FRN 331—Francophone literature—and 380—Special culture topics) started before the trip and prepared the students for their Moroccan experience. The courses are offered in English and in French to suit the students' needs.
While in the capital of Rabat, the students lived with Moroccan families. They all enjoyed their hosts who introduced them to the typical Moroccan hospitality…and delicious cooking. In Rabat, the program participants visited several times the medina (old town) and its souks (markets), admiring the local crafts. They had the opportunity to try their hand at pottery in a cooperative dedicated to this craft. They also visited historical sites with Dr. Najib Bounahai, Professor of Moroccan History and Culture. They went to the Roman town of Chellah, admired the magnificent Mohammed V Mausoleum and explored the Casbah of the Oudayas. At the Oudayas, they had the traditional mint tea and gazelle horns—almond cookies. In another enlightening lecture, Dr. Anass Laalou, Professor of Political Science introduced the students to the issues of human rights in his country before the group left the capital.
The group took then a tour of the country on its way to the Sahara. The tour included a visit Fes with an academic guide who detailed the intricacies of Fassi story. They visited the ancient tanneries, saw how agave silk is woven, were introduced to some of the most amazing feats of Muslim medieval science, and could see many of the city landmarks.
The Shippensburg students traveled then to Merzouga and had an amazing experience in the Sahara. Through the dunes and with the help of an experienced guide, they rode dromedaries to an oasis where they spent the night. They had a typical communal dinner, listened to local music and slept under the stars. The next morning, the climbed a dune behind their bivouac to admire the sunrise over the desert.
On their way back to Rabat, the group crossed the imposing Atlas Mountains and saw the famous mud cities of Southern Morocco. They stopped in Marrakech and enjoyed its boisterous Djemaa el fna, the bustling central plaza with its musicians, acrobats, food stands and souks.
After a couple of free days Rabat—where they still went to the stunning Mohammed VI Museum of Art famed for its collection of modern Moroccan art—the trip concluded with a dinner in the medina, with Gnaoua music and henna for the ladies.
If interested in next year trip, please contact Dr. Ragone at acrago@ship.edu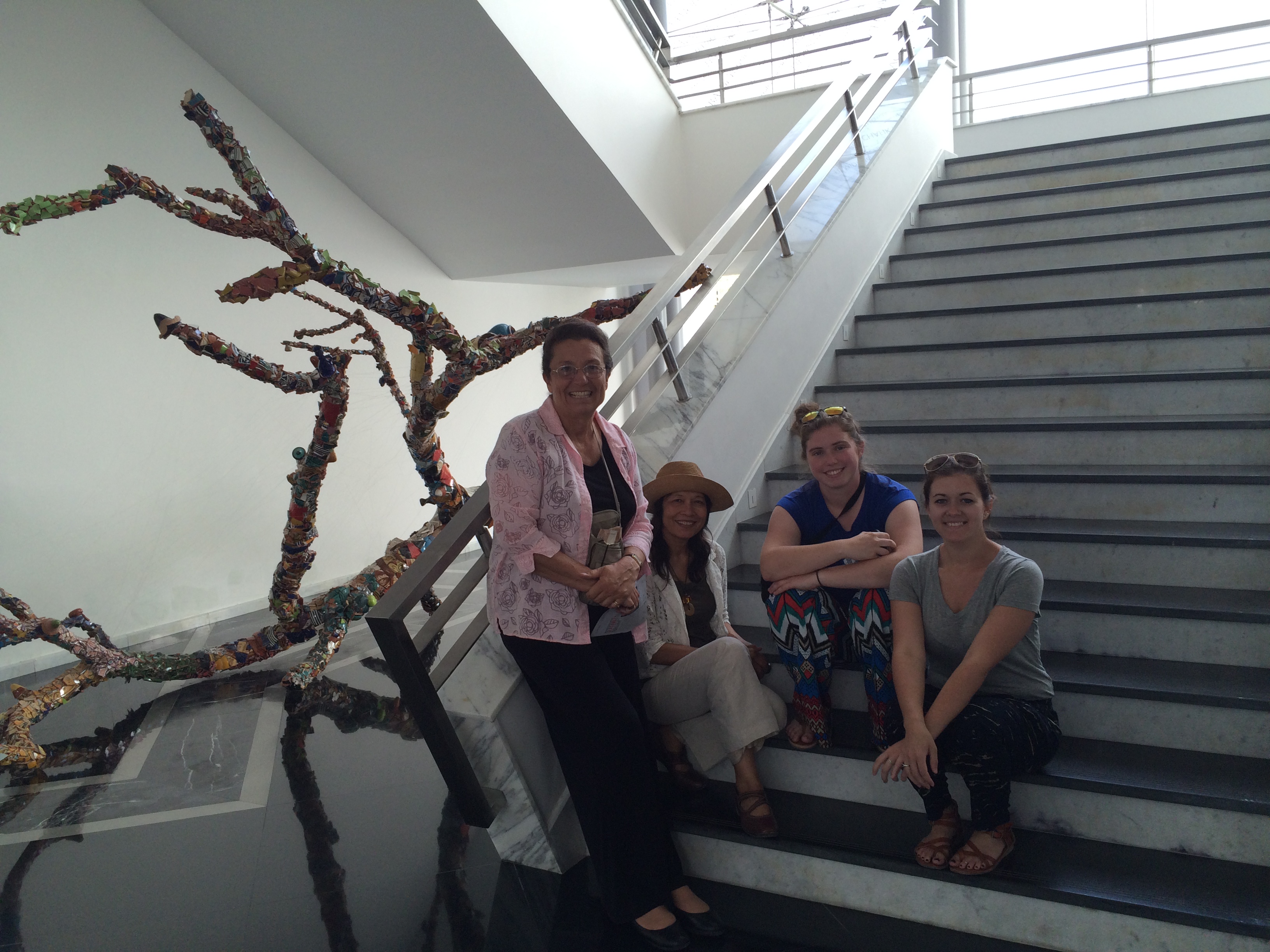 | | |
| --- | --- |
| Dr. Laalou giving his lecture | The group at the Mohammed VI museum |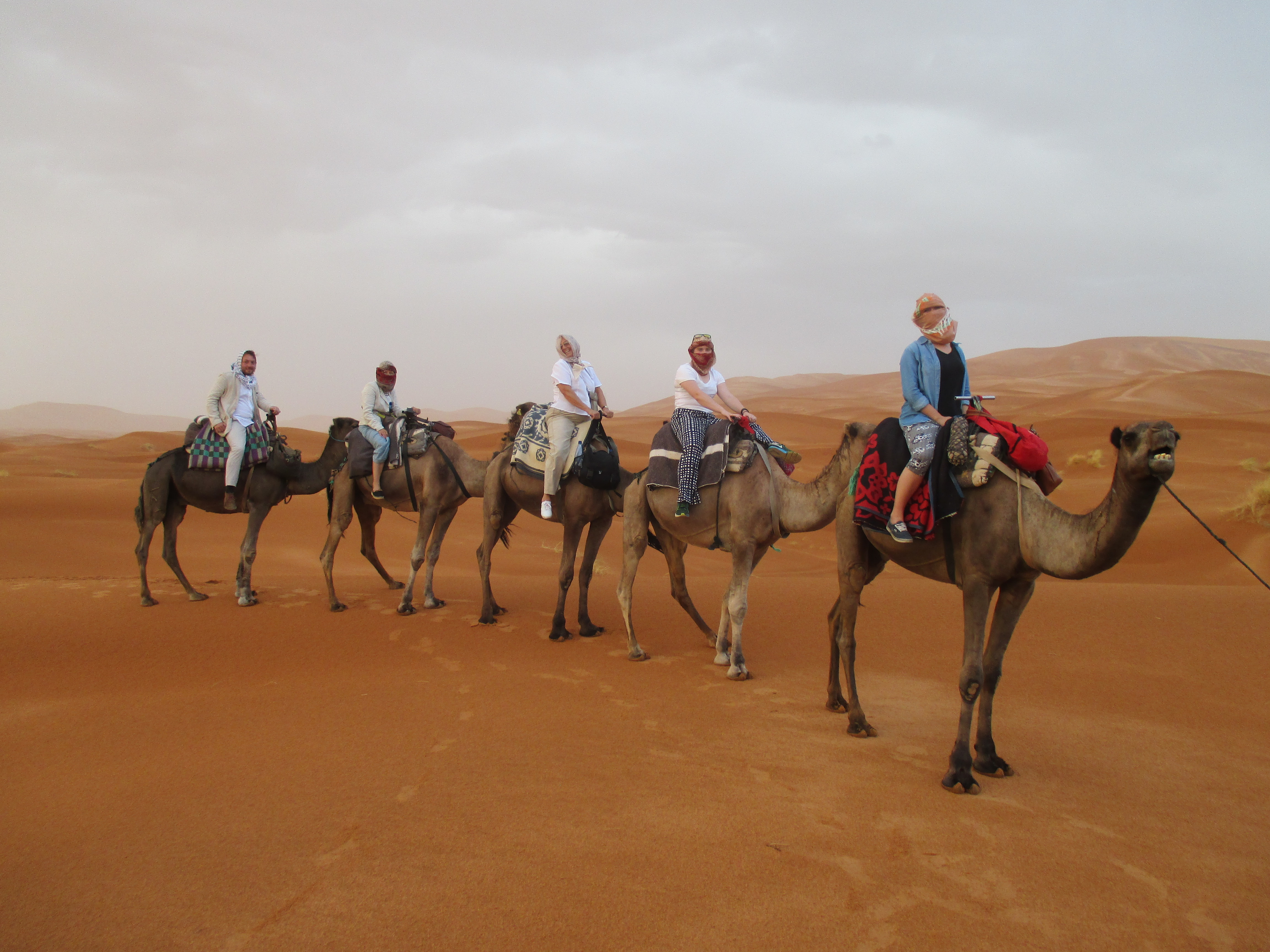 | | |
| --- | --- |
| Riding camels in the Sahara | Dr. Ragone and Ali, our Sahara guide |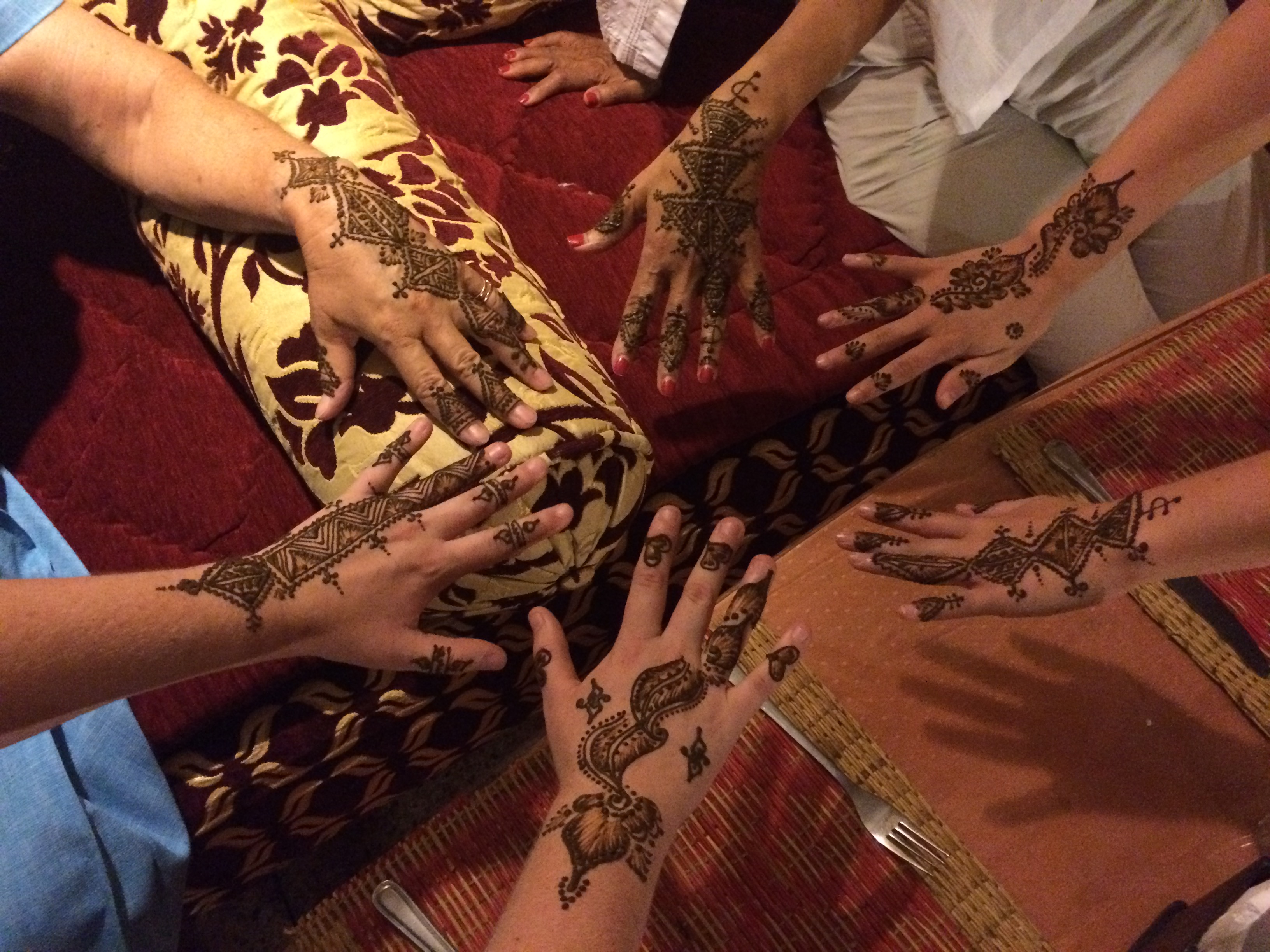 | | |
| --- | --- |
| Gnaoua musicians | Beautiful henna |
| | |
| --- | --- |
| With Dr. Bounahai at the Mohammed V mausoleum | Fallon and Erin with a water seller |
| | |
| --- | --- |
| Erin trying her hand at pottery | Andrew, master potter |
STUDY ABROAD IN FRANCE
Some highlights by Dr. Mitaut
France 2016, May 8-24
No sooner had the ink on finals dried than our SU group was on its way to France: Kaitlyn Andrews (English/Education), Zach Greenawalt (International Business), Matt Hathaway (English), Laura Hilliard (International Studies), Nate Powles (Communications/Journalism), Santiago Serrano (Political Science) and John Warnke (Criminal Justice), a wonderful group of students from various disciplines, who all share a deep interest in French culture and have added a double major or a minor in French to boot. Our hosts in Saint-Martin-Boulogne had placed the bar quite high last year, so we had a hard time imagining a warmer welcome than the one we had received upon our 2015 visit. And yet, they outdid themselves again! The French families, with their admirable kindness, treated us to a large array of lovely experiences (from the culinary to the musical, without forgoing family time and partying). Professor Rénier, as amazing and generous as ever, had organized a fantastic program that included many a surprise! We are also thankful to St. Jo Director Philippe Descamps for the transportation, meals and receptions he provided.
Our first week (May 9-May 16) was thus spent studying at St. Jo in the morning, while maintaining a nice fitness regimen every afternoon with a number of hikes and visits to discover the natural beauty of the Côte d'Opal (countryside, beaches, Cap Blanc Nez and Cap Griz Nez), the history of the North (medieval forts, Hardelot Castle, Montreuil Citadel) and more urban areas too with daytrips to Calais and Lille. On our way to Calais, a craft brewery visit made us discover a very special brew honoring the 1944 American and Canadian troops who joined the Allied Forces during WWII, symbolically reinforcing Franco-American ties.
May 17, a TGV took us to a city of Paris on strike, a quintessential French experience. After some mild difficulties circulating through the city due to a workers' protests, we were able to reach our hotel and get settled. Our lovely week in the French capital allowed us to travel through time, and experience art and history from the Middle Ages to the French Revolution to the modern era. Among the most memorable experiences we retain: braving fears of heights both by night (Tour Eiffel) and in broad daylight (Montmartre, Arc de Triomphe), bouts of hearty laughter over the spectacular performance of seasoned French actors (Ionesco's seminal Bald Soprano), testing our feet's love of walking (Parc de Bagatelle in Bois de Boulogne, Louvre Museum, Champs Elysées), braving the rain's power to soak us (the very short walk from Musée de l'Orangerie to Musée d'Orsay never seemed so long… but well worth the wetness to enjoy the wonders of the Apollinaire and Douanier Rousseau exhibits), frantic subway rides to avoid the metro lines on strike (our plans to visit Versailles, the Catacombes and Père Lachaise have been postponed to the 2017 edition…), reconciling with the challenges of Modern Art (Centre Georges Pompidou) and taming fears of public speaking (oral presentations on train rides), all of it surrounded by the Parisian splendor that fostered our team's joyous spirit. From improvised picnics to nice restaurants, we savored as much as we could of all the deliciousness found in France, and promised to come back for more.
A day trip to the D-Day beaches of Normandy made us pause and reflect on the sacrifices of the similarly-aged American youth who crossed the Atlantic to fight for freedom over 70 years ago. The Memorial Museum in Caen contributed to deepen our knowledge and understanding of WWII, before we drove off to the landing beaches to see the artificial harbor of Arromanche, Omaha Beach, Pointe du Hoc, and the American war cemetery in Colleville-sur-Mer.
Our deepest thanks to Professor Rénier for her generosity and for making this exchange not only possible, but also so rewarding and meaningful; to Philippe Descamps and the host families for their kindness and hearty welcome; to the SU administration for supporting study-abroad experiences; and last but not least to John, Kaitlyn, Laura, Matt, Nate, Santiago, and Zach, who in spite of constant pushes out of their comfort zone throughout those 17 days away from home, displayed a positive attitude and good humor, and shared a wonderful spirit of adventure!
Can't wait for St. Jo's visit in October!!!
Dr. Blandine Mitaut
First 2 top pictures, left to right:
1. Daytrip to Lille. From left to right: Matt, John, Nate, Laura, Zach, Kaitlyn, Santiago, Louise, Bérangère, Nathan, and Professor Rénier.
2. Sacré Coeur. From front left to right: Santiago, John, Kaitlyn, Zach, Laura, Matt and Nate.
Next two top pictures, left to right
3. Saying goodbye to St Jo and our host families, after a nice breakfast of warm croissants. From left to right: Catherine Tran, Prof. Rénier and Philippe Descamps, Mme. Bécue, Théo, Bérangère, Nathan Louise, Marine, John, Romain, Kaitlyn, Zaxh, Nate, Laura, Justine, Sandy, Matt and Santiago.
4. Tour Eiffel. Left to right: Zach, Laura, Nate, Kaitlyn, John, Santiago and Matt.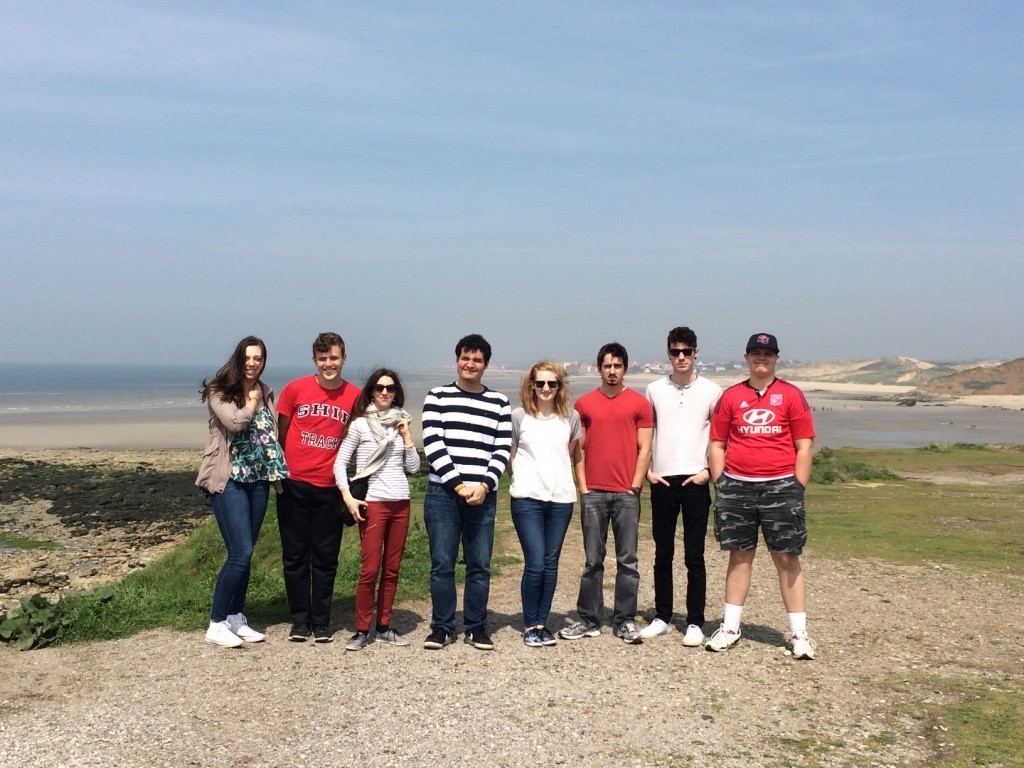 Bottom 4 pictures:
First two:
5. Ambleteuse beach. From left to right: Laura, Zach, Dr. Mitaut, Santiago, Kaitlyn, John, Matt and Nate.
6. International Day at St Jo. Brave SU students present Central Pennsylvania and Ship. From left to right: St. Jo student, Nate (with his back turned), Kaitlyn, Matt, John, Santiago and Zach.
Last two:
7. St. Jo classroom. Left to right: John, Kaitlyn, Santiago, Laura, Zach.
8. Montreuil Citadel. From left to right: Prof. Rénier, Chris (Claire's boyfriend), Matt, John, Kaitlyn, Nate, Santiago, Zach, Laura, Claire (who was part of last year's exchange and proudly wears the Ship colors), Dr. Mitaut.
Learn more about France ( flyer).
STUDY ABROAD IN MOROCCO
The French Program will offer two courses over the summer 2016 with a traveling component in Morocco. The participants will garner 6 credits (for their French major, French minor, French Cultural Studies minor, International Education major or minor). The courses will be FRN 331 (Francophone Literature, that will explore literature from North Africa and the Middle East written in French) and FRN 385 (Special Culture Topics, that will explore Orientalism, the French influence in North Africa and the culture of Morocco). The courses will be offered in French and in English. The students will visit Rabat, the capital, Fes, the cultural beacon of Morocco and will travel to the Sahara.
THE FIRST MEETING FOR THE TRIP WILL BE TUESDAY SEPTEMBER 29, 2015 AT 6:30 PM IN RLH 117.
Learn more about Morocco ( flyer).
WINTER 2015-2016
Annual French Program Study Abroad Trip to Haiti
For the 4th consecutive year, the French Program will lead a study-abroad service-learning experience in Haiti. As in previous years, the participants will garner 6 credits (for their French major, French minor, French Cultural Studies minor, International Education major or minor) by taking FRN 490 (Literature) and FRN 400 (Language and Culture). Courses will be offered in French and in English. Professors of record are Drs. Mitaut and Ragone. The cost for the trip is $1850.00, with additional cost for the credits.
FIRST MEETING FOR THE TRIP IS WEDNESDAY SEPTEMBER 2, AT 6PM IN RLH117.
Learn more about Haiti ( flyer).
SUMMER 2015
French Program Study Abroad Trip to France
The French Program led in May a study-abroad program that took students to Boulogne-St. Martin in the North of France and to Paris. The students were offered 3 courses to choose from, with the possibility to garner 6 credits. Dr. Mitaut, who organized the trip, offered the FRN 204 course on ideas and Cultures of the French speaking world. Dr. Ragone taught the FRN 103 Intermediate French course and FRN 300, the Advanced Conversation course.
During the first week, the students lived with French families, thanks to a partnership developed by Dr. Mitaut between the Saint-Joseph Community College in Boulogne and Shippensburg University. We are extremely thankful for the kindness of our hosts whose hospitality made of this stay a memorable experience. Thank you as well to St. Jo for opening the doors to us and making us feel very welcome.
Our hosts took us to London and Bruges, in Belgium, making this a European tour. We spent a day in each city. We are grateful for their graciousness and their enthusiasm.
Studying very hard in Paris and at St. Jo
Visiting Boulogne
Meeting with the Deputy Mayor / Interview with the local radio station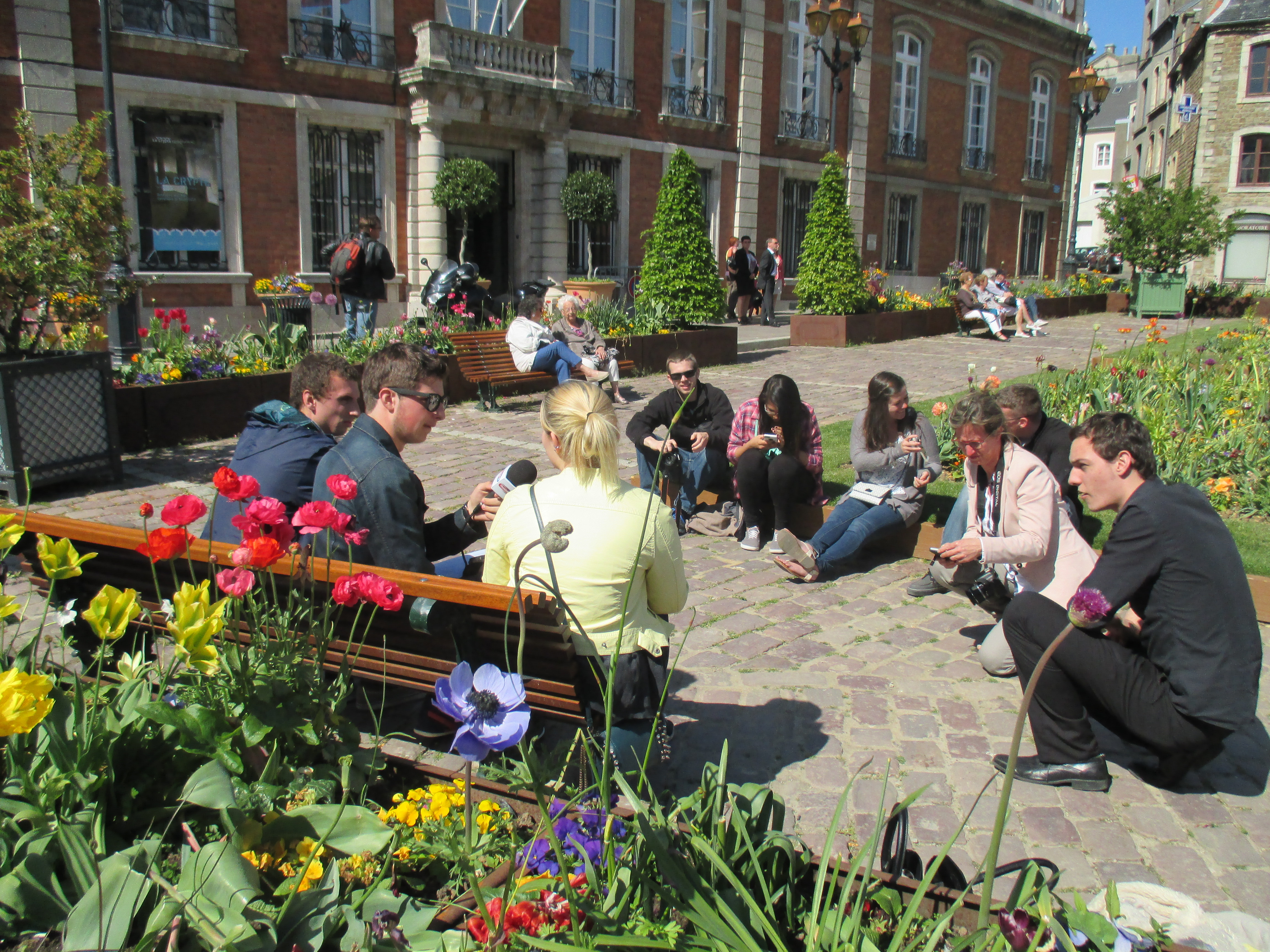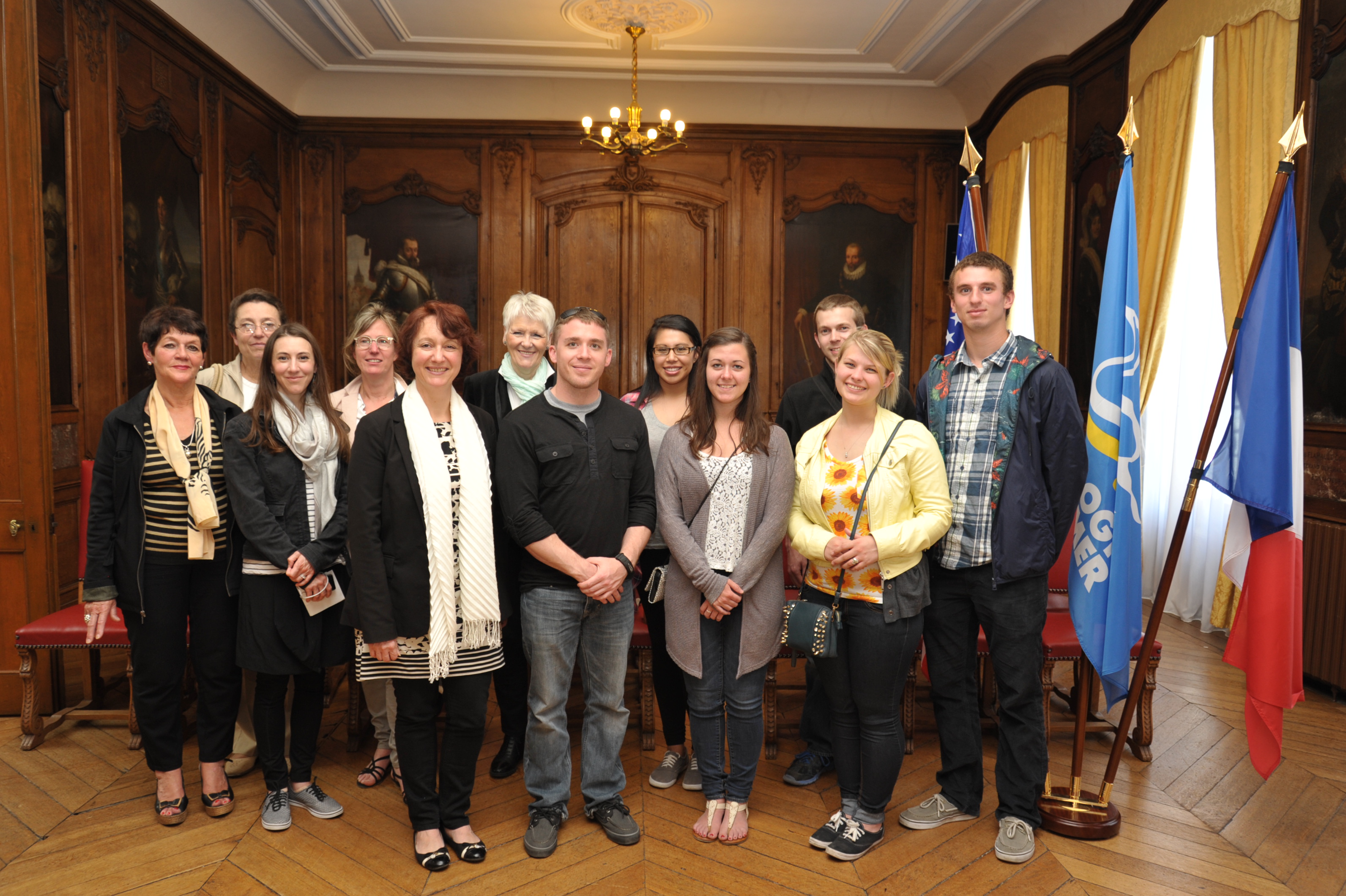 PARIS WAS A BLAST
Sorbonne La Comédie Française
Le Lapin Agile et Le Moulin Rouge
L'Arc de Triomphe
Paris kept us busy. We visited such places of high culture as La Sorbonne and the Comédie Française (where Abbie met Molière!), places of fun culture in Montmartre (Le Moulin Rouge and Le Lapin Agile), as well as historical sites (Arc de Triomphe). Of course, we also went to Le Louvre, the Sainte Chappelle, the Conciergerie and Notre Dame. We strolled Le Marais district, admired the architecture of the Centre Pompidou and even appeared on TV: we attended the taping of Le Petit Journal, a satirical news program.
This being Paris, we ate in cafes, and enjoyed countless lunches and dinners "sur le pouce" while taking in Parisian life from sunny terraces.
We had side trips too, to Versailles and the beaches of Normandy to pay our respect to the brave soldiers of WWII. All our visits complemented what was being taught in class and contributed to a memorable experience.
C'est haut la Tour Eiffel!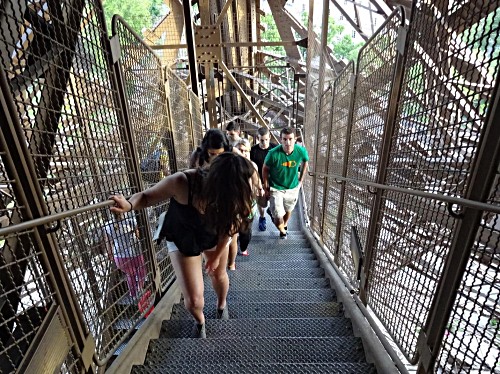 La Tour Eiffel et ses stars!!
Le Louvre et Notre Dame