Jump to Footer
Undergraduate Research
2018 Biennial Conference
One of the goals of the Global Languages and Cultures Department is to encourage students to do research. This goal was met at the 7th Biennial Global Languages Conference where, sponsored by several professors (Drs. Mitaut, Lesman and Ragone), our students presented a variety of notable papers. Here are some photos of the event with Emily Bach, James Barciz, Reece Dolbin, Carina Ramirez, Brad Foreman, Marie-Jeanne Haba, Marleigh Chaney and Nicole Hallahan. Congratulations to all for your outstanding research. James Barciz received the Biennial Conference Award for best research in French. This monetary award allows students to continue their course of study abroad with one of the programs of the department.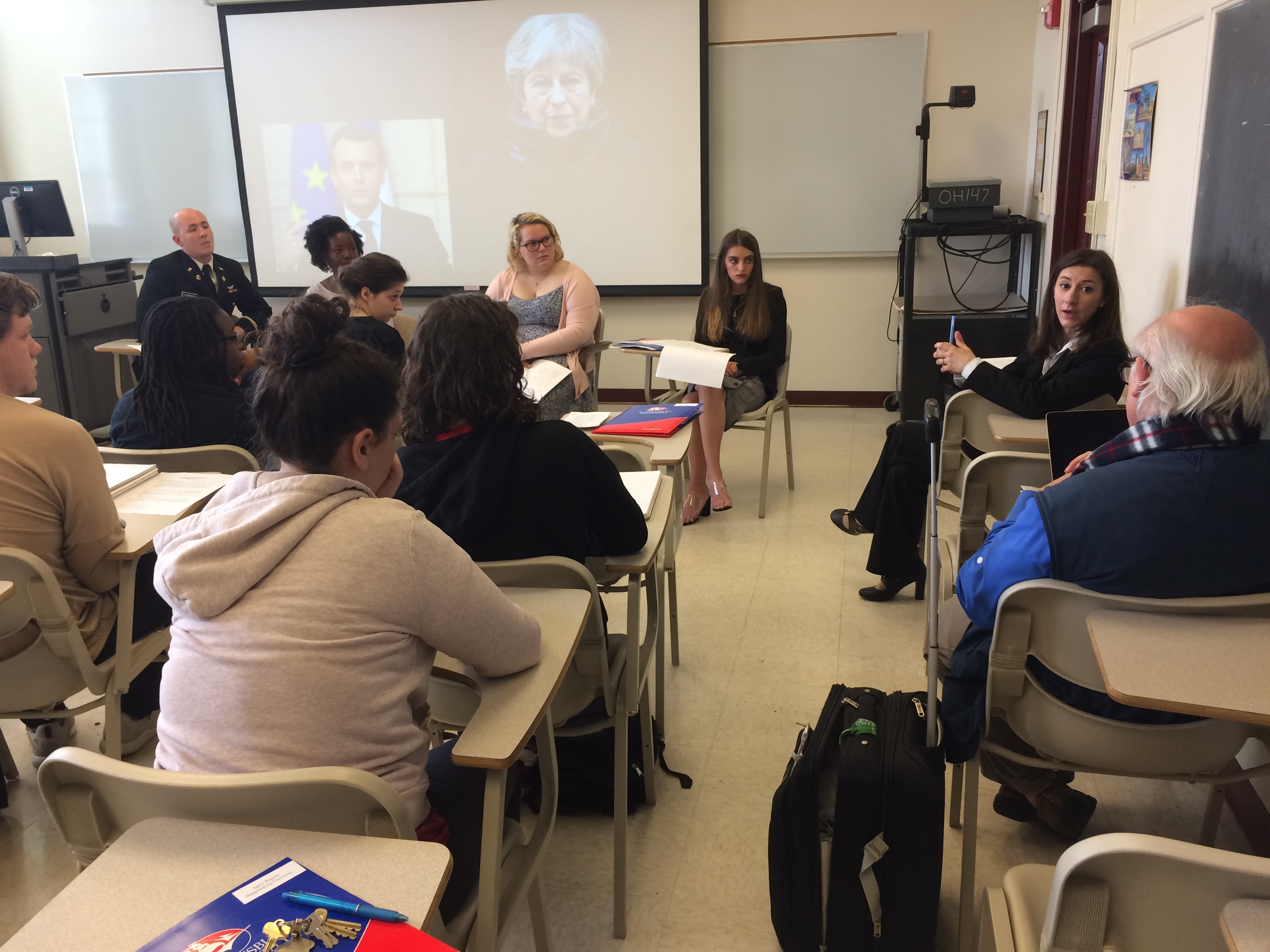 Translation Work
At the Honors Research Symposium on April 26, 2017, Audrey McGarrell presented her Capstone Project: an English translation of the novella Zezé, by Spanish author Ángeles Vicente. Audrey plans to find an avenue for the publication of her translation so that this important work can reach a broader readership.
Minds@work Conference 2017
On April 26, 2017, Modern Languages students shared that remarkable projects at the annual Minds@Work conference.
Spanish major James Korman presented his research on the exploitation of immigrants in the United States . His project began as the final paper for Spanish 313, Advanced Composition, taught by Dr. Lesman.
A panel of students, Stephanie Smith (Non-verbal Communication on La Gônave), Angelina Stewart (Health Care in Haiti) and Paige Arensmeyer (Documentary Life in La Gônave) , discussed what they had learned in Dr. Ragone's course in Haiti in January 2017.
2016 Biennial conference
The Global Languages 6th Biennial Conference was the occasion for a number of our students to present their research in a variety of topics. The different panels attest of the breadth of knowledge and interests by these students. Sponsored by Dr. Lesman in Spanish were Marilyn Proctor, David Mullenix and Mikaela McElfresh, in the panel Asuntos Contemporáneos. Sponsored by Dr. Mitaut in French were Gabby Gomani, Piotr Ziemkiewicz, Mitch Nickerson, Andrew Hutchinson and Blair Garrett in the panel Scripting the Self as Other in Autobiographical Writings. Dr. Ragone sponsored a panel titled Haiti: Forced Immigration and Reconstruction with Ali Mowers, Laura Hilliard and Angela Sime. Finally, in German, Dr. Wildermuth sponsored the panel titled Reflections of regional Identities with Emily Isbel, Cassia Hulshizer and Curtis Rabe.
Minds@work Conference
On the 21st of April 2015, the Global Languages Department was well represented at the Minds@work Conference which celebrates student research, scholarship and creativity.
For German, Matthew Hoffman (sponsored by Dr. David Wildermuth) gave the paper titled Presenting the Fates of 'Ordinary Men.' The Wehrmacht's 35th Infantry Division as a Case Study of the German Army and Soviet Justice, 1945-1956.
In French, Andrew Hutchinson (sponsored by Dr. Blandine Mitaut), presented the poster titled La Culpabilité et la Honte dans la littéïrature de la diaspora haïtienne au XXe siècle.
Also for French, a panel with Cody Connelly, Jessica Strickland and Fallon Finnegan (sponsored by Dr. Agnès Ragone) held A Conversation on Haiti and debated issues of environment, education and the role of NGOs in the island.
CONGRATULATIONS TO THESE STUDENTS WHO HAVE DEMONSTRATED GREAT LEVEL OF SCHOLARSHIP!
Conference for Undergraduate Research (CUR)
Several of our students presented at the Conference for Undergraduate Research. Emily Howell presented her research entitled "The Benefits of Teaching Languages in Elementary School" at the Celebration of Student Research on April 22. Her work debunks myths and makes a convincing case for making second language learning a priority starting in the early grades. Emily did a great job summarizing her most salient points for the many interested visitors she had at her station.
Those who are interested in learning more are encouraged to attend Emily's presentation, in Spanish, of this same research at the Global Languages Conference on May 3.
Here is the list of Dr. Mitaut's students who also presented at CUR:
Anthony Bucher, « Du cirque et des jeux pour contrer la révolte: les dessous du divertissement parisien depuis le XIXe siècle » (Keeping the People Content since the Nineteenth Century: What Lies Behind Parisian Entertainment)
Houda Bouhmam, « Enfances Juives dans le Paris de Vichy : tentatives de reconstruction de l'expérience et de témoignage à travers la littérature » (Jewish Childhoods in Paris under the French Vichy Regime : Attempting to Reconstruct Experience and Bear Witness through Literature)
Reggie Hefner, « Exploration littéraire du traitement des immigrés en France depuis la Seconde Guerre Mondiale : La Seine était rouge de Leïla Sebbar, La Goutte d'Or de Michel Tournier et Entre les murs de François Bégaudeau » (Literary Exploration of the Treatment of Immigrants in France since WWII)
Students published
With endorsement from Dr. Jennifer Pomeroy, David Craig, a sophomore with a major in International Management in Chinese 102, has his Chinese essay titled "我的中国心" won the writing competition of Write the Ship. The essay has been selected for publishing in this on-campus undergraduate journal at Shippensburg that recognizes excellent undergraduate writing.
Dr. Pomeroy also has another student, Ashley Moriarty, who was in her Geography class and wrote an essay on China's "One Child Policy" selected for publication in Write the Ship.
Congratulations!!