Jump to Footer
Inclusive Basketball
The Inclusive Basketball program provides socialization, playing and training opportunities for people of different abilities from the surrounding community and Shippensburg University. All skill levels are welcome to have fun and interact with others.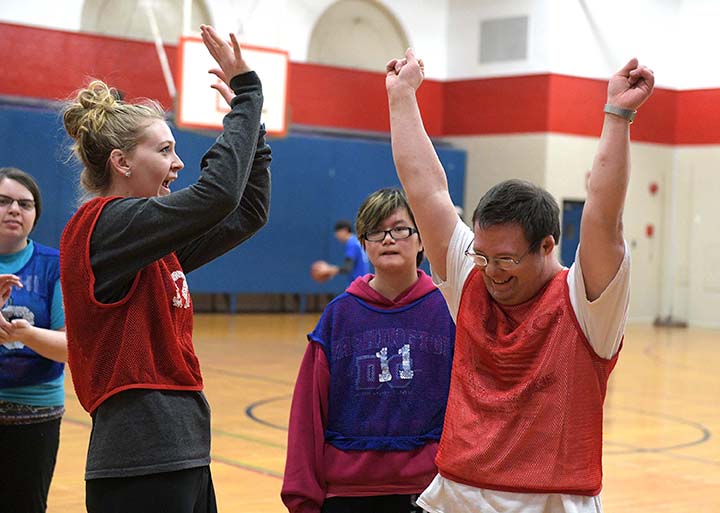 Shippensburg University student participants come from different colleges and student organizations. The primary majors involved are social work, criminal justice and education. However, the event is organized by the Department of Social Work and Gerontology both to serve as a model for inclusive activities and as an opportunity for Social Work students to learn to interact with people of different abilities.
Inclusive Basketball started in 2008 as a collaboration of Social Work faculty and students with individuals with disabilities and their family members from the community and it has been going strong ever since.The event is supported by the Department of Educational Leadership and Special Education, the Disability Minor program, and the Athletic Department, which allows the use of Henderson Gym for free. The Inclusive Basketball club is a Shippensburg University Student Government Association recognized organization. It provides opportunities for leadership to all interested students.
Inclusive Basketball typically meets on Saturdays from 11:00 a.m. to noon in Henderson Gymnasium. Check in soon to see when games will begin again in the fall!
Check out the Inclusive Basketball Facebook page to stay in the loop.
For more information, please contact the Inclusive Basketball faculty advisor, Dr. Samuel Benbow, by emailing srbenb@ship.edu.