Jump to Footer
Faculty and Staff
Fred Dade

Fred Dade is Assistant Professor of Music at Shippensburg University where he teaches Introduction to Music, Fundamental Music Skills, Class Piano, and American Music. A native of Chicago, Mr. Dade is currently pursuing completion of the Ph.D. Degree from the University of Michigan, Anne Arbor. Prior to relocating to Pennsylvania, Mr. Dade served as a Teaching Assistant in the School of Music at the University of Michigan, and served as the Minister of Music at Amistad Community Church - United Church of Christ in Ann Arbor. Mr. Dade directed college gospel choirs at Aurora University (IL) and Concordia University (IL), and founded, accompanied, and directed the Gospel Choir at Wheaton College (IL). Additionally, Mr. Dade worked with the church choirs in the Chicago area, including the First Progressive Church of Christ, and he taught elementary general music in the Chicago public schools for seven years. Mr. Dade has extensive experience accompanying many different types of choirs and soloists, including the opportunity to accompany mezzo-soprano Marietta Simpson for a recital in February 2002, as well as accompanying George Shirley, Professor of Voice at the University of Michigan. He studied piano with Lynn Bartholomew and Louis Nagel, and he holds the Master of Music Degree in Music Education from Roosevelt University and the Bachelor of Science Degree from Wheaton College.
---
Trever R. Famulare
Trever R. Famulare is Assistant Professor of Music and Director of Bands at Shippensburg University. Mr. Famulare joined the faculty in the Fall of 2001 and is integrally involved with the instrumental music program at the university. He is the director of the Red Raider Marching Band, Concert Band, Jazz Ensemble, Brass Chamber Ensemble, and teaches various academic courses within the Department of Music and Theatre Arts. Mr. Famulare also serves as the advisor for Shippensburg's chapter of Kappa Kappa Psi, a national band service fraternity. In 2002, he reorganized and currently performs across the region in the Cumberland Brass Quintet.
Mr. Famulare has been distinguished as an honorary member of the Syracuse University's Eta Alpha chapter of Tau Beta Sigma, a national band service sorority and Shippensburg University's Lambda Delta chapter of Kappa Kappa Psi. He also has professional membership in several musical groups, including the Music Educators National Conference, the New York State School Music Association, and is the current President for the Pennsylvania Collegiate Bandmasters Association.
A New York native, Mr. Famulare received his Bachelor's degree from the College of St. Rose, and earned his Graduate degree from Syracuse University. Prior to his appointment at Shippensburg University, he successfully served as a public high school band director for 13 years in central New York. Mr. Famulare also served as a special consultant to the "Pride of the Orange" Syracuse University Marching Band for several years. In addition, he continues to actively serve as guest conductor, clinician, and adjudicator at festivals across the eastern region.
He lives in Shippensburg, PA with his wife Marybeth and daughters Alana and Hannah.
---
Mark Hartman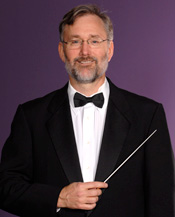 Mark L. Hartman is Assistant Professor of Music and Director of the University-Community Orchestra at Shippensburg University. Dr. Hartman has taught at Central College, Houghton College, Wake Forest University, and the Winston-Salem public schools. He holds the Doctor of Musical Arts degree in Violin Performance and the Master of Music degree in Music Education from the University of North Carolina at Greensboro, where he studied violin with Katie Lansdale and Rachel Huang. Earlier studies were with Elaine Richey and Vartan Manoogian at the North Carolina School of the Arts. He has also studied Suzuki Pedagogy with William Starr and has done post-doctoral studies in violin literature and pedagogy with Charles Castleman at the Eastman School of Music, Burton Kaplan of the Manhattan School of Music and baroque performance practice with Stanley Ritchie at Indiana University. He has been Concertmaster of the Southern Tier (New York) and the Oskaloosa (Iowa) Symphonies, Assistant Concertmaster of the Salisbury (North Carolina) Symphony and a member of the Winston-Salem Piedmont Triad and the Greensboro Symphonies. Since 1993 he has been a regular performer at the Shenandoah Valley Bach Festival and also currently performs with the Shippensburg Festival Orchestra and the Gettysburg Chamber orchestra.
Dr. Hartman has served as adjudicator for competitions in North Carolina, South Carolina, and Iowa. He has a particular interest in performing, teaching, and researching the use of string instruments in jazz. He has presented his work towards creating developmental study materials for string players based on jazz harmonies to American String Teachers Association national conferences in Reno and Kansas City. He has studied jazz pedagogy with Jamey Aebersold and jazz string performance with the Turtle Island String Quartet. He has also performed on mandolin, guitar, and banjo for performances by the Eastern Music Festival Orchestra, the Winston-Salem Piedmont Triad Symphony, and the Shenandoah Valley Bach Festival.
---
Paul Leitner

Paul Leitner is Professor of Theatre Arts at Shippensburg and teaches courses in Introduction to Theatre, Theatre History and Children's Theatre. A native of Baltimore, he received the Ph.D. in Theatre History and Criticism from the University of Nebraska and joined the Theatre Arts department in 1990. At Shippensburg, he has designed scenery for over 35 theatre productions and functioned as co-producer for the University's Second Stage Academic Theatre Ensemble.

Currently, Dr. Leitner serves as co-director of The Little Princess Playhouse. The playhouse produces academic children's theatre in a performance space located in Shippensburg's historic Stewart Hall. Past productions have included Cinderella, The Little Mermaid, Snow White and the Roses, Sleeping Beauty and the Pirate Prince, The Princess and the Snarls, and A Princess Christmas.
Dr. Leitner lives in Shippensburg with his wife Gretchen and daughter Rose. He enjoys architecture and civil war relic hunting.
---
Margaret Lucia
Pianist Margaret Lucia performs a wide range of keyboard repertoire, from the traditional—concertos of Mozart and Beethoven and romantic works of Chopin and Schumann—to the highly gestural, uniquely tonal or atonal compositions of contemporary composers. A passionate advocate of new music, she has premiered several works, appearing at festivals and in concert throughout the United States as well as in Japan and Europe; in 2009 she formed the Vox Terra Ensemble, which performs new chamber music works in honor of Earth Day, as well as additional concerts throughout the year. In June of 2003, she performed at Carnegie Hall's Weill Hall in New York City with tenor Dr. Jon Robert Cart in a joint recital featuring vocal and solo piano music of Spain and Latin America; they performed there again in May 2005, in works by Mexican composers of the 20th century. A member of the Lucia Duo, she performed a concert of the violin and piano sonatas of Joaquin Turina with her husband, violinist Anthony Lucia in Spain in 2005.

Coinciding with her interest in the music of the Spain and Latin America, another of Dr. Lucia's specialties is the performance of music by women composers, both historical and contemporary. In November, 2011, she was a featured performer on the Festival Internacional de Música Contemporanea in Havana. Her recording of music by Cuban women composers of the 19th and 20th centuries will be published later this fall. She has also been awarded a grant from the Commonwealth of Pennsylvania to record music for another CD of music by women composers in 2012. She also performed works by American composer Anna Rubin and Greek composer Sofia Kamiyanna in Flagstaff, Arizona in September, 2011. In 2002, she appeared at the National Museum of Women in the Arts in Washington, D.C. for the International Alliance of Women in Music's Annual chamber music festival. She performed music of contemporary Japanese women at the Universität in Zurich in 2007, and the music of Cuban women for the American Musicological Society Conference in Quebec, also in 2007. In addition, Dr. Lucia has appeared in lecture-recitals of piano music by women composers in New York, Cleveland, Minneapolis, Portland, Salt Lake City, and San Antonio, as well as other U.S. cities.

While completing her Ph.D. at the University of California, San Diego, Dr. Lucia was the pianist in chamber music seminars conducted by violinist Rafael Druian, was keyboardist with the San Diego Symphony and a frequent performer with the San Diego Museum of Art Chamber Ensemble and SONOR, a contemporary music ensemble. Her teachers have included the late Aube Tzerko at the University of California, Los Angeles and Aspen Music Festival, and Marion Hall, Gyorgy Sebok, Gunther Ludwig, and Zhanna Arshanskaya Dawson at Indiana University in Bloomington, where she received Bachelor's and Master's degrees in piano performance. Currently a full Professor in the Department of Music and Theatre Arts at Shippensburg University in Pennsylvania, she has also taught at the University of Redlands, the University of California, San Diego, and Grinnell College in Iowa.

---
Paris Peet

Paris Peet teaches performance classes at Shippensburg. He holds an M.F.A. in Acting from the University of South Carolina. He is a member of Actors Equity Association and has appeared at regional and summer theatres that include The Alley Theatre, The Shakespeare Theatre, The Charlotte Repertory Company, The Houston Shakespeare Festival, The East Carolina Playhouse and Totem Pole Playhouse. Paris also works with ballet and theatre companies as a fight arranger. He has directed fight scenes for Columbia City Ballet's production of Romeo and Juliet and Richard II at the Shakespeare Theatre at the Folger. At Shippensburg University, Paris choreographed fights for My Voice is my Sword, an adaptation of Shakespearean history plays that toured to area schools. Paris was a teaching artist at The Delaware Institute for the Arts in Education where he appeared in productions of L"Histoire du"Soldat and Old Times. He has been a guest artist at Miami University of Ohio where he directed fight scenes for Romeo and Juliet under the direction of Stan Brown. Paris is a Full Professor of Theatre at Shippensburg University and was a co-producer and director for Shippensburg University's Second Stage Theatre Ensemble until 2006. Paris is also active in Shippensburg University's Interdisciplinary Arts Program.
---
Elizabeth Shoenfelt

Elizabeth Lins Shoenfelt graduated magna cum laudefrom Messiah College with a degree in music education and has divided her energy between teaching, performing, and choral conducting since that time. She received her master's degree in vocal performance and pedagogy from the Pennsylvania State University and is currently completing her doctoral studies in vocal performance at the Shenandoah Conservatory in Winchester, Virginia. Ms. Shoenfelt is in demand as a soloist, voice teacher, guest conductor, and choral clinician. Currently she serves as a member of the music faculty at Shippensburg University and has also taught at Bloomsburg University, Wilson College, and Messiah College.
In addition to teaching, Ms. Shoenfelt maintains a busy private voice studio, directs the Susquehanna Young Women's Chorale, and is a recurring choral adjudicator and clinician. Ms. Shoenfelt also serves on the executive board of the American Choral Directors Association of Pennsylvania as the repertoire and standards chair for women's choirs. Ms. Shoenfelt is a frequent recitalist throughout central Pennsylvania and Virginia and has sung principal roles with opera companies in Harrisburg and Philadelphia. She made her professional debut at the age of twenty with the Harrisburg Opera Company singing the role of Juliet Brooks in the Pennsylvania premier of Benjamin Britten's The Little Sweep. In 2008 she was featured as the soprano soloist in Mozart's Mass in C Minor with the Shippensburg Summer Festival Series, and in 2009 she sang the soprano solo in Vaughan William's Dona Nobis Pacem under the direction of choral pioneer Robert Page at the Pennsylvania Choral Directors Association convention. Also in 2009 she had the privilege of singing with opera legend Frederica von Stade. Since 2010, she has enjoyed multiple appearances as a guest artist with the Piedmont Symphony Orchestra, and she is the recurring soprano soloist in Handel's Messiah with the Pennsylvania Consort.
Ms. Shoenfelt has completed young artist programs in Siena, Italy, and through Songfest in Malibu where she worked with composers such as Lori Laitman, Jake Heggie, and John Musto as well as acclaimed pianists and coaches Martin Katz an Graham Johnson. In addition to performances with the Piedmont Symphony, Ms. Shoenfelt has also performed with the Shippensburg University Orchestra and the West Shore Symphony Orchestra. She has sung in a variety of venues throughout the United States and Europe, including performances for the former governor of Pennsylvania, several Miss Americas, and a concert appearance with Kenny Rogers.
---
Blaine Shover

Blaine Shover is Professor of Music at Shippensburg University and recently retired as the conductor of the Concert Choir and Madrigal Singers, a position he held for over 40 years. Currently he serves as the Artistic Director of the Summer Music Festival, a series of three concerts presented by the Festival Symphony, an orchestra comprised of professional musicians who come together from various states to perform with world-renowned soloists and guest conductors during the month of July. He is the founder-director of the S.U. Festival Chamber Choir, an ensemble of 30 professional vocalists, serves as Choir Director at Memorial Lutheran Church in Shippensburg, PA, as well as the conductor of the Towne Singers, a community choir based in Chambersburg, PA. He is also the founder and former Director of the Concord Chamber Singers of Bethlehem, PA, a touring ensemble that has performed extensively in Europe. In addition to his artistic and conducting responsibilities, Dr. Shover teaches the upper level music history courses as well as Introduction to Music. He holds the Bachelor of Music degree from Penn State University, the Master of Music Degree from Temple University, and the Doctor of Musical Arts Degree from the University of Illinois. He frequently serves as guest conductor, clinician, and adjudicator at numerous choral and orchestra festivals in New Jersey, Maryland, Illinois, and Pennsylvania.