Jump to Footer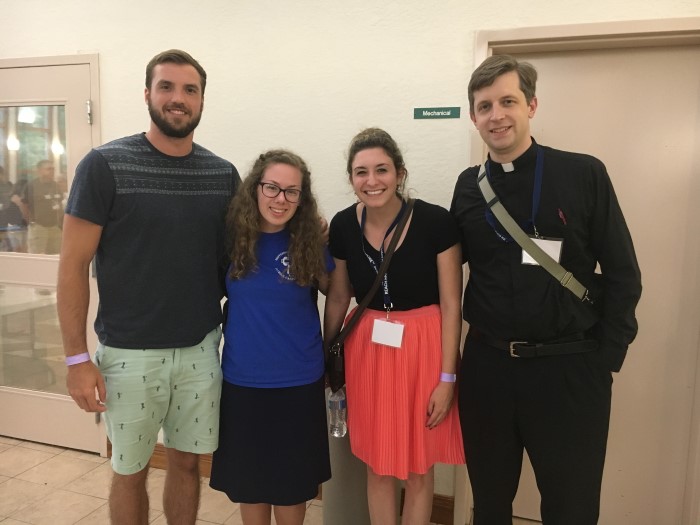 Weekly Events
UPDATE: All Catholic Campus Ministry events (seen below) are now canceled for the Spring 2020 semester, due to the university moving to online learning as part of social distancing practices. To stay in touch virtually through online Bible study groups, please email Catholic@ship.edu.
CCM Dinner Night
Tuesdays 5 PM (beginning January 21st)
Cora I. Grove Spiritual Center Second Floor


Ask a Catholic
Last Wednesday of the Month 11 AM - 1 PM
CUB Great Hall
CCM students join Fr. Dwight Schlaline in the CUB to answer your questions about the Catholic faith! Stop by the table for some conversation and giveaways.
Rosary Group
Thursdays at 12:30 PM
Cora Grove Spiritual Center Room 220
No meal provided.
Mass, Breakfast, and Small Group Bible Study
Sundays 11 AM - 2 PM (beginning January 26th)

Join other CCM students for fellowship and small group after 11 AM Mass at Our Lady of the Visitation Church!
Upcoming Events
April 18th: Silence of Mary Service Trip from 9 a.m. to 2 p.m. (email catholic@ship.edu for details and to register)
Eucharistic Adoration
Our Lady of the Visitation Parish
First Friday of each month
7:30-8:30 am.
Questions? Contact the Parish Office 717-532-2912
Corpus Christi Parish, 320 Philadelphia Avenue in Chambersburg. PA.
Perpetual Adoration
For more information about the chapel contact Richard So (717) 404-9491 or RichardSo@embarqmail.com
Service Opportunities and Pro-Life Ministry

Home Dining

Students meet monthly at the home of Richard & Roxanne Dennis to prepare, and enjoy dinner with residents from the South Mountain Restoration Center, Fr. Joe Carolin & an Activities Aid. Transportation is provided.

Next Dates:

Silence of Mary Service Trip

The Silence of Mary home provides sanctuary, food, family structure,
Christian values/morals for the homeless.

Contact: CCM office at catholic@ship.edu for more information about the mission. Next trip date is April 18th.
You may also volunteer and donate directly to:
Silence of Mary Office
20 Erford Road, Suite 302, Lemoyne, PA 17043.

Cupcakes for Life
October & February in the CUB
Next Date: *Coming soon
Sponsored by: Catholic Campus Ministry and PMI Resource Center, Shippensburg
March for Life Trip
Anniversary of the Roe v. Wade Supreme Court abortion decision
Held annually in January in Washington DC


For more information about these and more service opportunities or pro-life activities
contact the Catholic Campus Ministry Office (717) 477-1244/catholic@ship.edu
Retreats/Conferences
SEEK 2019!


CCM students have the option to attend the SEEK conference every other year!
The next conference will be in 2021!
Retreats for students are held each semester
A retreat is a day to break away, meet new people your own age, deepen your faith, and have fun. Contact Nichole at catholic@ship.edu for details or check out our calendar.

Rachel's Vineyard Retreats
Are you or someone you know hurting from an abortion?
Rachel's Vineyard retreats are held every weekend throughout the United States and internationally.
For more information and a complete listing of Rachel's Vineyard weekends please call
1-877-HOPE-4-ME or visit the website at www.rachelsvineyard.org.