Jump to Footer
Shippensburg University joins community in unity rally
Shippensburg University students, faculty and staff joined members of the Shippensburg community on Thursday, October 17 at Shippensburg Station for a unity gathering.
Organizers planned the event as a time for all the communities of Shippensburg to come together as one and allow for a moment of reflection and sharing.
Student Government Association President Aven Bittinger welcomed the crowd of nearly 100. Together, those gathered bowed their heads in prayer with the comforting words of Rev. Jane Bye and shook the hands of strangers with the encouragement from Professor Stephanie Jirard.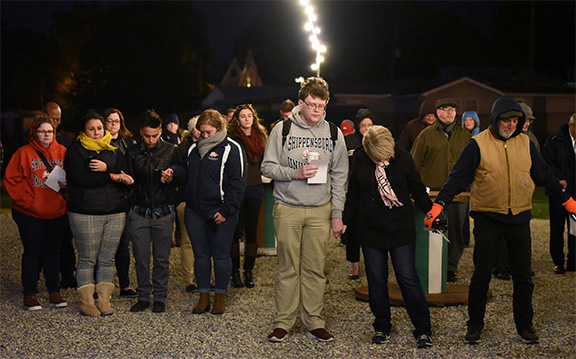 Shippensburg Borough Mayor Kathy Coy and Shippensburg Township Supervisor Steve Oldt offered words of encouragement and a commitment to a safe community for all.
SU Trustee Andrew Alosi, a lifelong Shippensburg community member and Ship alumnus, affirmed Ship's stance "against any and all forms of violence, prejudice, bigotry and hate whether on or off campus. It is not welcome here ever."
As the event concluded, Shippensburg University President Laurie A. Carter tasked the entire community to refocus and be a part of the bright future ahead of Shippensburg University and the community. "Live out our Ship values in all that you do, living them out in our community and as an example to the world beyond. This is hard work, but the work that may well make the biggest difference in our world."
The event concluded with refreshments and a time for community fellowship.