Jump to Footer
Office of the President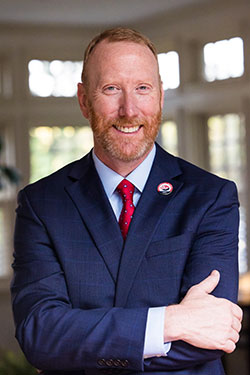 Welcome to Shippensburg University! Our passion and commitment to student success drives us. Our students' forward-thinking ambition motivates us. Together, we embrace exploration, curiosity, and discovery-based learning models that transform students into critical thinkers, preparing them for the challenges and opportunities that lie ahead.
Our student-centered teaching philosophy prioritizes learning through experiences both in and out of the classroom. The Minds@Work  student research conference, the Center for Land Use and Sustainability, the Brad E. Hollinger Stock Trading Room, the Fashion Archives and Museum of Shippensburg University, and the Grace B. Luhrs University Elementary School, the only public elementary lab school in the state, are only a few of the unique features of the University. These real-world opportunities prepare our students to be leaders in their community, profession, and evolving global markets.
Our faculty are leaders in their field with deep ties to a strong alumni network and industry partners. Academics are important, and all of our classes are taught by faculty who believe in innovation, personal attention, and transforming the lives of students.
Supporting personal growth is at the forefront of the campus experience and features an array of rewarding extra and co-curricular activities from leadership training, to e-sports, more than 150 campus clubs and organizations, and intramural team sports.
School pride abounds across campus and our students rally together in support of our nationally recognized student athletes who have earned more than a hundred Pennsylvania State Athletic Conference championships. Ship Raiders compete at the highest level, both on the court and in the classroom, on the field or conducting research. The Shippensburg University Marching Band has represented Ship across the country, and is our home field advantage that dots the "i" on Shippensburg. Our campus thrives, thanks to our Raider Pride.
The richness of our campus resources are matched by the richness of our surrounding community.  Located in South Central Pennsylvania's lush Cumberland Valley with the Appalachian Mountains on the horizon, our Ship community has a safe, diverse, and majestic recreational landscape with vast natural resources to call home.
Ship's School of Engineering, with its newly opened modern industry-level lab, is home to undergraduate programs accredited by Accreditation Board for Engineering and Technology, and is the only place in the Pennsylvania State System to offer Bachelor of Science degrees in civil engineering, computer engineering, electrical engineering, mechanical engineering and software engineering.
Our John L. Grove College of Business is home to another State System exclusive, the Bachelor of Science in Business Administration in Entrepreneurship. Leading the way is hallmark of Ship, and Grove College exemplifies this philosophy as the first in the State System to be internationally accredited by the Association to Advance Collegiate Schools of Business.
The College of Education and Human Services boasts one of only eight Bachelor of Science in criminal justice programs in the United States certified by the Academy of Criminal Justice Sciences.
Our College of Arts and Sciences is home to one of only three programs in Pennsylvania accredited by the Accrediting Council on Education in Journalism and Mass Communication. These accreditations round out the eleven total for the university including computer science, counseling, social work and teacher education. 
Since 1871,  we have been a community of leaders committed to academic innovation and excellence. We embrace our past as the first state teachers college in Pennsylvania to be chartered and the first to be accredited by the Middle States Commission on Higher Education. Today, we celebrate 150 years in service to our community, enriching the lives of our students and driving the economic growth of our region.
A common refrain is that once you see and experience Shippensburg University you will want to be a part of the community. I think you will agree. So, I hope you will get to know us. There is so much to love here at Ship and I look forward to welcoming you to our Raider family. 
President Charles E. Patterson has dedicated nearly two decades to the advancement of higher education. He arrived at Shippensburg University on June 30, 2021 and served as interim president until his appointment as the 18th president on May 6, 2022.
Before coming to Shippensburg University, Patterson served as president of Mansfield University and as the senior advisor for executive outreach at the U.S. Department of Education's Office of Federal and Student Aid. At the U.S. Department of Education, he was responsible for the development and execution of outreach and engagement efforts with higher education executives (presidents, chancellors, and CEOs) and stakeholder organizations, focusing on university and higher education finance and the protection of student borrowers across all Title IV eligible institutions.
Patterson served for nearly a decade within the University System of Georgia, including serving as the interim president of Georgia Southwestern State University from 2015 to 2017, the home institution for the internationally recognized Rosalynn Carter Institute for Caregiving and a strong regional economic driver for Southwest Georgia. Prior to becoming the interim president, he served as an administrator at Georgia Southern University from 2008 to 2015 and rose through the ranks to serve as the university's vice president, Research and Economic Development, chairman and executive director of the university's Research and Service Foundation, Inc., and dean of the Jack N. Averitt College of Graduate Studies. Patterson was responsible for strategically growing the research and scholarly enterprise, identifying, and forming partnerships with federal, state, and regional entities, and advancing the university's research aspirations.
Patterson began his career in higher education in 2003 as an instructor in the Honors College and research administrator at Baylor University. At Baylor, he led the operations and management of the university's sponsored programs functions, including pursuit of grants/contracts, pre- and post-award administration, liaison with academic and administrative units of the university, research policy development and implementation, and the development of new collaborative opportunities with industry, academic, and government organizations.
He is a board member for the Center for Rural Pennsylvania - a bipartisan, agency of the PA General Assembly, the presidential liaison to the State System's Board of Governors' University Success Committee, a member of Pennsylvania's Chamber of Commerce, and serves on several committees that aim to unite the needs of the university and the Shippensburg community.
Patterson earned a PhD in biochemistry and molecular bioscience from the University of Texas Southwestern Medical Center in 2002. He graduated in 1993 from Mississippi State University with a Bachelor of Science degree in biochemistry.
He is married to Colleen Patterson. They have a son, Aidan Patterson, who is a sophomore at Shippensburg University.
Contact the Office of the President
Shippensburg University
1871 Old Main Drive
Shippensburg, PA 17257
Phone:
717-477-1301
president@ship.edu
Monday-Friday: 8:00 a.m. - 4:30 p.m.