Jump to Footer
2019 - 2020 SHIPREC MEMBERSHIP INFORMATION
---
All part-time and full-time undergraduate students enrolled in on-campus classes pay a rec fee as a condition of enrollment and are considered members of ShipRec.
Membership policy is in effect August 12, 2019 – August 9, 2020

This policy applies to the ShipRec building only.

Policy and associated fees are subject to change.

Click the following link for a copy of the 19-20 ShipRec Membership Brochure
ELIGIBILITY
Currently employed SU Faculty and Staff Members

Currently enrolled SU Graduate Students

SU Retirees as defined by SU Human Resources

SU Alumni as defined by SU Office of Alumni Relations

SU Donors as defined by the SU Foundation

SU Trustees

SU Affiliates

Dining Service Full-Time Management Staff, Supervisors, and Union Associates

Student Services, Inc. Full-Time Employees

SU Foundation Board Members and Full-Time Employees

Juvenile Justice Training and Research Full-Time Employees
MEMBERSHIP OPTION
Individuals may choose from two options which classify them as a "Member".

Fees are pro-rated based on purchase date.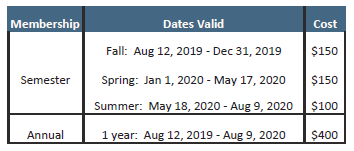 PUNCH CARD OPTION
Punch cards may be purchased as an alternative to membership.

Limited access card for $3 per visit.

Minimum purchase of 10 punches is required.

Punch cards do not expire and are non-transferable.

Presentation of photo ID is required at time of purchase.
PAYMENT
Bring payment and SU ID to ShipRec entrance desk during hours of operation.

Individuals without a valid SU ID (alumni, retiree, donor, and trustee), must present another form of photo ID.

Payment accepted: cash or check (made payable to

Shippensburg University

)

No group or family discount offered.
DEPENDENT ELIGIBILITY
Dependents are defined according to the policies established by the SU Office of Human Resources

Dependents of SU faculty, staff, affiliate, trustee, and retired members, who are at least 16 years of age, are eligible to purchase a membership or punch card based on the membership status of sponsor. Dependents of punch card holders are not eligible for membership but may purchase a punch card.

The member assumes role of "Sponsor" and accepts responsibility for the actions of the dependent (s).

Dependent

membership or punch card is concurrent with employee separation from SU.

Dependents ages 10-15 are not eligible for membership or punch cards. However, they may be sponsored by a member as

a guest with applicable guest fees. Refer to the guest pass policy for more information.

Dependents of graduate students, donors, and alumni are not eligible for membership. However, a member may sponsor a dependent as a guest with applicable guest fees. Refer to the guest pass policy for more information.

Dependents must be at least 14 years of age to use the Cardio/Strength area.

Individuals under the age of 10 are not permitted in the facility for recreational purposes.
ENTRANCE INTO FACILITIES
Members/punch card holders must present SU ID or ShipRec card to entrance desk staff.

All parties are subject to random verification of ID through visual inspection.

Cards provided by ShipRec have a replacement fee of $5.
GUEST PASSES
Members may sponsor a guest at ShipRec. Punch card users and dependents may not purchase a guest pass.

Guest pass fee: $3 (valid for one date of use)

Members may purchase up to two passes per week (Mon.- Sun.) and sponsor up to two guests at one time.

Passes are non-refundable and non-transferable.

Sponsor and guest must show photo ID at time of purchase.

Guest passes may be purchased at ShipRec during all hours of operation.

Sponsor must remain with the guest(s) at all times, and assumes responsibility for the actions of the guest(s).
LOCKERS
Day lockers are available for day-use only and require a quarter for access. Quarter is refundable after use.

Full-size lockers are available for day-use or semester rental. Day-users supply their own lock which must be removed daily. ShipRec supplies renters with a lock.

Fee for locker rentals is $10 per semester.
GROUP FITNESS CLASSES
Group fitness classes are included in the purchase of ShipRec access.

Class schedules are available at ShipRec, on the Rec Hotline (717-477-1561), and online at www.ship.edu/recreation. Refer to the website for a list of group fitness policies and class descriptions.
PARKING
Faculty and staff must park in a faculty/staff parking lot.

Alumni, donors, trustees, retirees, and dependents are issued a ShipRec parking decal at time of membership or punch card purchase. These individuals must park in the Commuter Lot (C6) located in front of ShipRec.

The ShipRec parking pass expires concurrently with membership/punch card expiration.

SU parking regulations and campus parking map are located at ship.edu/police.
FACILITY POLICIES
Violations of established ShipRec policies or parking regulations may result in loss of membership/punch card privileges without a refund.
Questions regarding ShipRec membership?
Contact the Department of Recreation
717-477-1755 or rec@ship.edu
Contact the Department of Recreation
Rec Hotline (Facility & Program Schedules): 717-477-1561
Phone:
717-477-1755
rec@ship.edu