Jump to Footer
Outstanding Young Alumnus Award
2020
Jessica Barkley Lorance
Class of 2010 - BSBA International Managment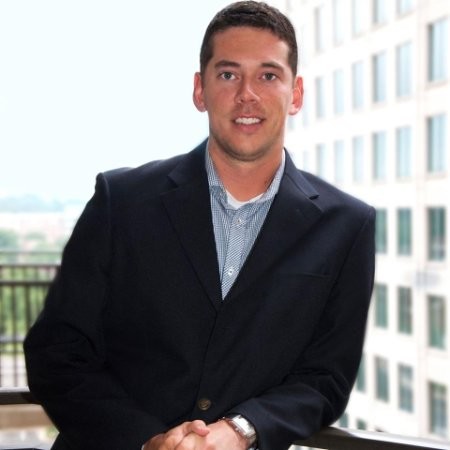 Jonathan Moats
Class of 2010 - BSBA Finance
Our 2020 award recipients will join in our 2021 in-person recognition.

2019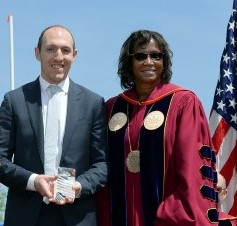 Ryan Shontz, Class of 2005, earned his BSBA in finance and passed all three CFA exams on his first attempt to become a Chartered Financial Analyst and earned a Certificate of Investment Performance Measurement from the CFA Institute. He is the head of performance analytics for the Americas at Aberdeen Standard Investments, one of the world's largest investment companies. He is responsible for tailoring the global department strategy to meet the evolving needs of investment professionals and clients in the Americas. He is currently working to deploy new data science oriented techniques in a forward-looking model for product competitiveness.
Prior to his position at Aberdeen, Shontz was vice president and regional manager for the Global Performance Team at BlackRock, Inc. In this position, he navigated through two immense mergers and was influential in completing several large-scale projects for the company to the benefit of the firm and investors in the marketplace. Ryan Shontz pictured with President Laurie Carter
2017
Rick Moyer, Class of 2000, is the managing partner of PwC's Jacksonville market. He is a seasoned business executive who focuses on building long-term, trusted relationships with his clients. He has worked with companies across industries including banking, technology, real estate and insurance. He has extensive experience in analyzing the new revenue recognition accounting standard and helping his client consider a broad range of solutions to meet the requirements.
Under his leadership, the Jacksonville Market Team has doubled in size as he is continuously focused on recruiting, training and inspiring its talent. He works directly with the leadership of the top area universities to ensure the curriculum is best suited for the needs of the business community. He champions PwC's transformation efforts within its audit practice by driving lean methodologies, data analysis and intelligent auditing.
Moyer's clients are innovators in the financial services and healthcare technology industries. He serves on various committees that analyze and track disruptive technologies that impact his client's businesses in the future. He pairs his understanding of the business and emerging technologies to provide insights into the strategies of his clients, including the development of new partnerships to capitalize on synergies.
Moyer has helped clients through the SEC registration process. He has extensive experience overseeing and executing all phases of acquisition integration, including financial and operational due diligence, information technology rationalization and integration, loan and intangible asset valuation, accounting and SEC reporting requirements, tax accounting and business
re-engineering.
He serves as finance chair for both the Jax Symphony Orchestra and Jax Museum of Science and History. He is on the board of directors for the Atlantic Beach Country Club, McKenzie Noelle Wilson Foundation and Florida of CPAs.
2016

From left: Dr. Christine Cheng, Jodie Vanderman Driver, Shippensburg University Alumni Association representative Doug Harbach, and President Jody Harpster.
This year 2 of the 3 recipients are graduates of the John L. Grove College of Business: Dr. Christine Cheng, Class of 2000 and Jodie Vanderman Driver, Class of 2000.
Dr. Christine Cheng, an assistant professor in the Department of Accounting at Louisiana State University, earned a degree in finance and a degree in biology from Shippensburg.
She came to Shippensburg eager at the opportunity to engage in college studies and join the swim team. While at Shippensburg, her now husband, Chi Cheng, a 1999 Shippensburg University graduate, became a lead champion for her.
She earned two All-American Certificates (one in the mile and one in the 500 yards), an academic All-American Certificate, and a most valuable swimmer award. She was recently inducted into the university's Athletic Hall of Fame.
Following graduation, Christine worked in the Harrisburg area at several companies including KPMG and Padden, Guerrini & Associates P.C. She also attended Penn State Harrisburg from which she earned her MBA. She later earned a Ph.D. in accounting from the Smeal College of Business at Penn State in 2011.
During this time, the couple welcomed their first two children, Michael and Andrew. They have since had a third son, Isaac. After leaving Penn State, she became a visiting assistant professor, and then subsequently, an assistant professor at LSU. In addition to being an assistant professor, Cheng is also an associate editor for the Journal of Forensic & Investigative Accounting.
Jodie Vanderman Driver, a marketing and sales professor at West Chester University, graduated magna cum laude from Shippensburg with a degree in marketing.
She began her career by starting and growing a successful cosmetics business. She owned that business for five years before she went to Penn State where she earned her MBA from Smeal College with concentrations in product and market development and strategic leadership.
For the next five years, she had a variety of consulting, marketing, and management posts with DuPont in both the United States and Asia. In 2010 and 2011, she lived in Shanghai, China and traveled throughout Asia. In her final role with the company before transitioning careers, she managed the portfolio of the $3.4 billion health and nutrition division's global food and pharmaceutical safety testing business.
At West Chester, she works predominantly with senior marketing majors. In 2014, the university honored her with a faculty award for being a "Woman of Character, Courage, and Commitment." She also is a guest speaker and lecturer at industry and women in business events throughout the greater Philadelphia region.
She is on the John L. Grove College of Business Advisory Board at Shippensburg, the Shippensburg University Alumni Association Board of Directors, and the Smeal College MBA Program Advisory Board.
She lives in West Chester with her husband and two children.
2015
Karen Page Winterich '03 - Information Management and Analysis
Karen Page Winterich is an associate professor of marketing and the
Frank and Mary Smeal Research Fellow in the Smeal College of Business
at Pennsylvania State University. She earned her bachelor's degree summa
cum laude in information management and analysis in 2003. She received
her doctorate in marketing from the Katz School of Business at the
University of Pittsburgh in 2007.
She joined the faculty at Penn State in 2010, after teaching for three years
in the Mays Business School at Texas A&M University.

She has received numerous awards and grants while at Penn State, including a new faculty research grant in 2010 and the Marketing Science Institute's Young Scholar Award in 2013. She was a distinguished guest professor at Fudan University in Shanghai, China, in 2013. She has authored nearly two dozen refereed and invited publications. While at Texas A&M, she won the inaugural Student Led Award for Teaching Excellence.

She is a member of the Association for Consumer Research, the Society for Consumer Psychology and the American Marketing Association. She volunteers with the Alzheimer's Association and at her church.

While at Shippensburg, she was a member of the Honors Program for four years and the John L. and Cora I. Grove Scholars Program for two years. She received the Ingersoll-Rand Scholarship, the Jack and Mildred Prince Squires Scholarship, the Beta Gamma Sigma Scholarship and the Wall Street Journal Student Achievement Award. She was a member of Student Senate, Alpha Kappa Psi and Beta Gamma Sigma.
2014
William Craig '00 - Finance

Craig, of Harrisburg, is founder and CEO of WebpageFX, an award-winning
full-service Internet marketing, web design and web development agency.
He initially began his Internet career on a free- lance basis while a student
at the university. After graduating with a degree in finance 2000, he
earned an information technology master's degree from the University of
Pittsburgh.
While working as a defense contractor with the Pennsylvania National
Guard, he continued to pursue his dream of starting his own business,



culminating with the incorporation of WebpageFX in 2006, to meet what he predicted would be a massive growth in Internet marketing. He started working full-time at the company in 2004. The firm has since expanded to more than 60 employees, including a number of Shippensburg University alumni, and con- tinues to add jobs each year.
His efforts have been recognized in many areas including being named Entrepreneur of the Year at the 2010 Harrisburg Chamber Business Awards. He is a board member and active participant in Harrisburg Area Community Colleges' Institute for Entrepreneurial Studies and is also involved in various programs such as the Ben Franklin Technology Partner program. He is also an active member in Big Brothers and Big Sisters.
Richard Dietz '99 - Finance
Dietz, of Winston-Salem, N.C., is a partner with Kilpatrick Townsend &
Stockton LLP. He earned his degree in finance and was president of the

University Honors program. He earned his law degree in 2002 from Wake
Forest University School of Law where he was number one in his class.

He subsequently served as law clerk for judges in the U.S. District Court
for the Western District of Virginia and the U.S. Court of Appeals for the
Fourth Circuit. From 2004 to 2006, he was a research scholar in
comparative law at Kyushu University in Japan.

From 2006 to 2008, he was an associate at Covington& Burling LLP in Washington, D.C. He joined his current firm as an associate in 2008 and was appointed in 2013 as a partner.
His practice is focused on appellate and constitutional litigation, and he has represented clients in dozens of cases in state and federal appellate courts across the country including the U.S. Supreme Court.

In 2012 and 2013, he was recognized as a North Carolina"Rising Star" in the area of Appellate Law by North Carolina SuperLawyers magazine. He is a gubernatorial appointee to the North Carolina Courts Commission and is a member of the Ethics & Grievance Committee for the 21st Judicial District Bar.

Lt. Sean Palmer Jehu '96 - Human Resource Management

Jehu is stationed in Falmouth, United Kingdom, where he serves as a
military search and rescue pilot. He earned his degree in business
administration in human resource management. A member of the
university's ROTC program, he earned his U.S. Army commission and
began serving as a helicopter medical evacuation pilot for more than
nine years. He transferred in 2005 to the U.S. Coast Guard to serve
as a search and rescue pilot.

In 2011, while serving with the Coast Guard in Puerto Rico, he was
selected to serve on an exchange tour to fly search and rescue

with the British Royal Navy. Since then, he has participated in more than 30 search and rescues resulting in the saving of dozens of lives.
During his career, he has served in various roles in addition to his flight duties, including as an instructor pilot and flight examiner, communications division head, engineering officer, maintenance test pilot, flight platoon leader, and flight scheduler. He has flown throughout the world in areas including South Korea, Thailand, Dominican Republic, and the Bahamas.
He has completed numerous training programs, including the Advanced Helicopter Rescues Swimmer School. He has earned numerous awards and honors including the Army Meritorious Service Medal and the Coast Guard Accommodation Medal.

Marie R. McDonald '97 - Marketing

McDonald, of Breinigsville, is senior director with Quintiles Consulting,
the largest provider of biopharmaceutical development and commercial
outsourcing services in the world. As a student, she was a four-year letter
winner on the basketball team, playing on the NCAA Division II national
runner- up team before she earned her degree in marketing. She has a
master's degree in career and technical education from Virginia Polytechnic
Institute and State University in 2001.

She began her career as a specialty territory sales representative for Eli Lilly& Company before she joined Clarkston Consulting where she worked for 10 years and rose to a client service provider. She joined Quintiles in 2011.
She has led consulting projects both domestically and abroad, has published numerous articles, and given presentations at profes-sional conferences.
She serves on the Healthcare Businesswomen's Association (HBA) Greater Philadelphia chapter's board of directors as the chapter's president-elect. She also serves on Quintiles's WIN (Women Inspired Network) Leadership Team, received HBA's 2013 ACE Award created to recognize corporations' efforts to strengthen the Advancement, Commitment and Engagement (ACE) of women's careers in the healthcare industry.
She also was selected from 18,000 women in the company to receive the 2014 HBA Rising Star award. She also earned multiple awards while she worked for Clarkston Consulting.
2013
James A. DeGaetano '99 - Accounting
DeGaetano, of Mechanicsburg, has spent his professional career in a
variety of financial-related positions across many industries, taking
him from China to Europe and North America for many business
projects. A former audit manager and broker, as well as experienced
running a $50 million company, he started JD Financial Services,
dba First Command Financial Planning, almost six years ago and
serves more than 400 clients with more than $115 million in assets.

He has won numerous awards for his work, including being nominated for the Top Forty Under 40 award by the Central Pennsylvania Business Journal. He is a CPA, Certified Financial Planner and earned his master's in business administration in 2002. He is a member of the Central Pennsylvania Financial Planning Association and Financial Services Institute as well as being active in his community serving with the Rotary Club of Carlisle. His wife, Jen, is a 2000 Shippensburg graduate.
2012
Chris Jackson '97 - Accounting
Jackson is chief investment officer for TEAM Financial Managers
managing its core strategic investment strategy. He joined TEAM in
2012 and is responsible for managing client portfolios and
overseeing its investment management processes. He also holds
the Accredited Fiduciary Investment Manager designation.

Jackson put his accounting degree to work right after graduation
as a staff accountant for Padden & Company, a CPA firm. In 2001,
he joined the trust department at Orrstown Bank as a trust
administrator where he did tax preparations, estate settlements
and trust administration.

His first promotion was in 2002 when he became portfolio manager, and that was followed by promotions to assistant vice president and vice president and portfolio manager, and later as controller and investor relations officer.
He is immediate past president of the John L. Grove College of Business Finance Advisory Board, served five years as treasurer for the Shippensburg Public Library, and is an elder and treasurer for the Shippensburg Presbyterian Church. He lives in Shippensburg with his wife, Amy Shenk '99 and their two sons, Avery and Bennett.
2011
Douglas K. Besch '95 - Accounting
Besch is a partner in KPMG LLP in its New York City office.
He began in the firm's Harrisburg office right after graduation,
progressing from a staff position to manager, then senior
manager before leaving for New York to join the firm's
Department of Professional Practices as a senior manager.
In April 2008, he accepted a two-year professional accounting
fellowship with the United States Securities and Exchange
Commission in Washington, D.C. In June 2010, he rejoined
KMPG in New York as a partner.

As a student at Shippensburg, he was an officer in the Student Association and also served as the student representative on the university's Council of Trustees for two years. Since graduation, he has been a member of the Alumni Association board, the alumni golf committee and served as a phone-a-thon volunteer with the Shippensburg University Foundation.
Nathan N. Cost '02 - Marketing
Cost is senior proposal manager for General Dynamics Information
Technology (GDIT) in its Frederick, Md., office, where he has
combined his successful military and civilian positions. During two
tours in Iraq as an Army officer, Cost held positions of leadership and
responsibility that involved working closely with the local population.
He was the officer in charge of an ammunition consolidation site and
later was the fuel program advisor on the Ministry of Interior's
Transition Team. The team implemented his fuel program that

supported more than 350,000 Iraqi security forces.

As a civilian, he worked with Agility Defense and Government Services, where again his creativity and ability to implement plans led to increasing responsibility as projects of increasing value were assigned to him and he was promoted from a business development analyst to manager. He left Agility for a proposal manager position with Stanley Associates in 2010 and shortly after assumed his present position with GDIT.
2009
James L. Dailey '97

Dailey, of Camp Hill, served with Fulton Bank as a financial advisor
before he joined niche with TEAM Financial Managers in Harrisburg
in 1999 as a financial advisor and quickly moved to portfolio
manager in 2001. In 2005 he was named co-owner and chief
investment officer where he is actively involved in the day-to-day
management and strategic planning of the firm and is responsible
for the overall investment philosophy, portfolio management, and
research and trading for client investment accounts. He earned
the prestigious Chartered Financial Analyst designation in 2003.

He is a member of the John L. Grove College of Business Advisory Board at Shippensburg University and the Big Brothers Big Sisters of the Capital Region board including the finance committee and volunteering as a Big Brother. He earned a bachelor of science in business administration degree in 1997.

Rebecca Quinter Finkenbinder '97
Finkenbinder, of Palmyra, was elevated into some exclusive ranks in
2008 after being named a Rising Star by Law and Politics. Only 2.5
percent of lawyers in the state receive this honor that is published in
Philadelphia and Pennsylvania Super Lawyers Rising Stars Edition
magazines. She is an associate with McNees Wallace & Nurick, LLC
and practices in its intellectual property and food industry

practice groups. She focuses on all aspects of trademark and copyright law
and extends into franchise matters and advertising.

She is a member of Woman of Wardrobe, Dress for Success of South Central Pennsylvania, Women in the Profession Committee of the Pennsylvania Bar Association, and serves on the board of Sales & Marketing Executives International Central Pennsylvania Chapter. She earned her bachelor of science in business administration degree in 1997 before earning her master of business administration degree from Temple and her law degree from Dickinson School of Law. She is married to Travis Finkenbinder, also a 1997 Shippensburg graduate. She and Travis own Rothermel Funeral Home & Cremation Services in Palmyra.
2008
Colette Lautenschlager Raebiger '95
A quick look at Colette's experience shows she worked in all areas of several major companies to prepare for her role as a senior project manager, Global Supply Chain at Wyeth Pharmaceuticals. There she led the multi-functional, multi-departmental international project to facilitate the global implementation of automated demand feeds into SAP and has been the leader for all SAP business-related processes within Wyeth. Previous to joining Wyeth in 2005, Colette was with CertainTeed, Inc. starting in 1999. Starting in sales and customer service she quickly progressed to accounting, finance, and order fulfillment departments with increasing responsibilities.
Colette is an active volunteer at SU serving on the Supply Chain Management Advisory Board and as an annual fund co-chair. She also is a founding member of the Philadelphia Alumni Steering Committee and represents Shippensburg University at local college fairs. She is working toward her CPIM certification and is a member of APICS, a professional organization.
2007
Timothy Smith '91 is vice president of ManTech Systems Engineering Corporation with ManTech International. ManTech is one of the U.S. government's leading providers of innovative technologies and solutions for mission-critical national security programs supporting the Intelligence Community, Department of Defense, and U.S. federal government customers. ManTech has over 8,000 people with operations in 38 countries around the world.
As a member of the System Engineering management team, Tim supports the Navy, Marine Corps, Air Force, Army, the Department of Homeland Security and other customers in areas such as training development, systems engineering, logistics, management, software development, and network/communication services. He has extensive experience in all areas of executive management including strategic planning, staffing, client and contract management, project planning and control, and financial management. He also has experience in facilitation, team building, and change management process consultation.
Managing a busy work schedule, Tim finds time to volunteer locally in the Loudoun County area and at his alma mater. He is a member of the Arts & Sciences Advisory Board and an active participant in the Greater Washington D.C. Alumni Planning Committee. One of Tim's greatest learning experiences here at Ship was as a student assistant. Continuing his support for student achievement, Tim supports partnerships with educational institutions in D.C., notably Georgetown University.
Tim is an avid runner and biker and frequently competes in triathlons throughout the United States, including completing the 2004 Iron Man USA competition. He earned his B.S.B.A. with minors in information systems and marketing. His master's certification in organizational development/change management is from Georgetown University.
Scott Moyer '90 is Pricewaterhouse-Coopers' managing director of
the Consumer Finance Group. He has over seventeen years of
experience serving financial institutions, manufacturing, healthcare,
and higher education clients located in central Pennsylvania and
surrounding markets with assets ranging from $1 million to $150
billion. On an international rotation in England, the Netherlands, and
Belgium, Scott provided services to multiple international financial
institution clients with assets up to $450 billion.

His services include business assurance, merger and acquisition, public offering, SEC and IFRS reporting, regulatory reporting, and internal control services. He is responsible for coordination with client management and service teams, engagement and office administration, resolution of technical issues, review of procedures performed by service teams, and communications with boards of directors. Scott reviewed and performed analytical and substantive procedures on all financial transactions including consolidation, receivables, investments, intangible, fixed assets, payables, and other accruals.

While at Ship, earning his B.S.B.A. degree, Scott was closely involved with Phi Beta Lambda/Future Business Leaders of America, and the Accounting Club. He continued his involvement as a member of the fundraising committee for the Cora I. Grove Spiritual Center and Interfaith Chapel, volunteering as a speaker for the Accounting Club, and actively recruiting on campus for his employer. Scott maintains a busy schedule holding active roles with the East Fairview Church of the Brethren executive committee, with Gideons International and Junior Achievement of Central Pennsylvania as a trustee, and as a volunteer with the Cystic Fibrosis Foundation.

Scott cherishes the friendships he built during his years at Ship. He has maintained these friendships and hosted his 14th annual Christmas party for more than 50 alumni friends he stays in contact with in 2007.
2006
Jennifer Mabry '92 has spent her career working with people as a human resources professional. Currently, she is the director of Human Resources for North American Operations of Vetron International. Her career path is marked with successful recruitments, reduction of OSHA rates, and various programs in employee welfare. Her career began at Lear Corporation, followed by Hanover Direct, then Corning Frequency Control, which was then sold to Vetron. Besides being active in the university's career development sessions, she serves as site coordinator for donations to the United Way and the Salvation Army.
2005
Todd Cressler '93 has been busy the past ten years growing a business. Cresscare Medical is expected to exceed more than $1.5 million in sales. He has taken a failing business with three employees and turned it into a thriving business with three locations and fifteen employees. His company is the leading provider for home sleep apnea products in central Pennsylvania and was voted the best home medical equipment supplier in Cumberland County by Senior News.
Besides serving as CEO and owner of Cresscare Medical, Todd is also vice president, Care Capital Management. The Pennsylvania Association of Medical Suppliers recognized his business success with their Outstanding Service Award.
After graduation, Todd was the Acacia Alumni president for three years and was their Housing Corporation president for two, until he sold the fraternity house in 2000. He is involved with the SU alumni golf outing and Acacia alumni events, including their golf outing that raises funds for charities each year.
Todd is the fifth generation of Shippensburg University graduates in his family. His wife Shelly graduated in 1993 and earned a master's degree, also from SU, in 2001. They are the parents of a daughter and live in Mechanicsburg.
2004
Joel A. Flinchbaugh '87 B.S.B.A.
With a fresh college degree in business administration, Joel joined Smith Elliott Kearns & Company, LLC in 1987. The company practice concentrates on providing consulting services for closely-held companies and individuals. Services include tax and business planning, accounting system design and implementation, and business valuations.
In January 2000, Joel was made a partner in the firm. He is responsible for the growth of the Carlisle office into a key area for the company. His expertise was recognized by the Central Penn Business Journal in 2002 when he was named one of their "40 Under 40" award winners. In addition, he is a partner in various realty companies.
Joel is certified as a Certified Public Account and Certified Valuation Analyst.
Joel is active in his community, he is a board member and officer of the United Way of Carlisle and Cumberland County, the Carlisle Family YMCA, and a member of the Carlisle Rotary Club. Previously he served as treasurer for the Cumberland Valley Habitat for Humanity Capital Campaign 2002 and First Night Carlisle, was president of Carlisle Day Care Center, Inc. and was a committee member of CPARC.
John "JR" Raebiger, Jr. '95 B.S.B.A.
John's first job, with Boenning & Scattergood, Inc., as an assistant fixed income trader and institutional and retail salesman gave him experience with bonds-municipal, corporate, Treasury, and agency bonds. After three years, he joined Davidson Capital Management as a fixed income portfolio manager and head of the Trading Department.
At Davidson, he was responsible for over $475 million in fixed-income assets. He actively managed the institutional portfolios and consistently outperformed the specified index. He developed a process for a quarterly and annual broker review that was implemented by the entire investment staff. He designed and implemented a weekly bond market review to help equity portfolio managers in monitoring fixed income markets. In June 2002, JR moved to Pitcairn Trust Company as vice president. There he has developed screening measures to analyze under- and over-valued sectors relative to specified peer groups. He is personally responsible for the management of individual and institutional portfolios and two mutual funds. He has successfully managed both funds to outperform their stated benchmarks. In May 2003, he was recognized by Barrons' as one of the Top Ten Municipal Bond Fund managers. Currently, JR is working on his master's in finance at Temple University. He is also a board member and former treasurer for Family Services of Montgomery County.
2003
Marsha A. Hoy'89 B.S.B.A.
After almost thirteen years in public accounting, Marsha switched to private industry this year, taking the position of chief financial officer for Kenworth of Pennsylvania. In addition to her fiscal responsibilities, she also manages payroll and employee benefit programs for the company.
Prior to making this move to Kenworth, Marsha was an audit manager for Brown Schultz Sheridan & Fritz of Wormleysburg. She earned her bachelor of science in business administration degree from Shippensburg in 1989 with a major in accounting and a minor in economics. She is a member of the American and Pennsylvania Institute of Certified Public Accountants.
Marsha serves on the Shippensburg University Foundation Annual Fund Leadership Team and is a supporter of volunteer fire companies. This latter interest is inspired by her husband, David, who is an active member of the Paxtonia Fire Company. In 2000, the fire company presented her with a service award in recognition for her years as the company treasurer. Marsha has also held leadership positions with the St. Thomas United Church of Christ, Linglestown, and the West Shore Chamber of Commerce.
She and her husband live in Harrisburg.
Michael M. Palm '86 B.S.B.A.
L - R: Dr. Booth, Mr. Palm, and Dr. Winter
Since February 1995, Michael Palm has served in various marketing positions with Berlitz International, Inc., of Princeton, New Jersey. Recognizing his talents and accomplishments, the company promoted him to the director of worldwide marketing in 2001. Mike is charged with managing the Berlitz brand for the 125-year-old company, which is the world's leading supplier of language instruction, cross-cultural training, and self -teaching publishing materials.
Last year he conceptualized, designed, and produced the company's first global branding campaign, which was rolled out in over sixty countries over a six-month period. In 1998 he received the company's Chairman's Award for exceeding sales goals. He also directed the redesign of the company's website resulting in a 30 percent increase in monthly site sessions.
At Shippensburg, Mike captained the men's basketball and track and field teams. He graduated in 1986 with a bachelor of science in business administration degree. He now coaches girls' AAU basketball and conducts basketball clinics. In appreciation of his Shippensburg experience, he serves on the John L. Grove College of Business Advisory Board and returns to campus to speak with current business students. He also is a friend and supporter of basketball and track and field programs.
In his community, Mike serves as secretary, director, and coach for the Upper Makefield Township Basketball League, and as a board member for the East Grant Homeowners Association.
Mike lives in Washington Crossing, Pennsylvania, with his wife Donna (Hardwick) '85, and two children, Lindsay and jack. He enjoys fly-fishing with his two Labrador Retrievers.
2002
Frank Van Buren '88 B.S.B.A.
Frank Van Buren, a 1988 graduate, destroys the stereotype of staid investment bankers. Ten years ago he was a UH-60 (Blackhawk) helicopter pilot with the U.S. Army where he was involved in medical air evacuation in the Republic of Georgia, providing air support for the US Embassy in Beirut, and drug interdiction in Central America. He was decorated with four Army Commendation Medals. Five years ago, he was an entrepreneur to finance a jazz club.
In 1998, Van Buren, of Charlotte, N.C., joined First Union Securities (now Wachovia Securities) as an associate in corporate finance where he provided financing and advisory services for investment banking products, leveraged buy-outs, recapitalizations, and general corporate needs. At the beginning of 2002, he was named vice president for corporate and investment banking responsible for assisting clients with strategic planning, capital raising, and value-added ideas.
2001
Joe R. Grossnickel '83 B.S.B.A. and '87 M.S.
Born and raised in Hagerstown, Maryland, Joe joined IBM in 1985 in Harrisburg, Pennsylvania, as a sales assistant and worked for ten years serving the Commonwealth of Pennsylvania. In 1995 he became the competitive marketing manager for IBM State and Local Government Marketing in the United States. Joe moved back to Maryland in 1997 to become the Large Systems Sales Manager for IBM's federal sales unit. In 1998 he became a client executive for the state of Maryland. In 2001 he assumed his current position as client unit executive for state and local government and healthcare. Increasing revenues and/or market share is a Grossnickel trademark. He has been recognized with honors and awards spanning ten years.
Joe recently earned his masters of business administration from the Wharton School at the University of Pennsylvania. He is a member of the 2001 Class of Leadership Maryland. He volunteers with the Greater Washington Boys and Girls Club where he is a board member and serves as vice president for public relations, the United Way, and new Dimensions for Progress where he is a board member. In his spare time, he likes to spend time with his family, wife, Christine, and son, Jared playing golf, and smoking cigars.
Gregory S. Horning '87 B.S.B.A.
Taking his degree and expertise in accounting seriously, Gregory built upon his first job and parlayed it into a growing business. Using tools he learned as manager of an accounting firm, Gregory became a founding partner of Stout, Causey & Horning, P.A. in 1991, four years after leaving Shippensburg. He added broker experience to his list of skills by working for a brokerage corporation in Minnesota. In 1999, he also became a broker/dealer with 1st Global Capital Corporation and is now an investment advisor with them. These positions were concurrent with his growing role with his original firm. Stout, Causey & Horning has grown from three individuals a decade ago to 85 employees today. It is one of the nation's fastest-growing CPA firms and has been named one of the "25 Best of the Best" by Bowman's Accounting Report for three years running.
Gregory is involved with the professional organizations AICPA and MACPA-Management of an Accounting Practice Committee. In his free time, he volunteers at the Cockeysville Recreation Council where he is a board member and chairman of the youth baseball program. Gregory lives in Timonium, Maryland.