Jump to Footer
Ship MBA Online
The Ship MBA Online is the same AACSB-accredited degree program, utilizing the same highly qualified faculty, that has gained a reputation for quality, affordability, and convenience among our on-site students.
This 30-credit program consists of 8 required core courses (3-credits each) and 2 elective courses and is designed to help students develop the knowledge and skills necessary to conduct business successfully in both a domestic and international context. The courses are delivered in a 100% online format using a mix of asynchronous and synchronous lectures, discussions, and exercises. All synchronous components are optional, allowing students to adapt their class schedule to their life schedule.
Courses are taught in accelerated, eight-week sessions. This provides students to concentrate fully on each course and to complete courses more quickly.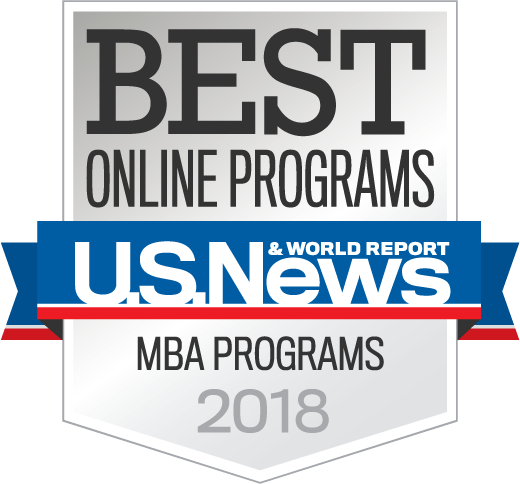 Students in the online program are required to have a computer along with a high-speed internet connection, webcam, and headset/microphone meeting minimum specifications in order to participate in video conferencing sessions as well as other online activities.
Ship MBA Online students are also allowed to take up to three courses from the Ship MBA Professional program (via the classroom at Shippensburg University location), if they wish.
Program Outline
Beginning in the fall of 2012, the John L. Grove College of Business began offering a 100% Online MBA program. The Ship MBA Online brings to you the value of the Ship MBA program combined with the convenience that only a fully online program can provide. This program has been designed to give you the maximum efficiency and flexibility that you may need to balance work, life, and your professional development. Some of the highlights of the program are:
Classes offered in accelerated 8-week sessions in a 100% online format
Work on classes anytime day or night*
Optional opportunities to interact with faculty and students through live online video conferencing during each 8-week session
Exams given online or at an approved proctoring site (we will help arrange an appropriate site near you)
10 courses (3 credits each) to complete the program
Take 2 courses each semester (Spring, Summer, & Fall) and finish the program in only 2 years
The Ship Online program emphasizes the international dimension of business and will prepare you to compete effectively in today's global economy.
*Some exams in some classes may be proctored, which could require students to be flexible to a potential synchronous schedule at specific locations. There are thousands of approved proctoring sites and more can be approved if needed.
Ship MBA Online
Admission Requirements
Undergraduate course work and degree, relevant work experience, and goals statement will be evaluated and form the basis for admission. To be eligible for admission to the MBA Program applicants must:
Have a baccalaureate degree from a regionally accredited college or university.
Applicants will be evaluated on grade point average, course content, work experience, job level, leadership ability, team skills, suitability of goals, and whether they graduated from an AACSB-regionally accredited college.
Submit a current resume through your Ship Admissions portal.
Submit a goals statement through the "Program Statement/Questionnaire" link in your Ship Admissions portal.
All students must be computer literate and have routine access to the Internet and Microsoft Office 2007 (Word, PowerPoint, Excel, and Access) in order to complete the 1/3 web-based component of the program.
Please note that all students are expected to have a laptop loaded with MS Office that they can bring to class. Although the university has been providing a limited number of laptops, those will gradually be phased out as they get older, and students will be expected to supply their own laptops in class.
In addition, applicants are required to meet the following prerequisites: Work experience or undergraduate credits in:
quantitative analysis
computer usage
oral and written communications
These areas are covered in the following courses offered at Shippensburg University:
ENG 101 College Writing
INM 200 Statistical Applications in Business
MIS 142 Business Computer Systems
SPE 100 Basic Oral Communication
To go directly into the Upper Level MBA course, applicants must have the 18 semesters hours of prerequisite knowledge in accounting, economics, finance, organizational behavior, marketing and operations management. These areas are covered in the following courses offered at Shippensburg University:
ACC 200 Fundamentals of Financial Accounting
ECN 113 Principles of Economics
FIN 311 Financial Management
INM 200 Statistical Applications in Business
INM 330 Operations Management
MIS 142 Business Computer Systems
MGT 305 Organizational Behavior
MKT 305 Principles of Marketing
Foundation courses can be substituted for some or all of the above prerequisites. Students can be admitted to the MBA without having completed all prerequisite foundation courses, but they will not be permitted to register for any particular graduate course unless they meet the specific prerequisites for the course they would like to take.
Ship MBA Online
Degree Requirements
Foundation Courses (16 credits) – or equivalent coursework
BSN-511 Business Operations (4 credits)
BSN-519 Essentials of Information Systems (2 credits)
BSN-520 Economics for Business Administration (2 credits)
BSN-521 Essentials of Accounting (2 credits)
BSN-530 Essentials of Finance (2 credits)
BSN-531 Essentials of Organizational Behavior (2 credits)
BSN-534 Essentials of Marketing (2 credits)
The Foundations courses may be waived if an applicant has 18 semester hours of prerequisite knowledge in accounting, economics, finance, organizational behavior, marketing, and operations management. These areas are covered in the following courses offered at Shippensburg University:
ACC 200 Fundamentals of Financial Accounting
ECN 113 Principles of Economics
FIN 311 Financial Management
INM 200 Statistical Applications in Business
INM 330 Operations Management
MIS 142 Business Computer Systems
MGT 305 Organizational Behavior
MKT 305 Principles of Marketing
Core Courses Required (21 credits)
Complete any 7 of the following 8 core courses (3 credits each)
MBA 502 Managerial Accounting
MBA 529 Corporate Financial Management
MBA 548 IT Management and Innovation
MBA 554 International Business
MBA 556 Organizational Leadership
MBA 565 Contemporary Decision Making
MBA 570 Marketing Management
MBA 577 Supply Chain Management
Capstone Course (3 credits)
MBA 593 Strategic Management (may be taken only after completion of at least four MBA core classes)
Possible Electives (6 credits)
MBA 550 Business Environment of Europe
MBA 557 Negotiation
MBA 558 Ethics and Sustainability
MBA 571 International Marketing Management
MBA 575 Global Supply Chain Management
SCM 590 Warehousing and Distribution
SCM 515 Procurement
SCM 555 Supply Chain Quality Management
FIN 512 Investment Analysis
FIN 520 Financial Risk Management
FIN 525 Multinational Business Finance
FIN 533 Applied Financial Analysis
Others possible based on student and faculty interests
Contact the MBA Department, College of Business
Grove Hall 324
1871 Old Main Drive
Shippensburg, PA 17257
Phone:
717-477-1483
MBA@ship.edu