Jump to Footer
Dr. Ted Carlin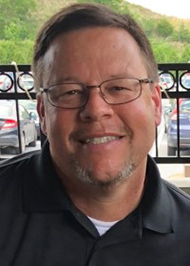 Professor, Assessment Coordinator, WSYC-FM 88.7/WSYC.org Adviser
Phone: (717) 477-1784
Office: Rowland Hall 132
"Today's students are experienced media consumers before they arrive at Ship, so my role is to get students engaged and actively involved as producers and evaluators of media, and keep them thinking about the personal, professional and global impacts of the media they create and experience."
Dr. Carlin has worked as a media producer, writer, announcer, and videographer for radio and TV stations in Pennsylvania, Maryland, Ohio, Tennessee, and Texas. Dr. Carlin's areas of research include the new communication technologies of digital audio and video, media programming, and media literacy. Dr. Carlin also serves as the FCC-licensed station operator and faculty adviser to WSYC-FM 88.7/wsyc.org. Dr. Carlin was the C/J department chairperson from 2000-2009 and in 2017. Born in Nebraska and raised in Maryland, he is an avid Huskers, Orioles, and Capitals fan. He and his wife, Sulynn, have four children and live in Chambersburg.
Education
Ph.D. in Mass Communication (1997), Bowling Green State University, Bowling Green, OH
M.A. in Mass Communication (1987), Bowling Green State University, Bowling Green, OH
B.A. in Communication & Theatre Arts (1985), Heidelberg College, Tiffin, OH
A.A. in Liberal Arts & Sciences (1983), Chesapeake College, Wye Mills, MD
Courses Taught
Advanced communication problems (graduate). Advertising copywriting. Communication law & ethics. Current strategies in media programming. Digital media storytelling (graduate). Digital media workshop (graduate). Diversity in media. Emerging mass media technology (graduate/online). Electronic media basic production. Electronic media writing. ENG/EFP TV production. Feature writing (online). Introduction to interdisciplinary arts (general education/honors). Introduction to mass communication (online). Introduction to mass communication research (graduate). Introduction to public relations. Mass communication research (graduate). Mass communication theory (graduate). Media advertising and sales. Media management and regulation. Media & society. Media writing. News writing & reporting. On-location video production. Professional Practicum. Public relations writing. Radio & TV scriptwriting. Radio production & performance. Senior capstone. Sports journalism. Studio TV production. TV criticism. World broadcasting systems (graduate). Writing for the broadcast media.
Publications
"Standard 9: Program Assessment" in AEJMC Self Study Report, 2016 & 2012
"Digital Audio" in A.E. Grant & J.H. Meadows (eds.), Communication Technology Update And Fundamentals, 14th edition, Focal Press, 2014
"Dick Vitale" in Murray R. Nelson (ed), American Sports: A History of Icons, Idols, and Ideas ; Greenwood Publishing, 2013
Executive producer/Editor, Career Fair Video Project. Production supervisor and video editor for a series of four videos on career fairs for the Career Development Center, Shippensburg University. The videos were also selected by the Cumberland Valley Consortium (CVC) and the Central Pennsylvania Employment Consortium (CPEC) to be used by member universities and displayed on their websites. Videos were produced with my COM 528 class, 2013
External Program, Equipment & Facilities Reviewer, Messiah College, Grantham, PA. Produced an external review report on the structure, equipment and facilities of the Communications Dept. as part of their transitioning of all television and film production from the Philadelphia campus back to the Grantham campus, 2013
Executive Producer/Editor/Videographer, Cumberland Valley Animal Shelter, Chambersburg, PA. Two promotional videos and five public service announcements promoting the Shelter, its services and its transition to a new location at Letterkenny. Videos were produced with my COM 370 class, 2012
Executive Producer/Editor/Videographer, Shippensburg Public Library Summer Reading Program, Shippensburg, PA. Production supervisor and video editor for 15-minute video promoting and explaining the library's summer reading program. Video was produced with my COM 451 class and is used by library staff in presentations to SASD students and via their YouTube channel, 2012
External Program Reviewer, La Salle University, Philadelphia, PA. Served on a 3-person team to visit, review and produce an external review report on the status and future of the Communications Department, 2012 & 2005
Executive Producer/Editor/Videographer, Franklin County Jail Prisoner Orientation Video (English & Spanish), Chambersburg, PA, 2012, 2007, 2004
Executive Producer/Editor/Videographer, Carlisle YWCA Promotional Videos, Carlisle, PA, 2010
Executive Producer/Editor/Videographer, Franklin County Therapeutic Riding Center Promotional Video, Chambersburg, PA, 2010
Memberships
Association for Education in Journalism & Mass Communication (AEJMC), Broadcast Education Assocation (BEA), Pennsylvania Association of Broadcasters (PAB), Honor Society of Phi Kappa Phi