Jump to Footer
Dr. Kyle Heim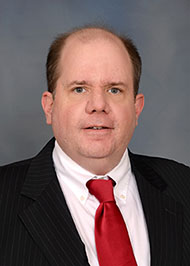 Associate Professor, Graduate Program Coordinator
Phone: (717) 477-1152
Office: Rowland Hall 123
"The fields of journalism and communication are experiencing a profound transformation brought about by digital technology. Today's students will be the trailblazers in this new environment. They must be flexible and creative thinkers who are prepared to deal with rapid change. At the same time, basic information gathering and storytelling skills are as vital as ever. The need for communication professionals who can help citizens make sense of the world has never been greater."
Dr. Kyle Heim joined the Communication/Journalism Department in fall 2015 as an assistant professor specializing in print and online media. Previously, he was an assistant professor of journalism and communication at Seton Hall University in New Jersey. Dr. Heim's professional experience includes 15 years as a copy editor, reporter and assistant city editor at such newspapers as the Chicago Tribune, the Minneapolis Star Tribune and the Sioux Falls, S.D., Argus Leader. He also served for three years as the news adviser of the student-run newspaper at Penn State University. Dr. Heim's research examines the influence of emerging social and participatory media platforms on the practice and content of journalism.
Education
Doctor of Philosophy in Journalism, University of Missouri, Columbia, Missouri
Master of Science in Journalism, Northwestern University, Evanston, Illinois
Bachelor of Arts in Political Science, Macalester College, St. Paul, Minnesota
Selected Teaching
COM 111: Media Literacy
COM 112: Media Writing
COM 285: Basic News Reporting
COM 293: News Editing & Design
COM 294: Social Media Strategy
COM 345: Media Law
COM 520: Strategic Communication Research
COM 525: Social Media Analytics and Strategy
Selected Publications and Presentations
"The tweets heard round the world: Twitter as a source in New York Times international coverage." Presented at the Journalism Studies Division of the International Communication Association Conference in Paris during Summer 2022.
Heim, K.

(2021)

Tweets and Source Diversity: Newspapers' Sourcing of Twitter Posts from 2009 to 2016,

Mass Communication and Society,

24:3,

394-417,

DOI: 10.1080/15205436.2021.1883063

Heim, K., & Craft, S. (2020). Transparency in journalism: Meanings, merits and risks. In L. Wilkins and C. G. Christians (Eds.), The Routledge handbook of mass media ethics (2nd ed., pp. 308-320). New York: Routledge. (Note: This was an extensive update from the previous edition.)

Heim, K. (2018). All the news that tweets: Newspapers' use of Twitter posts as news sources from 2009 to 2016. Paper presented at the annual meeting of the Association for Education in Journalism and Mass Communication (Newspaper and Online News Division). Washington, DC.
Grants and Awards
Top faculty research paper, Newspaper and Online News Division of the Association for Education in Journalism and Mass Communication, 2018.
Shippensburg University Council of Trustees Presidential Faculty Development Grant, 2017-18.
AEJMC/Scripps Howard Foundation Visiting Professor in Social Media Grant, 2014.
Memberships
Association for Education in Journalism and Mass Communication (AEJMC)
International Communication Association (ICA)