Jump to Footer
Why choose an MSW degree at Ship?
MSW graduate Cheyenne Port '19
A bachelor's degree in social work will allow you to secure an entry-level position in the social work field. A Master of Social Work (MSW) degree is required to perform most clinical (i.e. therapy) and macro (i.e. administrator) work. Shippensburg University's MSW is a CSWE (Council on Social Work Education) accredited Advanced Generalist program. An advanced Generalist MSW permits graduates to work in a variety of human service programs and agencies in an advanced clinical and/or administrative capacity. Many other social work programs require an individual to choose a concentration, which normally means choosing between the clinical or macro track.

MSW graduate Becca Zelner - BSW '15 and MSW '18
Why student are attracted to a Ship MSW
Below are reasons that students provided for their decision to choose Shippensburg University to pursue their MSW.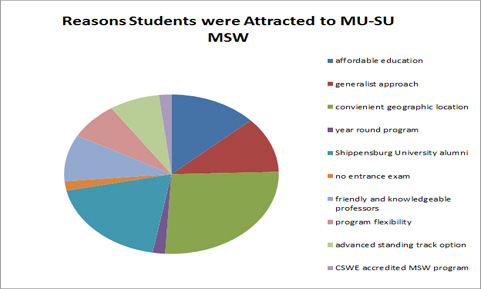 Affordable education
Generalist approach
Convenient Geographic location
Year round programming
No entry exam
Friendly and knowledgeable professors
Program flexibility
Advanced standing track option
CSWE accredited MSW program

MSW graduate Rashad Curtis '19 shares his Ship experience
---
Why Students Pursued Their MSW
The flexibility of the social work degree provides graduates with many options as they pursue their careers in the helping fields. Also, our program seeks to be accommodating to the non-traditional students and individuals working full time; all of our required MSW classes are offered in the evening! Other reasons the MU-SU MSW program is attractive to students include affordable price, generalist approach, year round program and many other reasons!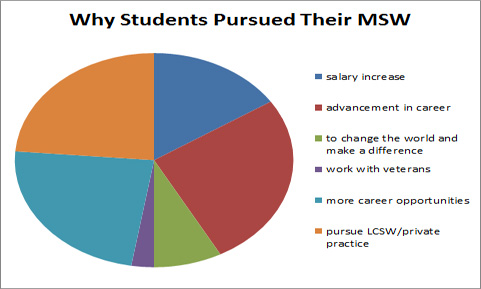 Salary increases
Advancement in career
To change the world and make a difference
Work with veterans
More career opportunities
Pursue LCSW/private practice

MSW student Hailey Martinez shares her Ship experience
The majority of students feel positively about the class sizes in the MU-SU MSW program. Students find that the class sizes are big enough for group conversations, but small enough for one-on-one interactions and collaborations. In addition to the interactions students have with one another, their interactions with faculty and adjunct professors are, in general, positive. A majority of students find the faculty to be open, friendly, helpful and good in their communication with students. Additionally, the internship experience that is a part of the program provides real world experience that is necessary, appealing and an opportunity to create positive interactions between the university and the workplace.
**This data was collected from 26 MSW students during the 2014-2015 academic year.