Jump to Footer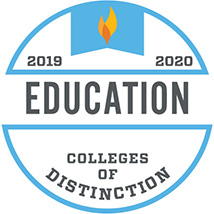 Teacher Education Department
Shippensburg University has a rich history of preparing some of the best teachers in the region. The Teacher Education Department offers undergraduate and graduate programs with accreditation from the National Council for Accreditation of Teacher Education.
Ship is an excellent place to study to become a teacher because of the opportunities to:
Observe classes in elementary, secondary and community college settings
Observe physically challenged and exceptional learners
Take part in student teaching
Participate in student groups that complement the academic experience
Receive personalized attention and advisement from experienced professors
There are also opportunities unique to Ship through:
Grace B. Luhrs University Elementary School – The school provides a unique opportunity to observe and participate in elementary school activities and classroom teaching experiences with children in kindergarten through fifth grade. Ship is the only university in Pennsylvania with an on-campus public elementary lab school.
Bartos Child and Family Center – The center is adjacent to the lab school provides opportunities to observe and work with children ages one through five.
Head Start – This program on campus provides more opportunities for observations and to work with children.
Beginning in Fall '21, tuition for our education-related programs is now:
TUITION: $626 per credit
Additional Fees: Comprehensive Health $14 per credit, and Student Union $25 per credit.
---
Limited to the following programs:
Curriculum and Instruction, MEd
Education Leadership, MEd
Literacy Studies Certificate
Literacy, Technology and Reading, MEd
Online Learning, Instruction, and Technology Certificate
Principal's Certification

Special Education Supervisory Certification,
Special Education, MEd,
STEM Education, MAT,
Superintendent Letter of Eligibility
Teaching English as a Second Language (TESL) Certificate