Jump to Footer
Raiders Academic Center for Student-Athletes
The Kathryn Hughes Seaber Raiders Academic Center for Student-Athletes (RAC), housed inside Ezra Lehman Memorial Library, opened in the fall of 2019 to support the academic well-being of our nearly 500 student-athletes. The staff in the RAC focuses their efforts on helping student-athletes identify personalized goals that are within their aspirations and to help them surpass their expected potential.
Mission
The mission of The RAC is to empower, uplift, and educate student-athletes at Shippensburg University by providing holistic support that is aimed toward enhancing the academic, personal, and professional development of student-athletes.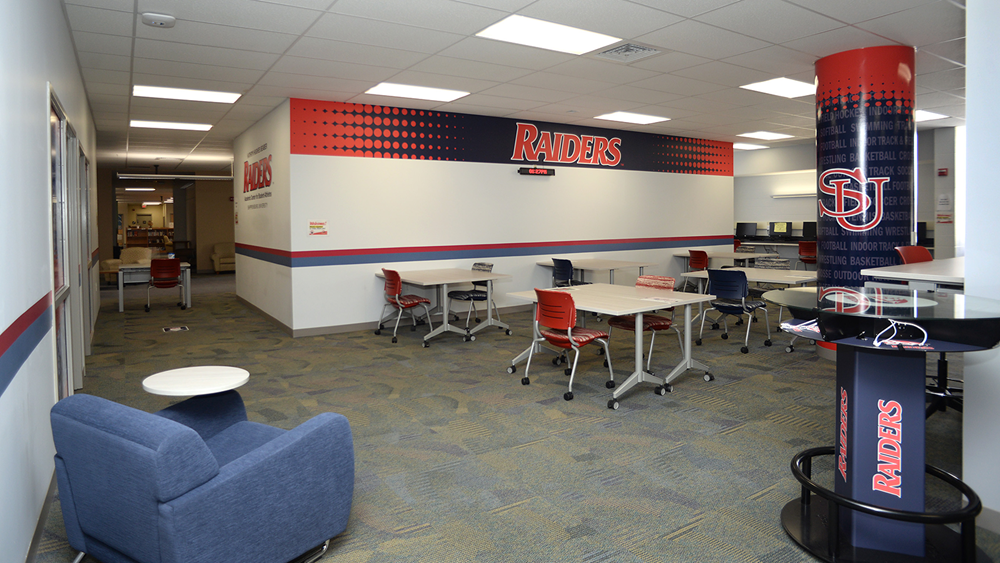 Core Values
Encourage Academic Success: Endorse participation in campus wide programming and engagement with the RAC to maximize the collegiate experience of the student-athlete.
Provide Authentic Support: Offer authentic support to our student-athletes in order to foster academic success and holistic development.
Emphasize Holistic Development: Empower and guide our student-athletes throughout their educational journey as they pursue college athletics and academics with personal support systems focused on enhancing the overall development of our student-athletes.
Celebrate Achievement: Praise the academic achievements of Shippensburg University student-athletes.
Connecting to Campus
The staff in the RAC actively collaborates with the Learning Center, the Career, Mentoring, and Professional Development Center, Early Alert Program, and other campus-wide programming to align resources to support student-athletes.
The Learning Center is the university's primary academic resource center and is available to all Ship students. The goal at the Learning Center is to help students develop skills and strategies that will enable them to become independent, active learner.
The Career, Mentoring, and Professional Development Center (CMPDC) provides support to all students up to one year after graduation with help on resumes, cover letters, applications, portfolios, and the interview process.
The Early Alert Management Team provides nearly holistic services to students who are referred by faculty and staff. By providing individualized support to students, each student can learn skills that enhance and maximize their educational potential.
Support Services for Student-Athletes by the RAC
Raider Ready Hour:
The Raider Ready Hour workshop series is a student-centered support system implemented to create opportunities for student-athletes to actively invest in their personal development. The developmental workshops aim to provide holistic development opportunities that help foster a sense of belonging and connectedness with the abundance of campus wide support services available to students.
Academic Mentorship Program:
The Academic Mentorship Program has been developed to provide mentorship to all freshmen and academically at-risk student-athletes at Shippensburg University. Identified student-athletes meet weekly with a member of the RAC's support staff to receive individualized support for academic skill development and personal growth.
RAIDERS L.E.A.D Program for Student-Athletes:
The Raiders Leadership, Emergence, and Development (Raiders L.E.A.D) program for student-athletes provides quality lifelong leadership experiences for student-athletes through a structured skill development program. The primary objective of Raiders L.E.A.D is to provide student-athletes with an opportunity to be actively invested in their personal and professional development outside of their athletic ventures.
Study Hall:
Study hall hour requirements are determined and implemented according to overall GPA and class year. The RAC has implemented a study hall program to provide student-athletes with a structured and supervised environment to complete homework assignments and prepare for exams. The underlying goal of study hall is to provide student-athletes with a formalized program that helps promote an ever-increasing importance for academics while also creating an opportunity to help student-athletes set the standard on the minimal time requirement needed to find success in the classroom.
Faculty Athletic Mentors:
Faculty Athletic Mentors serve as unofficial and informal mentors for individual student-athletes and, in some cases, for entire teams. The Faculty Athletic Mentor Program formalizes this relationship in order to encourage mentoring opportunities between student-athletes and academic faculty.