Jump to Footer
HEIGES FIELD HOUSE POOL
POOL INFORMATION SPRING 21:
The pool is currently open for undergraduate students, graduate students, faculty and staff.
Presentation of SU ID is required.
Presentation of proof of weekly COVID testing required.
Current hours for Monday - Friday: 6pm - 9pm. Future hours will be recorded on the Rec Hotline (717-477-1561) and are subject to change.
Drop-in or secure a 30 min swim period at imleagues.com/ship.
Masks are required until entry into water and upon leaving the water.
Locker rooms are not available at this time so please come prepared to swim.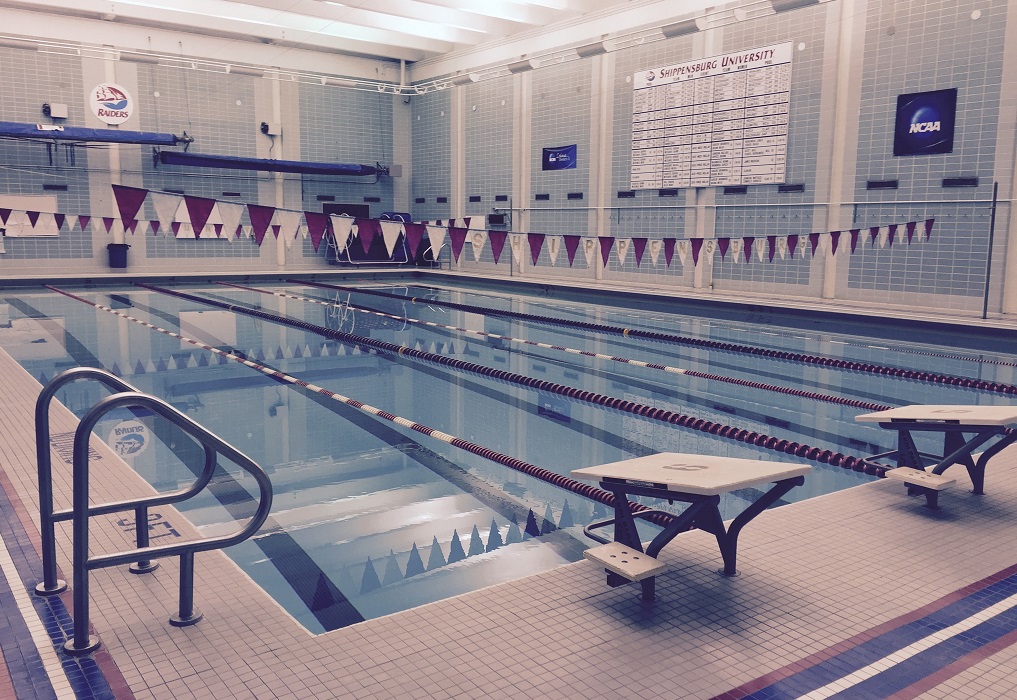 GENERAL INFORMATION
25- yard facility located on the first floor of Heiges Field House.
Open swim hours are recorded on the Rec Hotline: 717-477-1561 (#1)
ACCESS INFORMATION
HFH pool is available for open rec swim for Shippensburg University community only (students, faculty, staff, alumni, retirees, and faculty/staff dependents).
Individuals with valid SU ID must present ID to lifeguard for access.
SU RecCard:

The SU RecCard will be issued to eligible individuals not processing valid SU ID. The SU RecCard entitles the owner to access Heiges Field House swimming pool and outdoor recreational facilities. Outdoor facilities include the Student Recreation Complex (SRC), tennis courts, and Seth Grove Stadium track. The RecCard is not valid for access to ShipRec, varsity athletic practice or competition venues. Tennis courts and SGS track are unavailable for recreational use during varsity athletic practice and events.
Individuals eligible for a Rec Card:

SU Faculty/Staff dependents, as defined by the SU Office of Human Resources, may access HFH pool and outdoor recreational facilities and are required to have an SU RecCard. Dependents under 11 years of age require direct supervision by the F/S member and are not eligible for a RecCard. This policy shall apply to retired faculty and staff, as defined by Human Resources.
Alumni, as defined by the Office of Alumni and University Relations, may be issued an SU RecCard. SU RecCards are not available to alumni dependents.

If interested in a RecCard, please call ahead to verify availability of administrative staff for processing the card (717-477-1755). Administrative staff will also provide a parking decal for individuals receiving a RecCard.
POOL POLICIES
Children under 10 must be supervised by an adult. Adult supervision should be supplied for any child over 10 who is not a competent swimmer.
Swimmer Attire: Appropriate manufactured swimming apparel is required for all patrons in the pool area. Clothing such as street clothes, street shoes, cut-offs, thongs, and underwear are prohibited. Swimwear should not have been worn for exercising immediately prior to pool use as soiled clothing can create an unhealthy swimming environment. Large or loose jewelry is not permitted. Lifeguards must approve of any questionable jewelry.
All swimmers must enter and leave the swimming pool area through the locker room. Lobby entrances to the pool should remain locked to encourage this entry procedure.
All swimmers must shower before entering the pool.
All swimmers must sign in and sign out.
No running or horseplay at any time.
Diving, entering the water head first, is not permitted.
Lifeguard has discretion on all equipment use.
No food or beverages permitted.