Jump to Footer
ShipRec (Rec Center)
Summer ShipRec access is currently free for the campus community.
This includes currently enrolled students, faculty, staff, and alumni.
Alumni should email rec@ship.edu for verification of alumni status.
A guest may be sponsored by a member of the campus community for $5. (guest pass policies apply)
SHIPREC HOURS:
Tue 5/30 - Fri 6/2: 11:00AM - 3:00PM
Sat 6/3 & Sun 6/4: Closed
Mon 6/5 - Thurs 6/8: 11:00AM - 3:00PM
Fri 6/9: 10:00AM - 2:00PM
Sat 6/10 & Sun 6/11: Closed
Mon 6/12 - Fri 6/16: 10:00AM - 3:00PM
Sat 6/17 & Sun 6/18: Closed
ShipRec Guest Pass Policies: (effective Mon 5/15)
Guest pass fee: $5 (cash or check accepted)
Guest pass is valid for one entry.
Members may sponsor up to two guests at one time.
Both sponsor and guest must show photo ID at time of purchase.
Sponsor must remain with the guest(s) at all times.
Equipment check-out is available to sponsors only.
Sponsor assumes responsibility for the actions of the guest(s).
ShipRec provides the following amenities to the University Community:
45 Cardiovascular Machines

2 Concept II Rowers
2 Lifefitness Stepmills
12 Precor Ellipticals
2 Spinning Bikes
5 Precor Bikes
3 Expresso Bikes
4 Precor AMTs
Stretching Area

Cybex Eagle Circuit, Free Weights, and Power Lift Stations

3 Multi-Purpose Courts & Elevated Running Track

1,800 Sq Ft Group Fitness Studio

Racquetball (2), Wallyball (2) and Squash (1) Courts
---
SHIPREC POLICIES:
CARDIO/STRENGTH AREA:
Jeans, pants or shorts with rivets or zippers, and belts are not permitted.
Gym bags backpacks, and purses are not allowed in workout areas. Bags must be stored in cubbies, day lockers (require a quarter) or in a locker room locker (bring your own lock). Locker rentals are available at the ShipRec entrance desk for $10 per semester (lock will be provided).
Individuals are required to wear athletic shoes. No open-toe or non-athletic shoes are permitted.
No glass bottles or open containers are permitted. Only plastic bottles and closed containers are allowed.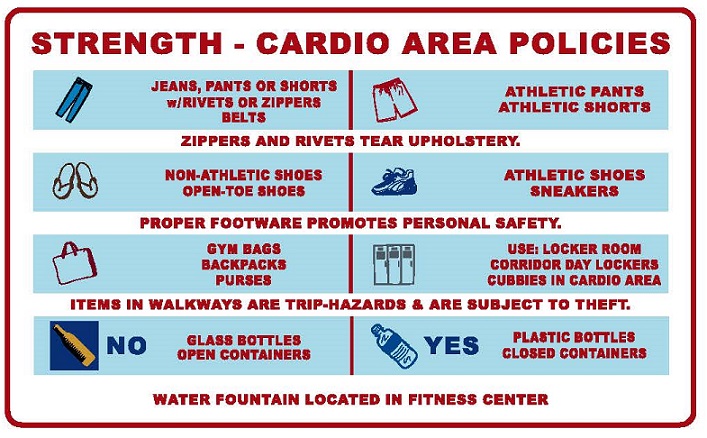 ---
---
INDOOR TRACK:
Track is for exclusive use of walkers and runners.
Be alert for runners as you enter the track surface.
Store personal items in secure storage.
Non-marking, spike-free shoes are required.
Inside lane is a walking lane - 8.5 laps/mile.
Outside lane is a running lane - 8 laps/mile.
Please honor any posted directional signs.
---
RAQUETBALL/SQUASH COURT RESERVATIONS:
Reservations must be done in person at the ShipRec entry desk.
Players are limited to ONE participation period on the courts per day. Players are not permitted to sign-up for multiple slots.
Reservations may be made 1 day ahead of time. Weekend reservations may be made on Friday.
A reservation is released if the player(s) do not arrive within 5 minutes of the scheduled reservation time.
Non-marking shoes are required, and shoes not worn outside are preferred.
GROUP FITNESS ROOM:
No gum, food, or beverage permitted. Only water in a sealed container is permitted.
Store personal items in secure storage.
Attire should be free of rivets, snaps, and zippers.
Non-marking athletic footwear is required.
Reservation and class registration information is available at the entrance desk.
Drop-in use is permitted when the room is not in use.
ShipRec equipment may not be removed from the group fitness room.
Workout at your own fitness level.
Turn off electronic devices during class.
Instructors may limit class to pre-registered participants.

Audio visual equipment is managed by ShipRec staff.
---
EQUIPMENT CHECK-OUT:
ShipRec members are eligible to check-out equipment at the entrance desk at no charge. Guests are not permitted to check-out equipment.
All equipment check-out requires the presentation of a valid SU ID or membership card. The ID or membership card will remain at the entrance desk for the duration of check-out.
Any equipment reported as lost or damaged will be subject to a replacement fee.
Any student group or department hosting an event on campus, are welcome to request sports equipment to support the event. Please email the following form to rec@ship.edu:
---
FACILITY RESERVATIONS:
Please visit events.ship.edu to submit a facility request.
Reservation Requests- Recognized student organizations may request space in recreational venues through the campus-wide scheduling system, EMS, by visiting events.ship.edu. The requestor should be an individual planning to be on site for the duration of requested activity. Instructions appear at the end of the Facilities page. Please refer reservation questions to 717-477-1755 or rec@ship.edu.
FACILITY RESERVATION INSTRUCTIONS (ATHLETIC/RECREATIONAL FACILITIES ONLY)
Non-University affiliated (external) groups should contact Conference Services regarding facility reservations. Conference Services Contact Information: 717-477-1256
http://www.shipconferenceservices.com/
---
Members of the campus community and the public were invited to attend a ribbon-cutting ceremony at 11:30 a.m. March 17 to officially open the new student recreation building. The program included the ribbon-cutting, brief remarks, and self-guided tours. The facility, between Seth Grove Stadium and Heiges Field House, was requested by students and later approved by them in a referendum. The approximately 62,000-square-foot facility includes an 8,000-square-foot fitness center, four multipurpose courts for volleyball and basketball, a 1,800-square-foot aerobics room, an elevated running track, racquetball courts, locker rooms and administrative offices.
Contact the Department of Recreation
Rec Hotline (Facility & Program Schedules): 717-477-1561
Phone:
717-477-1755
rec@ship.edu