Jump to Footer
Commonwealth Employee Scholarships - (Not Shippensburg or PASSHE Employees)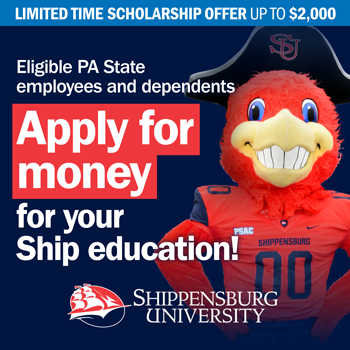 In an effort to support the educational aspirations of and provide financial support to active Commonwealth employees and their dependents, the Pennsylvania State System of Higher Education (PASSHE) Foundation announced that the Wolf Administration is providing $5 million in grant funds for a new scholarship program for Commonwealth of Pennsylvania employees (eligibility list below) who work in the Office of Administration, and their dependents to attend Shippensburg University or any State System of Higher Education university. This includes undergraduate, graduate and non-credit workforce development programs. Check out the details below and apply!
---
Scholarship Details
---
Open to Commonwealth employees (eligibility list below) and their dependents regardless of state residency
PASSHE Foundation works with Governor's Office of Administration on verification based on their established criteria
May be a FT or PT individual enrolled in credit OR non-credit classes at any PASSHE institution
Applicant must be in good academic standing to receive scholarship – agreed to be set at:

Undergraduate 2.0 GPA
Graduate 3.0 GPA
Transfer students must already be accepted at a PASSHE Institution in good academic standing
Incoming Freshman must be accepted at a PASSHE Institution and committed with a paid deposit
Individuals enrolled in non-credit bearing courses must have a high school diploma or GED
Scholarships are available on a first come first serve basis with only one award permitted per academic year, but individuals may apply for consecutive years.
Amount: Up to $2,000 per academic year for full-time students and $1,000 for part- time or non-credit bearing classes.
PASSHE Foundation will only pay scholarship funds/awards directly to a PASSHE institution on behalf of the approved applicant for tuition, room, and board only.
Scholarship may be coupled with other scholarships or other aid up to the Cost of Attendance.
Scholarships funds may be used towards credit of undergrad or graduate degrees OR non-credit bearing course, certificates and credentials
Apply Now!
Department of Aging
Department of Agriculture
Department of Banking and Securities
Department of Community and Economic Development
Department of Conservation and Natural Resources
Department of Corrections
Department of Drug and Alcohol Programs
Department of Education
Department of Environmental Protection
Department of General Services
Department of Health
Department of Human Services
Department of Insurance
Department of Labor & Industry
Department of Military and Veteran Affairs
Department of Revenue
Department of State
Department of Transportation
Governor's Office
Governor's Office of Administration
Governor's Office of the Budget
Governor's Office of General Counsel
Lieutenant Governor's Office
Office of State Inspector General
Pennsylvania Commission on Crime and Delinquency
Pennsylvania Emergency Management Agency
Pennsylvania Historical and Museum Commission
Pennsylvania Human Relations Commission
Pennsylvania Parole Board
Pennsylvania State Police
State Civil Service Commission

Already a Ship student?
Apply for the scholarship now!
Want to become a Ship student?
Apply now for graduate or undergraduate admission
Looking for information on non-credit programs?
Check out all of the opportunities waiting for you!
Contact the Financial Aid Office
Old Main 101
1871 Old Main Drive
Shippensburg, PA 17257
Phone:
717-477-1131
Fax:
(717) 477-4028
finaid@ship.edu
Fall & Spring Terms: Monday - Friday 8:00 AM - 4:30 PM / Summer & Winter Terms: Monday - Friday 8:00 AM - 4:00 PM