Chemistry, Biochemistry Concentration, BS
Shippensburg University's Chemistry, Biochemistry Concentration, BS program is approved by the American Chemical Society.
What Will I Learn?
You will take courses in all five subdisciplines of chemistry:
Inorganic
Organic
Analytical
Physical
Biological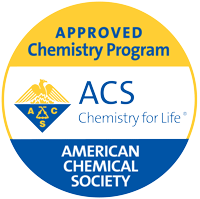 You will also take additional upper-level biochemistry courses that include the study of metabolic processes and a research-based biochemistry laboratory experience and additional biology courses.
Expect approximately 400 hours of laboratory work along with lectures. In addition to learning the instrumentation and laboratory procedures, you will complete an advanced biochemistry laboratory learning how to use specific techniques that have been developed to study the chemistry of complex organisms.
What are the requirements for this degree?
Entering the first chemistry course, you must be at a Math Level 5 or enrolled in MAT 175. You are also required to have completed a high school chemistry course and biology course. If you do not meet these requirements, you can declare the major but you will take remedial courses to fill in the missing knowledge.
Common Minors:
Math
Biology
Sustainability
Business
What Types of Careers Could I Get With This Degree?
After graduation, you can work in a laboratory as a technician. Many of our graduates work in research in biomedical fields. For example, a biochemist might do research working towards understanding how the molecules in a organism are different when they are suffering from a disease. Typically, this research goes to help us further understand how living organisms function normally and to develop treatments for when they are not functioning normally.
You can also go to graduate school and medical school with this degree. We have had some students earn both an M.D. and a Ph.D. after graduating with this concentration.
Some possible career areas in biochemistry include:
Biotechnology
Crystallography
Forensic chemistry
Medicinal chemistry
Nuclear chemistry
Oil and petroleum
Personal care chemistry
What Career Outcomes Do Alumni Have With This Degree?
---
What Kinds of Experiences Could I Have?
We have a small department with faculty that get to know every chemistry major. Students often talk about the department's family feel.
Many of our students work on research projects with faculty as early as the summer after their first year. Most students choose to complete a senior research project that allows them to travel with faculty to the American Chemical Society National Meeting.
You may also consider joining Chemistry Club. Participation in activities and services through the club stands out on a resume and is a great way to network and create lifelong relationships.