Chemistry, Forensics Concentration, B.S.
Shippensburg University's Chemistry, Forensics Concentration, BS program is approved by the American Chemical Society. This program prepares you to be a chemist that has knowledge of how chemistry is used to understand forensic evidence.
What Will I Learn?
You will take courses in all five subdisciplines of chemistry:
Inorganic
Organic
Analytical
Physical
Biological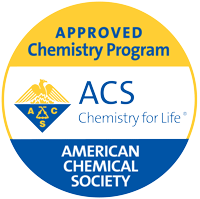 You will also take courses in criminal justice that cover forensic evidence collection and criminal law and procedure. Because forensic work requires that scientists be well rounded, you will take courses in biology and physics as well.
This major requires approximately 400 hours of laboratory coursework so you learn how to use instrumentation that is used in forensic laboratories.
What are the requirements for this degree?
Entering the first chemistry course, you must be at a Math Level 5 or enrolled in MAT 175. You are also required to have completed a high school chemistry course. If you do not meet these requirements, you can declare the major but you will take remedial courses to fill in the missing knowledge.
Many students in this major choose to minor in criminal justice or mathematics.
What Types of Careers Could I Get With This Degree?
Students that graduate with this concentration can work in a forensic laboratory as a forensic chemist or toxicologist. Some students choose to go on and earn a master's or doctoral degree in these areas. With the higher-level degrees, students can take on more managerial positions in a forensic laboratory. These students can also work in analytical laboratories or research labs outside of the field of forensics.
Possible careers in forensics include:
Forensic analyst
Laboratory technician
Digital forensic examiner
Forensic research technician
Crime scene investigator
Coroner
What Career Outcomes Do Alumni Have With This Degree?
---
What Kinds of Experiences Could I Have?
We have a small department with faculty that get to know every chemistry major. Students often talk about the department's family feel.
Many students in this program take advantage of the internship program our department runs with the Cumberland County District Attorney's Office Forensic Laboratory located nearby in Carlisle. Our faculty serve as analytical consultants to the office. Many of our students get to work on research projects that faculty are completing to help the forensic lab develop new techniques and protocols to process data. We encourage our forensic concentration students to complete an internship in the summer or during the semester after their sophomore year. During this internship, you can work alongside forensic chemists and toxicologists to see what the day-to-day work is like.
You may also consider joining Chemistry Club. Participation in activities and services through the club stands out on a resume and is a great way to network and create lifelong relationships.