Chemistry, Medical Sciences Concentration, BS
The medical sciences program is an academic preparation for individuals who want to attend medical, dental or veterinary school. Students interested in these professional programs can major in any discipline provided that the required courses are completed in order to prepare for the admissions exams and requirements of professional programs the student attends.
What Will I Learn?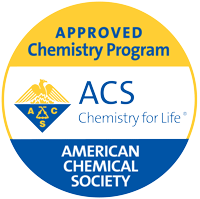 Data collected by the Association of American Medical Colleges (AAMC) indicates that students applying to medical school with degrees in physical sciences, including chemistry, tend to perform better on the Medical College Admissions Test (MCAT) and have a higher acceptance rate than students in the biological sciences. Our curriculum is an excellent preparation for students interested in chemistry and in going to professional schools in the field of medicine. The courses include a balance of chemistry, biology, mathematics, and social sciences necessary for application.
What are the requirements for this degree?
To enter into this concentration, students must have a GPA of 3.2. Students in this concentration must maintain a GPA of 3.2 or better.
What Types of Careers Could I Get With This Degree?
Students in this concentration have done exceptionally well in their applications to medical, dental, and veterinary schools. Successful completion of these programs can lead to rewarding careers in pharmacy, including:
Physician
Vet
Biomedical researcher
Dentist
What Career Outcomes Do Alumni Have With This Degree?
What Kinds of Experiences Could I Have?
Science classes are small at Shippensburg University, usually having no more than 16 students per laboratory section. Seasoned professors, not graduate students, teach lectures and labs. Ship students receive careful, personal advisement, which includes appropriate course selection and monitoring of their progress.
The University Health Professions Committee, that is composed of faculty with expertise related to medical, dental and veterinary school, work with students in the medical sciences concentration to guide them through the challenging process of applying to medical professional programs. This ensures Ship health science students receive accurate, current and comprehensive information. The committee also provides mock interviews for students once they start the application process. To be competitive when applying to professional schools, students should accumulate a GPA of 3.3 or higher. It is also important the students have accrued a minimum of 40 hours shadowing in their field of interest. In addition, professional schools will look at student activities, work history, and leadership qualities.
Faculty-directed undergraduate research is highly encouraged at Ship. Each year, between six and 12 undergraduate science students present results of their research at regional, state or national conferences. Medical sciences students are also encouraged to participate in an undergraduate research experience at a larger university with a professional school or at the National Institutes of Health in order to become acquainted with the field prior to making formal application to selected professional programs.
Our students are exposed to diverse health professional interests of other students and a variety of health professionals who are invited to speak at the university through the Health Sciences Club. This exposure makes them aware of alternative programs in the health care field.
State-of-the-art laboratory equipment is available to students, giving them hands-on experience with current techniques.