Counseling, MS and MEd
The Department of Counselor Education teaches the knowledge and skills necessary for the professional practice of counseling and college student affairs work. As one of the oldest established counseling departments in the nation with three CACREP-accredited concentrations, the curricula enhances students' academic, personal, and career potential through a comprehensive counselor education program, which boasts a 92% job placement within six months of graduation.
What Will I Learn?
The department offers the following master's degree specializations in counseling:
Master of Education degree and certification as a K-12 school counselor (51-60 credits)
Master of Science degree with specialization in clinical mental health counseling (60 credits)
Master of Science degree with specialization in college counseling and student affairs (60 credits)
---
Balanced and Experiential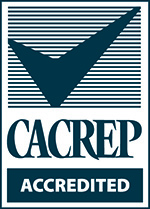 The counseling program is a careful balance of theory with practice. The department has established numerous sites for experiential learning, including elementary and secondary schools, colleges and universities, public and private social service agencies, correctional facilities, and hospitals. Students in our CACREP-accredited programs who are in their last semester of coursework are eligible to sit for the National Counselor Exam (NCE), a national standardized test administered by the National Board of Certified Counselors (NBCC). Upon successful passing of the NCE, students are eligible to use the Nationally Certified Counselor (NCC) credential. Passing the NCE (or NCMHCE), earning a 60-hour master's degree in counseling, and accruing 3000 hours of post-masters supervised practice provides graduates with the necessary education and training to apply for licensure as a professional counselor (LPC).
What Kinds of Experiences Could I Have?
Our students find success during their studies and in employment consistent with their training and preparation because of:
Quality experience through field classes, professional organizations and conferences and research
Small classes and personalized attention from faculty
Involvement with Growing Edges Community Counseling Clinic, a clinic on campus that is the only program of its kind in Pennsylvania's State System of Higher Education
You will complete a practicum and two internships as part of your clinical development. We have a variety of approved sites for experiential learning throughout central Pennsylvania and surrounding areas. The program teaches the skills necessary for the professional practice of clinical mental health counseling. Our emphasis on personal growth encourages development in an understanding of values and beliefs which enhances and facilitates the helping process.
What Types of Careers Could I Get With This Degree?
MEd Degree and K-12 Certification: PreK, elementary, middle school, or high school counseling; and, emotional and behavioral development
MS Clinical Mental Health: outpatient agencies; inpatient treatment programs; schools; correctional facilities; and, private practice
MS College Counseling or Student Affairs: college administration, and clinical counseling
---
Planning Notes for all students:
---
60 total credits required
Students can begin in any semester or term, including, fall, spring, winter or summer.
Students can take elective courses in any semester or term. For list of electives, see catalog.
Students can take core courses in any semester or term.
The above sequence is for illustrative purposes only. Students can tailor their program to their individual needs.