Counselor Education and Supervision, EdD
For over fifty years, Shippensburg's Department of Counselor Education has delivered world-class accredited master's-level counseling programs. Our doctoral program aligns with the most contemporary vision of the counseling profession. Our faculty offer students a wealth of clinical experience and academic approaches, including substantial expertise in supervision.
What Will I Learn?
Program objectives include:
Leading students to assume leadership and advocacy roles in the profession of counseling across a broad range of professional specializations and settings.
Utilizing the most current, ethical, and innovative technologies for supervision, counseling and education.
Emphasizing contemporary competencies in all aspects of professional practice with the overarching goal of mitigating social injustices and inequities.
Preparing advanced professionals to offer exceptional clinical supervision for counselors and student affairs professionals at all stages of their development.
Generating new insights and developing innovative approaches in clinical supervision.
Consulting with their academic advisor, students design a multi-disciplinary "cognate" focus to distinguish their academic program.
Increasing the knowledge base of the counseling profession in both physical and virtual scholarly environments.
Preparing a doctoral-level community of practitioner/scholars to create and disseminate results of scholarly practice and research.
---
Cohorts forming in Fall 2025
---
What Kinds of Experiences Could I Have?
The EdD in Counselor Education and Supervision (EdD CES) builds upon a minimum requisite 60-credit master's degree in counseling. Approved background includes, but is not limited to: clinical mental health counseling, K-12 school counseling, college counseling, family and marriage therapy, and college student personnel.
This professional doctoral program is designed as a cohort:
Doctoral students take all core courses, practicum, and internships together over a three-year period.
Core courses are offered on Saturdays*.
Most students are able to work full or part-time while earning their doctoral degree.
Additional semesters are expected to complete and defend dissertation research and complete the degree.
Classes are face-to-face with online components.
Professional relationships, service, and leadership are fostered throughout the program.
* Cognate courses may be offered at alternate times based on students' choice of courses.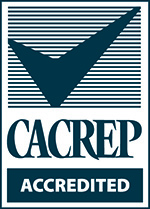 ---
Academic integrity
Council for the Accreditation of Counseling and Related Educational Programs - Programs from the Department of Counselor Education are nationally accredited by the Council for Accreditation of Counseling and Related Educational Programs
---
Application requirements
A counseling foundation
Master's degree in counseling or related discipline from a regionally accredited institution meeting master's level academic requirements; CACREP-accredited preferred, but not required*
Official transcripts from all undergraduate and graduate degrees
Professional resume showing required experience
Three letters of recommendation
Narrative statement
On-site interview with department
* Additional courses may be required at the master's level.
What Types of Careers Could I Get With This Degree?
This program primarily serves license-eligible and licensed professional counselors who aspire to advance their professional knowledge and standing across advanced practitioner, clinical supervisory, counselor educator and leadership positions in Pennsylvania and beyond.