Jump to Footer
Technology Help Desk for Students
The Student Help Desk offers technical support services
available to all students currently enrolled!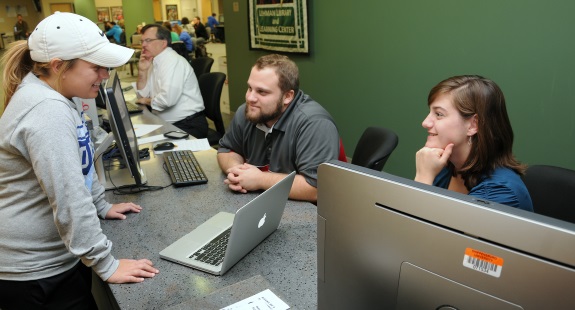 The Student Help Desk is conveniently located near the center of the campus within the Ezra Lehman Library. Students are encouraged to visit the Student Help Desk whenever they are in need of technical support for their personal computer and/or network connection.

General Information
Help Desk services are provided to current students at no cost. Students are required to provide a valid university ID card when they arrive at the Help Desk for support. Students may visit the Student Help Desk in person in the Ezra Lehman Memorial Library lobby. Support is also available by phone and e-mail.
Semester Hours

Contact Us

| | |
| --- | --- |
| Sunday: | 12 PM - 8 PM |
| Monday: | 9 AM - 8 PM |
| Tuesday: | 9 AM - 8 PM |
| Wednesday: | 9 AM - 8 PM |
| Thursday: | 9 AM - 8 PM |
| Friday: | 9 AM - 4 PM |
| Saturday: | 12 PM - 5 PM |

Location:
Ezra Lehman Memorial Library
Main Level Lobby

(717) 477-HELP (x4357)

E-mail: helpdesk@ship.edu

Twitter: @ShipTechService
Services Provided
The Student Help Desk provides a single point of contact for students experiencing problems relating to PCs, Macs, mobile devices, and network connectivity. We are dedicated to providing Shippensburg students a professional and efficient technical support experience for all issues concerning:
Personal computer and mobile device questions and issues
Wireless connectivity across campus

Gaming console connectivity

Computer clean-up of viruses and malware

Installation and maintenance of university-provided software

Connection to student e-mail and files

Answers and advice to technical questions

Many more... stop in and see us for support!
We provide support to students living on and off campus when they are attempting network access via wired or a wireless connection.