Jump to Footer
Shippensburg University Herbarium
Herbaria are "libraries" of plant specimens. Located in room 149 Franklin Science Center, the Shippensburg University Herbarium is an essential resource for teaching "Plant Taxonomy" (BIO 448). The specimens include collections by students, vouchers for plant names in scientific articles or environmental surveys, and donated collections from other institutions or individuals.
Below is an example of a specimen found in the Herbarium. The plant shown below is Tragus racemosus, or stalked bur grass, which was collected in Lehigh County, Pennsylvania.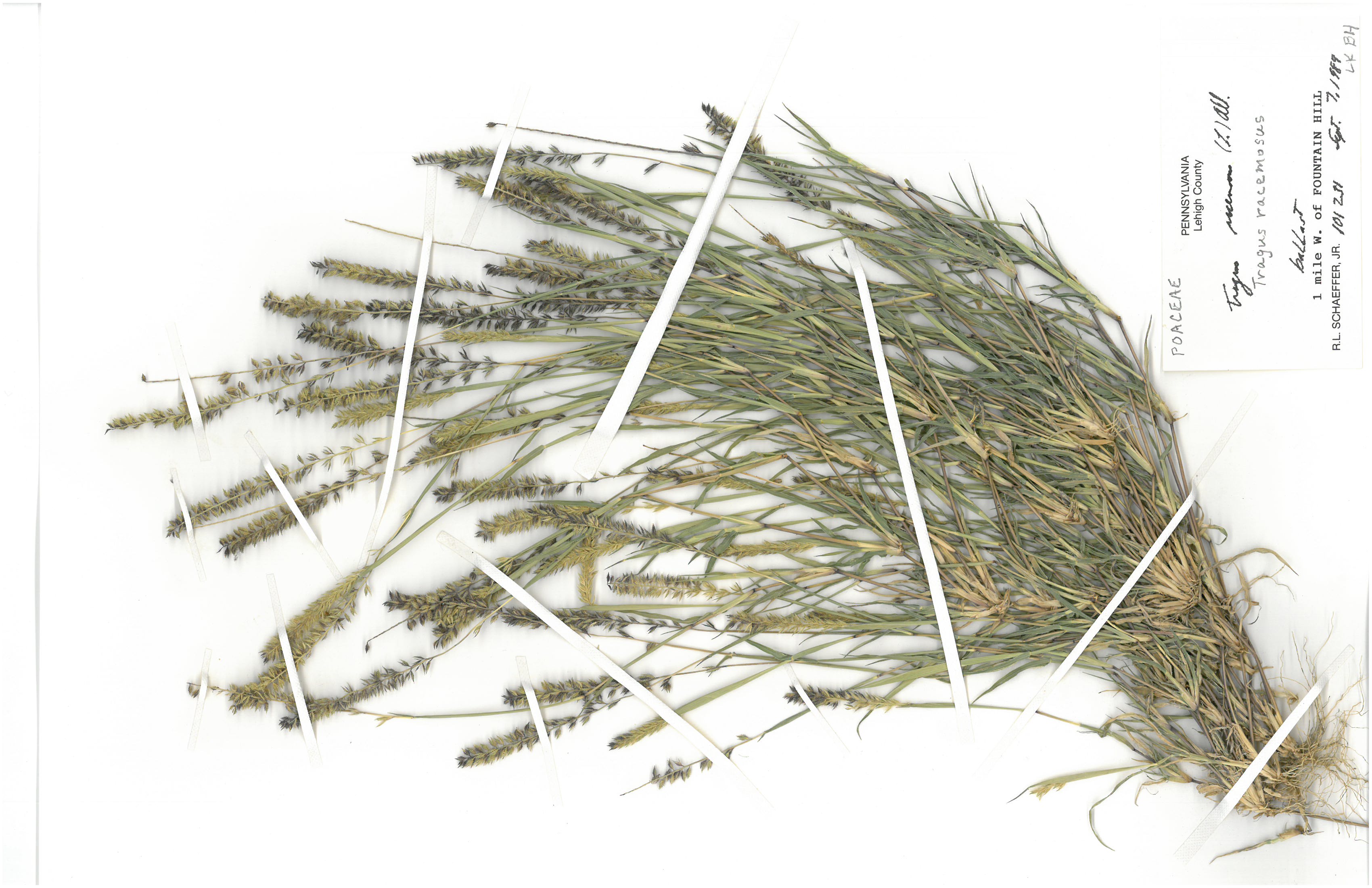 Over 14,000 specimens of vascular plants (ferns and seed plants) in the Shippensburg University Herbarium are now cataloged. While most of the plants are from Pennsylvania, other states from Maine to Hawaii are also represented. The Pennsylvania specimens include student collections from the summer Plant Taxonomy course in the 1960's (not yet completely cataloged) as well as the fall semester course taught by Dr. Larry Klotz from 1979 to 2007. They also include a large collection by Dr. Robert Schaeffer from the Lehigh Valley after his retirement from Muhlenberg College in Allentown. Specimens from other states include Maine, the Adirondacks, Maryland, the Carolinas, and especially Virginia, featuring vouchers for floristic inventories of Wallops Flight Facility and Research Park. The Maryland specimens are from Mr. John Russell, an amateur collector who traded his duplicates with collectors from other states and Europe. SHIP Herbarium also houses over 1,000 specimens of bryophytes (mosses and liverworts) plus smaller uncatalogued collections of lichens, fungi and macroalgae.
Shippensburg University Herbarium is registered with the code "SHIP" in Index Herbariorum a website with information on 3,400 herbaria around the world. Pennsylvania DCNR (Department of Conservation and Natural Resources) designates SHIP as one of the herbaria that accepts voucher specimens of "Plant Species of Special Concern" from surveys for environmental review.
SHIP Herbarium is managed by Dr. Heather Sahli, Associate Professor of Biology, in addition to her primary responsibilities of teaching, research, and committees; and Dr. Larry Klotz, Professor Emeritus of Biology, as an unpaid volunteer. Cataloging the collection is ongoing; for example, a local volunteer assisted Dr. Klotz in cataloging over 7,000 of the specimens.
Contact the Department of Biology
142 Franklin Science Center
1871 Old Main Drive
Shippensburg, PA 17257
Phone:
717-477-1401
biology@ship.edu