Jump to Footer
Department of Chemistry and Biochemistry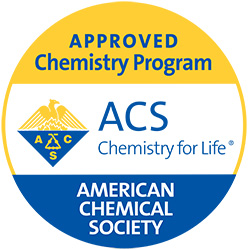 If you possess a curiosity about our physical world and a desire to improve the quality of life, consider a major in chemistry.
Our curriculum is approved by the American Chemical Society and involves core and laboratory courses in general, inorganic, organic, physical, and analytical chemistry as well as the allied fields of physics and mathematics. Each chemistry faculty member holds a doctorate from a major university. Class sizes are small, and we are proud of our accessibility in and out of the classroom. You will have the opportunity to undertake research to obtain experience in individual scientific investigation.
Seniors Present at the National Meeting of the American Chemical Society
We offer several concentrations and two minors that prepare students for a wide variety of careers and educational opportunities.

Many of our students enter industry, business, or government agencies after graduation. Some complement their chemistry degree with a teaching certificate. A chemistry degree also provides access to graduate and professional schools.

We're passionate about helping the chemists of tomorrow achieve their goals.
Students will demonstrate knowledge in four sub-disciplines of chemistry: analytical, inorganic, organic, and physical.
Students will have experience working with chemistry in extracurricular settings: internships and/or summer research.
Students will satisfactorily complete, analyze, and interpret data from laboratory experiments.
Students will summarize the design and results of a scientific investigation in an acceptable format for oral presentations.
Upon completion, students will be qualified for graduate programs, industry positions, and/or secondary teaching.
Students will present laboratory work in a recognized format for scientific writing.