Jump to Footer
Awards and Scholarships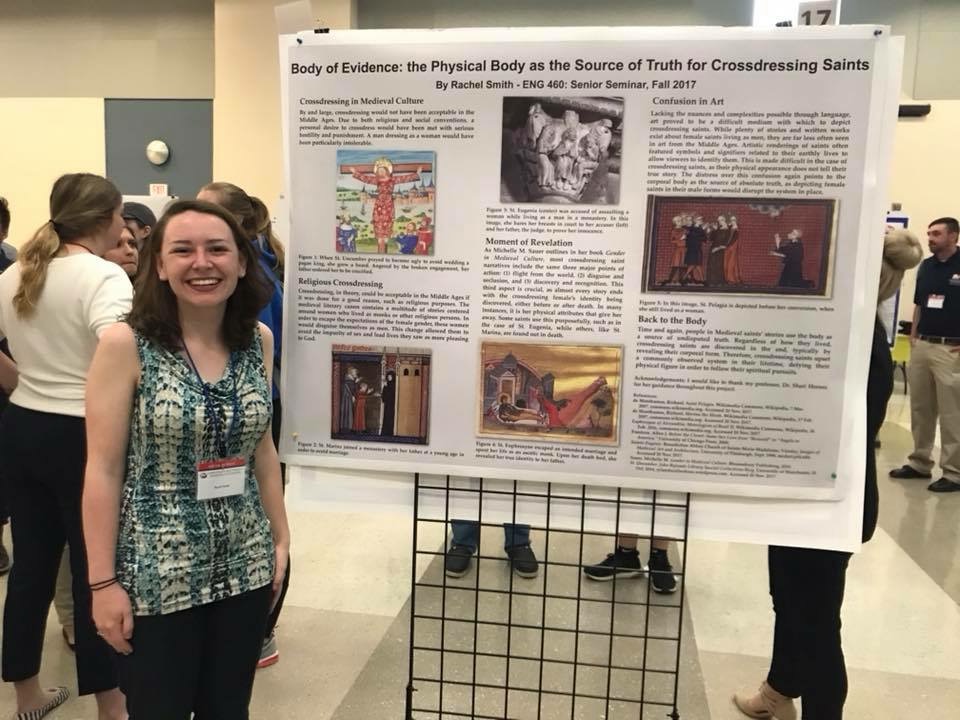 "The best part of the English Department is the sense of community. It really is a family where everyone knows everyone and we care about one another. I don't feel like I'm in a competition with my peers; rather, we lift each other up and celebrate our accomplishments together."
- Rachel Smith, '19
---
Department Awards 2019
Minnick Award, granted to a Sophomore Secondary Education Major: Luke Hershey

Heiges Award, granted to a Junior: Anna D'Orazio

Steck Award, granted to a Freshman: Michael Donegan

Departmental APSCUF Award, granted to an outstanding English major: Casey Leming
SU Teacher Education Award - Secondary, granted to a Secondary Ed. Major: Christopher Carragher
Campus Reflector Award, granted to a Senior: Rachel Smith

Lindner Award, granted to an English Major who excels in creative writing or prose: Haley Krause

---
Outstanding English Major
At the conclusion of every academic year, one student in the English department is chosen to receive the Outstanding English Major (OEM) recognition award. This award is given to a student that has demonstrated excellent academic endeavors and achievements within the English major.
Read further for past OEMS. Find out where they are today and what being an English Major provided for them to succeed beyond our hallways.
2019 - Ash Chapman
---
2018 - Rachel Smith
---
2017 - Spencer Pechart
Spencer graduated in 2017 with a Bachelor's Degree in Secondary Education for English and is now working as a sixth grade English Language Arts teacher for the Susquehannah Township School District in Harrisburg. He believes that majoring in English did more than prepare him for his career, but also helped to establish his identity in ways he previously couldn't before attending Shippensburg. Spencer says he learned two important lessons while studying English: there is more to English than grammar and Shakespeare and that the literary side of English is endless and inclusive which allows students to be empowered critical thinkers through literary theory. Spencer credits several in the English department for teaching him a variety of skills including how to craft graduate-level theses, produce polished portfolios, discover teaching philosophies, and approach "adolescent literature" in a more broader spectrum. He firmly believes English is an umbrella of necessary skills for life that will prepare any student to grow and develop appropriately toward the twenty-first century.
---
2016 - Shelby Sellers
Shelby graduated in 2016 with a Bachelor's Degree in Secondary Education for English. She believes that majoring in English helped her to come out of her shell, master the art of conversation, and develop a unique writing voice. The program not only helped her gain confidence by allowing her to present ideas efficiently but also helped shaped her goal of working in a classroom one day via her pedagogy courses. She currently works in Chambersburg School District as a Secondary ESL teacher. She teaches 11th and 12th grade English, as well as Reading classes for "newcomer" EL's (meaning that it is their first or second year in the district). She also has an emergency certificate to teach ESL, but will soon begin classes to get her certification and Master's in Teaching English as a Second Language.
---
Academy of American Poets Poetry Contest
Each Spring, our department hosts an Academy of American Poets Poetry Contest, titled the Laura A. Rice Poetry Prize. Courtney Caro is our Spring 2019 winner. Congratulations Courtney!
June
by: Courtney Caro
She tells me it won't always hurt like this –
becoming –
but I still feel every door I've ever shut,
every window;
a mess of strings tugging at me
with every move I make,
e v e r y step
I'm dragged forward.
This year I'll turn twenty-two
if I can make it to June
but my car-crash heart
has been s k i p p i n g and sliding
for as long as I can remember
and I don't know if I can take
another December
without cigarettes on his porch swing –
I don't know how to come back from that.
I don't know how many times I can write the same poem –
how many times it takes to get it right,
pinning moments like butterfly wings in a display case
before the colors fade;
words like water in my hands.
I want to write it until it's real.
Maybe this will be my year.