Jump to Footer
Researcher Instructions for using the Sona Systems Research Sign-up System
Researchers can use the research sign-up system to recruit participants for their studies and to conduct web-based research.
Using your web browser or web-enabled smart phone, go to:
http://shippensburg.sona-systems.com
Information on automatic credit granting through Qualtrics.
Logging in to Sona Systems
To begin, simply log in with your userid and assigned password that was emailed to you by the Sona administrator. Your userid is your Shippensburg email id, however your password may be different than your email password. If you already have an account, but forgot your password, click on the line under the Lost Your Password? heading. If you do not have a research account, contact the Sona Systems Administrator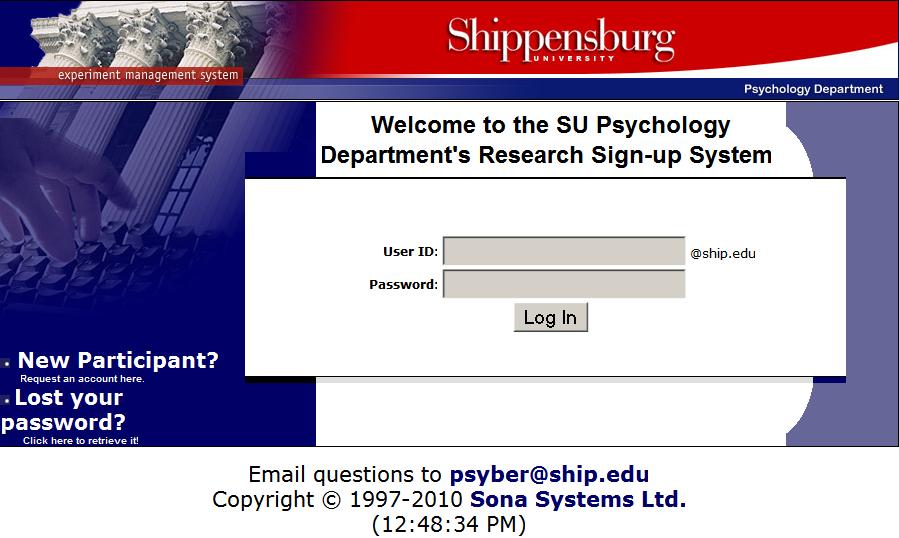 Sona Systems Main Menu
At the main menu you can add new studies, view your current and past studies, view all studies being offered, and change your profile information. It is a good idea to change your password to something that you will easily remember.
My Profile
Under the My Profile option you can change your password and contact information. You can also select whether you would like to receive an email reminder for your upcoming studies.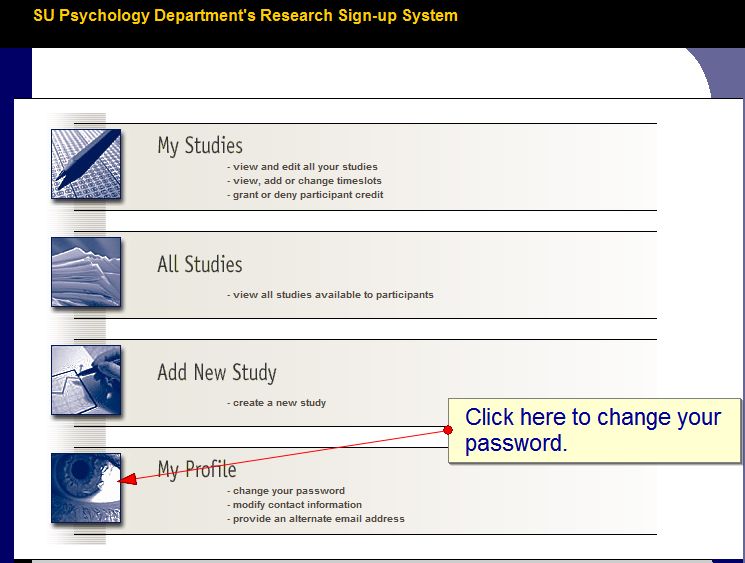 Add New Study
Under the "Add New Study" option you can add a standard, two-part, or online study.
If you choose an online study you can either allow Sona to host your online study or host the study at an external website (e.g. Surveymonkey.com).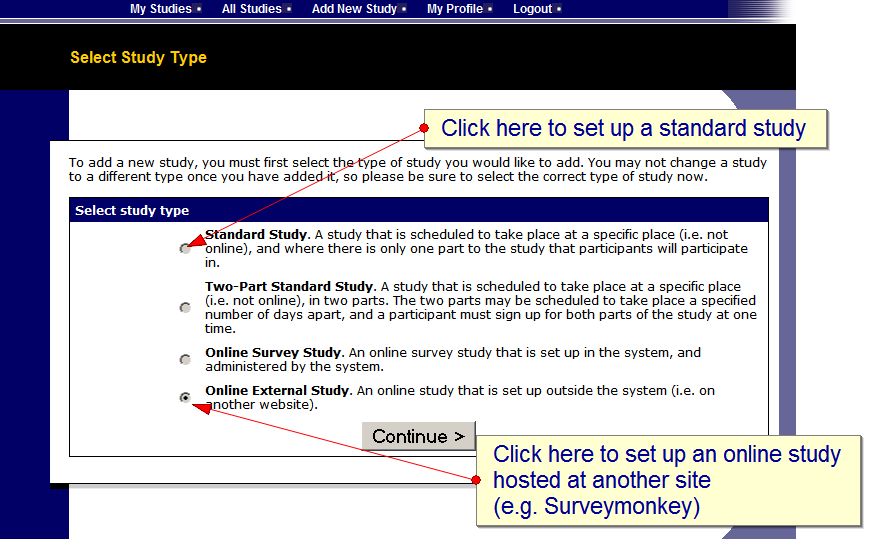 1. Standard Study (Basic Settings)
Under the standard study menu, you can enter your study name, description, prerequisites etc. Please do not offer inducement in your study description (e.g. fun, easy, short study). The default duration is set to 60 minutes. Students should receive 1 credit for each 30 minutes of participation time.
To complete the study set-up, select the name of the researcher(s), and check YES if the study has IRB approval and you want to make it active. You must make your study active in order for it to show up in the list of available studies.
2. Standard Study (Advanced Settings)
These are optional settings that research may use to limit who is eligible to participate in studies. Under the advances settings you can enable prerequisites, disqualifiers, sign-up deadlines, limit sign-ups to particular classes or sections, etc.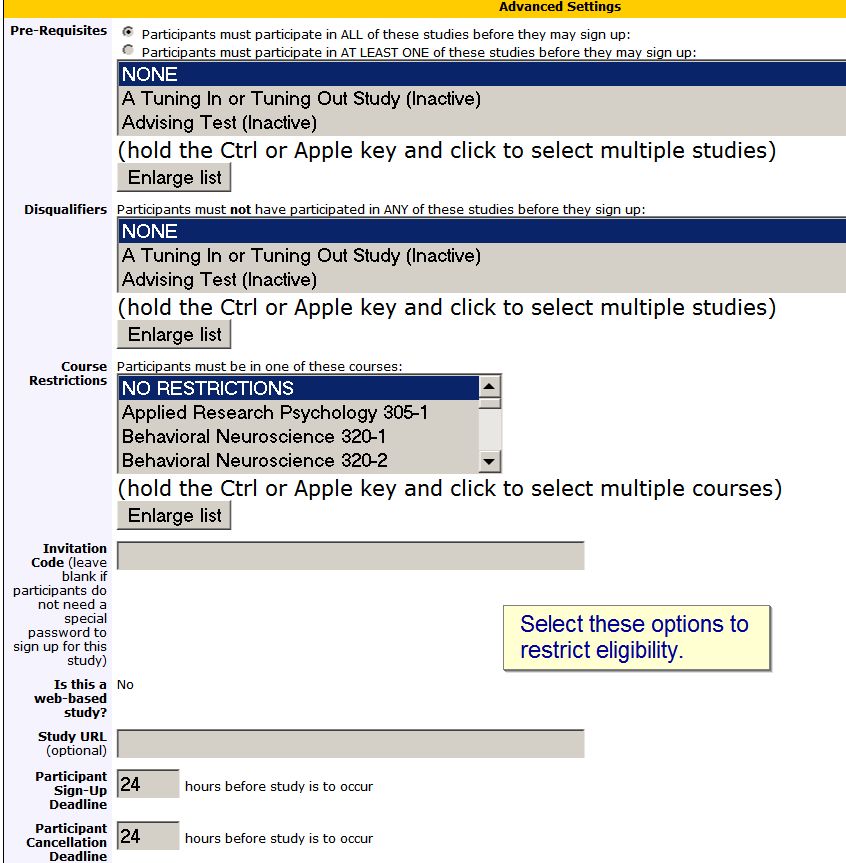 Click the "Add This Study" button to complete the process.
My Studies
The "My Studies" menu allows you to add or modify the studies that you have added to Sona Systems. In this menu you will see the current studies you have listed on Sona (active and inactive).
Click on the "Timeslots" link to add timeslots to your study. Under the Timeslots menu you can add, delete, or modify, one or multiple timeslots.
Click on the study name or "Study Info" link to modify study information or to contact participants. Click the Change Study Information link to alter general settings regarding your study. Note some settings (e.g. credits) cannot be altered once participants have signed up for your study. Click on the Contact Participants link to send emails to students who have participated or registered for your study.

Deleting an Inactive Study
If you are finished with an inactive study, make sure that you DELETE IT from Sona Systems. To delete an inactive study, click on the study name add then Delete at the bottom of the screen. If the "Delete" option is unavailable that means that you still have uncredited timeslots in your study that must be assigned before you can delete the study.
Granting Participation Credit
You must manually assign credit/no-credit to each person who signs up for your study. Sona will begin to send email reminders to the researcher(s) prompting them to assign credit/no-credit 24 hours after each study session is completed. To assign credit/no-credit click on Timeslots and then the Modify button next to each study session.
You must check either Participated or No-Show and then click Update Sign-ups. You can also leave a brief comment for each participant. If you do not select one of these two options, Sona will continue to send you daily email reminders. Do not leave the No Action Taken option checked.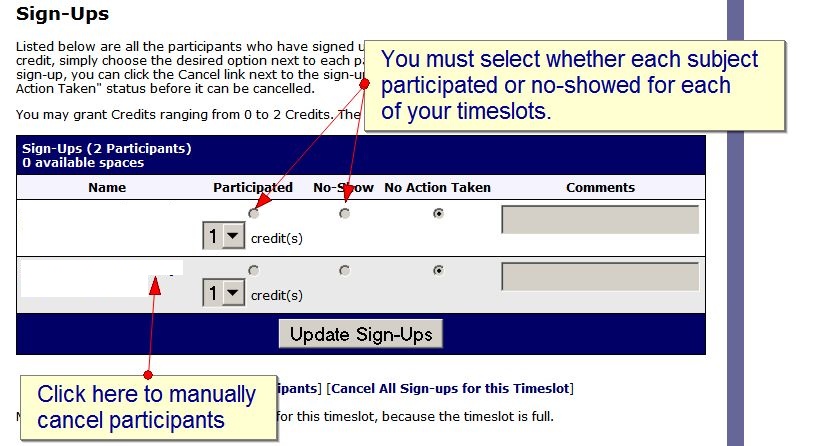 Contact the Department of Psychology
Franklin Science Center 114
1871 Old Main Drive, Shippensburg, PA 17257
Phone:
717-477-1657
psych@ship.edu