Chemistry, BS
Shippensburg University's Chemistry (BS) curriculum is approved by the American Chemical Society.
What Will I Learn?
You will take courses in all five subdisciplines of chemistry: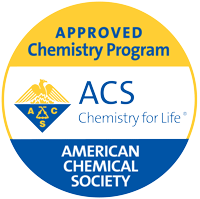 Inorganic
Organic
Analytical
Physical
Biological
You will also take computer programming and complete approximately 400 hours of laboratory work to learn the technical skills necessary to be a practicing chemist. Core courses provide a foundation in all chemical disciplines as well as physics, math and biology.


What are the requirements for this degree?
Entering the first chemistry course, you must be at a Math Level 5 or enrolled in MAT 175. You are also required to have completed a high school chemistry course. If you do not meet these requirements, you can declare the major but you will take remedial courses to fill in the missing knowledge.
Common minors include:
Mathematics
Biology
Sustainability
Business
What Types of Careers Could I Get With This Degree?
This degree allows you to go directly into the workforce and get a job as a laboratory technician in an analytical or research laboratory. Chemists are also hired as quality control officers for many businesses. All of our graduates that choose to enter the workforce have jobs in the field within six months of graduation.
A chemistry degree also provides access to graduate and professional schools, creating a pathway to careers in university teaching and research, forensics, patent and environmental law, and toxicology, as well as health-related professions like medicine and dentistry.
You can also find a career path in:
• Graduate school in any chemical
discipline
• Biotechnology
• Chemical publication editor
• Environmental health
• Forensic chemist
• Health-related professions
• Higher education teaching and research
faculty
• Laboratory research technician
• Medical, dental or pharmacy school
• Patent or environmental law
• Pharmaceutical research
• Pharmaceutical sales
• Toxicology
What Career Outcomes Do Alumni Have With This Degree?
What Kinds of Experiences Could I Have?
We have a small department with faculty that get to know every chemistry major. Students often talk about the department's family feel.
The degree requires approximately 400 hours of laboratory work. Labs meet for three hours a week outside of the three hours per week of lecture. Many of our students also work on research projects with faculty as early as the summer after their first year. Most students choose to complete a senior research project that allows them to travel with faculty to the American Chemical Society National Meeting.
You may also consider joining Chemistry Club. Participation in activities and services through the club stands out on a resume and is a great way to network and create lifelong relationships.