Jump to Footer
Grove 106/108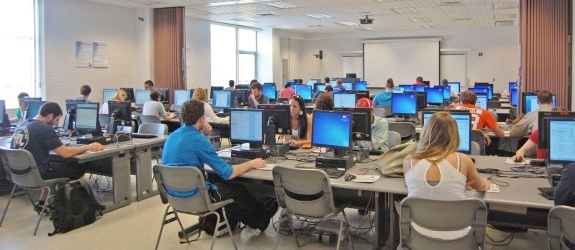 The Grove 106/108 microcomputer lab is a public lab that is available to all Shippensburg University students, faculty and staff. Housed on the main floor of Grove Hall, the state-of-the-art PC lab provides convenient access to many local, network-based and Internet resources.
Grove 106/108 can be separated by a sliding partition. Therefore, the 106 side of the room may be reserved for classes and other types of workshops and events.
All of the PCs in Grove 106/108 are equipped with the same set of software, as outlined below. The PCs contain several specialized software packages useful for students in the College of Business.

Lab Hours
Fall/Spring Semester Hours

Mon.
Tues.
Wed.
Thu.
Fri.

8:00 AM - 10:00 PM

8:00 AM - 10:00 PM

8:00 AM - 10:00 PM

8:00 AM - 10:00 PM

8:00 AM - 4:00 PM

Lab closed on weekends
Hardware
Dell Optiplex 990 (75 qty.)
Windows 7 Enterprise SP1
Intel Core i5 Processor - 2.7 GHz
8 GB RAM
DVD-RW Drive
22-inch flat panel monitors
Additional Hardware:
Kyocera High Volume Laser Printer (Grove 108 side)
Smart Cart Instructor's Station w/ Sympodium (Grove 106 side)
Data Projector & Screen (Grove 106 side)

Software
Standard software, plus...
Adobe Acrobat XI (11.0) Professional
Adobe After Effects CC
Adobe Audition CC
Adobe Dreamweaver CC
Adobe Encore CC
Adobe Flash Professional CC
Adobe Illustrator CC
Adobe InDesign CC
Adobe Photoshop CC
Adobe Prelude CC
Adobe Premier Pro CC
Adobe SpeedGrade CC
Aleks 3.18
Audacity 2.0.5
CyberCIEGE 1.9v4
Google Earth 7.1
Microsoft Project 2013 Professional
Microsoft Visio 2013 Professional

Microsoft Visual Studio Express 2013 for Desktop

Microsoft Visual Studio Express 2013 for Web
Minitab 16
NVivo 10
SAP GUI 7.30
SecureCRT 7.2
SIMUL8
SPSS Modeler 15
SPSS Statistics 22
Trimble SketchUp Make 2014
Windows Live Photo Gallery
Windows Live Movie Maker