Jump to Footer
Why English?
At Shippensburg University, English majors and minors graduate with not only an appreciation for literature and the arts but also with the skills needed to advance into a variety of careers. Graduating with a degree in English enables students to engage in careers in publishing, journalism, web content writing and design, public relations, teaching, and marketing, among countless others. From small businesses to large corporations; from local newspapers to mass media outlets: with an English major, the job possibilities are endless. The English Department provides students with skills that consistently rank highest among attributes employers* want, including the ability to:
think outside the box
innovate and create
solve problems
work well as part of a team
apply their written and oral communication skills
appreciate diversity
Learn more about the many values of an English degree.
---
---
Why English at Ship? You'll Go Places!
At Ship, we strive to move our students out of the classroom so you can see your skills in action: through conferences, internships, tutoring opportunities, and undergraduate faculty-student research. With our small class sizes and close mentorship, you will learn, grow, and apply the skills you need and graduate with confidence!
Click here for videos of recent grads telling their stories.
Click here for videos of one-minute Q&As with our amazing professors.
Are you a current Ship student curious about switching majors or picking up an English minor? Check out the Programs link and email our department chair, Dr. Michael Bibby.
Current Ship English major searching for a degree sheet? Click below. Literary Studies Professional & Creative Writing Secondary Certification
* National Association of Colleges and Employers' Job Outlook 2019
---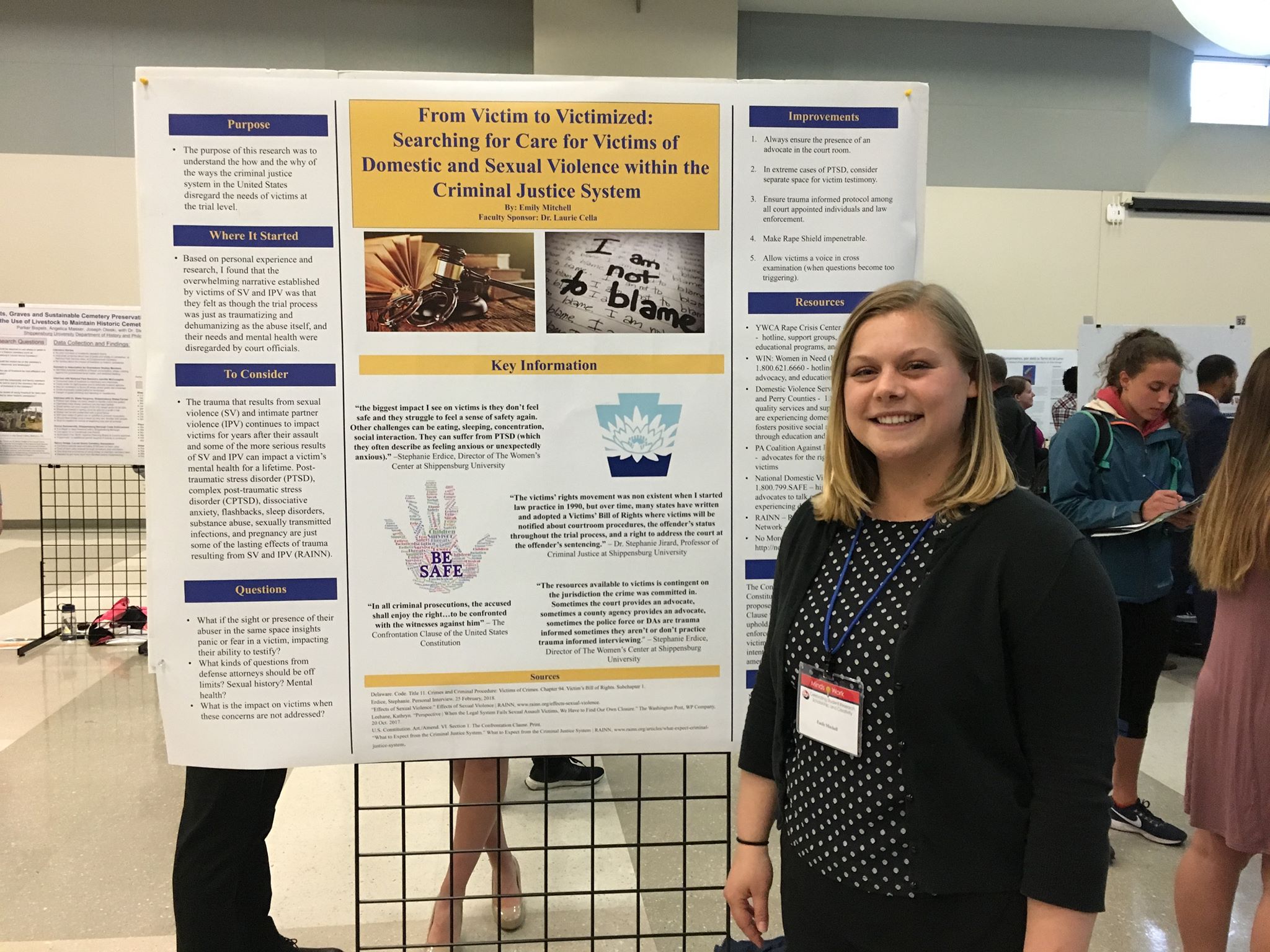 "Being an English major can really help you in all aspects of your future. You develop communicative, analytical, and writing skills that you won't necessarily find in any other major. We learn transferable skills that are really valuable in a lot of career fields."
- Emily Mitchell, ' 18.
Students will demonstrate that they can closely interact and effectively use primary texts in parts or as wholes.
Students will a) demonstrate insight into author, perspective, or tradition discussed, b) describe the relationship between compared texts, and c) analyze what particular details contribute to overall meaning of each piece.
Students will produce rhetorically effective writing that a) illustrates content mastery and b) adheres to disciplinary conventions for organization, presentation, and formatting.
Students will produce clear and grammatically consistent writing.
Students will demonstrate that they can read attentively and critically, effectively interpreting and drawing conclusions about primary texts that move beyond summary.
Students will demonstrate a) substantive revision of earlier work/drafts, b) response to student/ instructor feedback, & c) constructive commentary on other students' work; they will also demonstrate d) development of multimodal writing ability (formal/informal; short/long; individual/ collaborative).
Students will a) demonstrate accurate knowledge of genre characteristics their literary uses, b) perceive how elements of literature reflect the genre, and c) integrate particulars of a text with discussion of genre.
Students will a) demonstrate accurate knowledge of periods/movements and historical/cultural context, b) perceive how elements of literature reflect these contexts, and c) integrate of particulars of a text with discussion of context.
Students will demonstrate that they can a) evaluate, b) integrate, & c) document sources; and d) develop authentic expression in relation to sources.