Jump to Footer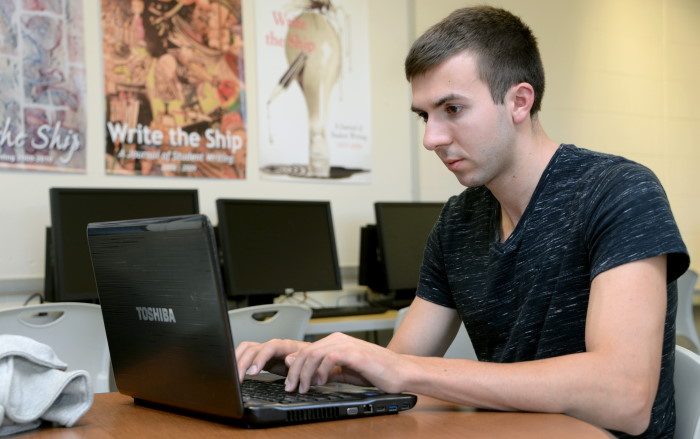 Spring 2021 Student Technology
Ship is committed to your success as a student during this new model of instructional delivery! Students should review the list of technology requirements below; Ship is happy to provide loaned technology for any students with a need. The Student Help Desk will continue to provide remote support during day/evening/weekend hours and is also available for limited in-person support (equipment pick-up/drop-off) via the Student Technology Help Desk in Lehman Library!
Contact our Help Desk at 717-477-HELP (x4357) if you need any assistance.

Technology Requirements
In order to be successful participating in and attending classes, virtual office hours, online events, and resources, all students must have access to the following:
Laptop or desktop computer (Windows or Mac)
** Chromebooks are NOT sufficient and will not run all required software. **
Working webcam and microphone
Microsoft Office 365 and Zoom (both available for free to Ship students)
** Sign in to both applications using your @ship.edu e-mail account.
Access to reliable, high-speed Internet service
Computers should meet at least the minimum requirements listed on our Computer Recommendations page. Please check with your professor and academic program for any additional technology requirements.
If you do not have the equipment or Internet connection necessary, Ship is happy to assist by providing loaned technology at no cost through the end of the semester. If you have a specific equipment need, please complete the Request access to technology equipment form.
Technology Resources
January Jumpstart!
January Jumpstart Sessions
Developing Online Success Skills for the Spring Semester
January Jumpstart was held prior to the Spring 2021 semester and recordings are available below!
Need help setting yourself up for online success? Have trouble staying motivated and disciplined when it comes to your online class? Curious about how to approach studying for and taking a test online? No need to worry, we've got you covered – kick off your Spring 2021 Semester with skill-building sessions to help you in an online education environment!
How to Conduct Online Research
Gain relevant skills and strategies to understand how to get started with online research, organizing data, and making sense of sources/data in an online education environment.
Study Strategies for a Strong Start to Your Semester
Learn to identify your learning style, discuss effective planning strategies for class, and explore various note taking methods.
Test Preparation & Anxieties
Examine strategies to help you better prepare for exams and discuss methods to help alleviate test anxiety.
Virtual Etiquette, Effectively Communicating Online and via Email
Get tips on how to be your best virtual self for interacting with your professors and peers.
Understanding Technology Tools for Class
Learn how to navigate online learning through ZOOM and D2L to make the most of your semester.
Student Tech Training
Ship offers many opportunities for students to learn about the technology tools and processes required for remote learning. Please click on the headings below to view training materials previously compiled!
This session covers an overview of the technology systems used at Ship as well as the devices and software that students need to be successful learners. Access to free software/tools and suggestions for working effectively while remote, as needed, will be discussed.
Student Tech/Learning Tips
The short, descriptive videos below were designed to allow students to get accustomed to the learning modalities and resources available remotely!