Campus Vibe : What it's like at Ship
Jump to Footer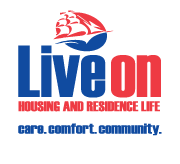 Learning at Ship doesn't just take place in a classroom. It also happens with the new friends you make, the activities you participate in, and in the place you call home during the school year.
Suite style residence halls Each residence hall has a unique and exciting vibe, and there are plenty of opportunities for you to socialize with students with similar interests - especially in Living-Learning Communities.
Our suite-style coed residence halls are designed for your comfort, convenience, and safety. These four-story buildings feature the usual amenities plus air conditioning, carpeting, and a bathroom shared by you and one other student. Ship's Living-Learning Communities can be found here, which add to the uniqueness of each hall.

Shippensburg University allows you to pick your own roommates and rooms. Ship gives you innovative ways to meet other students, find roommates, and select rooms yourself through our online housing portal in MyHousing. This insures students the ability to receive the housing best suited for the lifestyles, financial needs, and personalities. It is our goal to be customer friendly and to meet the needs of students while being fair to all students. Ship also allows students to complete room changes after the second week of classes each semester and throughout the year as needed.

Tours Our Admissions Office will offer tours of a B unit in Harley Hall. There are opportunities to see the halls and meet our staff during open houses, admitted students days, and summer orientation. Take a virtual suite tour now!


The day has finally arrived: You're off to college!
What to Bring/Not Bring Take a look at the New Student Housing Check List ahead of time to figure out what you'll need to live on campus. Our TV Services have changed. See details
Move In Day is always a bustle of activity inside and outside our residence halls. We'll have student volunteers and university staff on-hand to help make things go as smoothly as possible for you, and your patience and cooperation are appreciated.

Spring 2020 Arrival Dates and Check-In Times

Incoming Students
Arrival Dates and Check-In Times
Incoming Freshman and Transfer Students arrive on Sunday, January 19, 2020 between 9:00 a.m. and 12:00 p.m. at the assigned hall.

Returning Students
Arrive on Sunday, January 19, 2020 after 1:00 p.m. at the assigned hall.

Mowrey Hall Graduate Students
Please contact the McLean/Mowrey Resident Director at mclrd@ship.edu for arrival information.

Fall 2020 Arrival Dates and Check-In Times

Incoming Students
If you are an incoming student, check-in dates and times will be will be set by hall and home zip code on Wednesday, August 19, 2020. More detailed arrival information will be available here in the spring.
When You Arrive
Pull your vehicle into a designated unloading zone near your hall.
Unload your belongings at the curb and have someone move your vehicle to a nearby lot.
Orientation personnel will be available to assist moving your belongings into the building.
Report to the check-in location in your hall's lobby.
Receive your keys, Room Condition Report, and other check-in materials. Also you will have the opportunity to purchase a hall association sticker for $5.00.
Returning Students
Returning students will arrive on Saturday, August 22, 2020 after 9:00 a.m. at the assigned hall.

Graduate Students
Wednesday, August 12th 12 pm-1 pm – McLean Hall (Early Arrival)
Friday, August 21st 1 pm - 4 pm – Mowrey