Jump to Footer
Shippensburg University Space and Event Request System
External Requestor Ship Student, Faculty or Staff Users Event Types Group Information
Welcome to the Shippensburg University Space and Event Request System user guide. This guide is intended to help you schedule your event in the right place at the right time. Please read the instructions below on how to Browse for Facilities, Space, Groups or Events, how to log in and make a request for space and services. Please note that this guide is for Shippensburg room requests only.
If you are a Ship student, faculty or staff member you must login in to have access to all of the rooms available to you.
---
External Requestors
This is for CUB Vendor spaces only.
Go to https://events.ship.edu/
Select My Home, Then select Request a Room
This will take you to the CUB Vendor Reservation Form
If you wish to request a different space or have questions about your request, please contact the appropriate office -- Events Contacts List
---
Ship Student, Faculty or Staff Users
Go to https://events.ship.edu/
Select My Home, Then select Sign In
Log in using your Ship user name and ID.
Your account will be automatically created upon login with your ShipID

CALENDAR NOTE: If your event has multiple rooms and you what the event to display on campus calendars, please schedule the main room separately and designate as "post on public calendar". Support rooms can be group scheduled.
Instructions for:
Complete Web APP Users Guide [PDF 1.8MB]
Contacts
If you have questions about your request, please contact the appropriate office for the space you wish to schedule -- Events Contacts List
Shippensburg University faculty who have requests for their academic classes should contact the Registrar's Office -- regdataoffice@ship.edu.
If you have questions, please visit the Event Planning page.
Request Details
Event Types
Master calendar events can be filtered by event types and locations. NOTE: Guest, Construction/maintenance and Meeting event types do not display on Master Calendar or Ship events.
| Calendar List | Color | Notes |
| --- | --- | --- |
| Academics Speakers & Programs | | Department Guest Speakers |
| Admissions | | Admission Events (Open Houses, Admitted Students Day) |
| Alumni | | Alumni Events, fundraisers |
| Arts & Culture | | Music, Art, Int'l Studies, Study Abroad, MSA Events, Inclusion |
| Athletics / Recreation | | Sport, intramurals events |
| Camps | | Keystone, Academic, Kids, HOBY camps |
| Career Development | | Career, PCDE, Career Mentoring and Professional Development |
| Diversity | | Diversity events |
| Faculty / Staff | | Employee workshops, trainings |
| Leadership & Civic Engagement | | Community Engagement |
| Mind, Body, Spirit | | Counseling Center, religious, spiritual, mission Trips |
| Residential & Student Life | | Res Life Programming, Student Life Programming (SSI, Clubs, Org, Greek Life) |
| Student Success | | Learning Center, Library |
Event Details and Group Information
Fields with a red asterisk * are required
Complete all other fields as needed.
Add Event name and select meeting type

Select a group
You must select a group or organization. DO NOT select your name as the group. New users should use search to select the group you are scheduling the event for. EMS will build a directory of groups you schedule. You can select from the list rather than search for additional requests.
Users need to be associated with an organization in order for requests to be processed
Click on the magnifying glass next to the Group field



Please Search for the organization you are scheduling this event for. Typing the first letters of the groups name will make it easier to find.




Select Contact
Use Search to find your name for first time user. Select from "Current 1st" if you are scheduling for yourself after your first time.




Complete additional details





Event Equipment and Setup Needs
Please note that the event equipment details are different for each request form. The image below is only an example.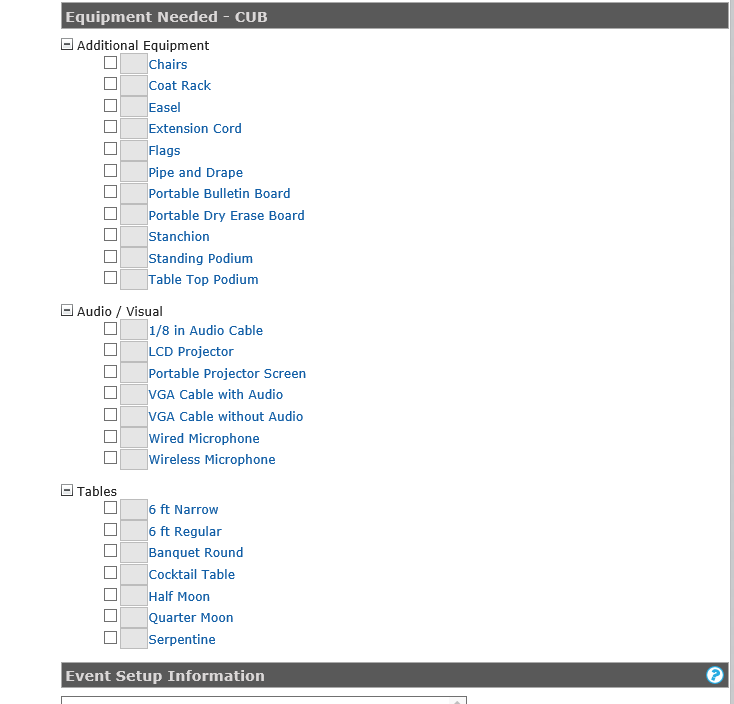 Click "Submit"