Jump to Footer
Shippensburg University Council of Trustees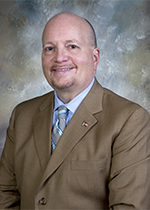 Douglas Harbach (Chair)
Doug Harbach, a 1982 Shippensburg University graduate with a degree in Communications, was appointed by Governor Tom Wolf to the Council of Trustees in November 2018 after the nomination was approved by the State Senate. It is Doug's third appointment to the Council of Trustees serving from 1991-1997 and again in 2008-2012. In addition to serving on the Council of Trustees, Doug served his alma mater as a member of the board of the SU General Alumni Association including President in 2017-2018, and served on two Presidential Search Committees. Doug was also honored to deliver the commencement address at the SU undergraduate ceremony in December 2015.
Professionally, Doug has worked in both public and private industry, serving since July 2006 as director of communications of the Pennsylvania Gaming Control Board. In that position, he is responsible for media and public relations, along with ensuring that the Board's business in overseeing legal gambling in Pennsylvania is visible to the citizens of the Commonwealth.
Doug is involved in many community activities including Treasurer of the Chambersburg Evening Lions Club and as a Sunday School teacher and choir member at First United Methodist Church in Chambersburg. He has also served as Chairman of the Board for the Greater Chambersburg Chamber of Commerce and as a member of the Patriot Federal Credit Union board. A 33rd Degree Mason, Doug is member of both the Cumberland Valley Masonic Lodge in Shippensburg and the Harrisburg Consistory of Scottish Rites where he performs with the choir.
Doug has two adult children and resides in Chambersburg with his wife Sue.
George McElwee (Vice Chair)
George McElwee '98 begins his first six year term. McElwee is a founding member and managing partner of Commonwealth Strategic Partners (CSP), a bipartisan public policy firm.
Prior to forming CSP, George served as chief lobbyist to the Organization for International Investment and as chief of staff to U.S. Representative Charles W. Dent (R-PA). George spent five years as director of Federal Government Affairs for the American Financial Services Association (AFSA), a national trade association representing the consumer credit and finance industry, and on the staff of U.S. Senator Rick Santorum (R-PA).
A commissioned offer in the U.S. Navy reserve, Lieutenant Commander McElwee is a public affairs officer assigned to the Navy Office of Community Outreach (NAVCO). His previous assignments include, Flag Assistant to the U.S. Navy Vice Chief of Information (one-star admiral); U.S. Navy Office of Information; U.S. Fleet Forces Command; and Navy Public Affairs Support Element (NPASE) - East.
George holds a Master's of Arts in Strategic Security Studies from the College of International Security Affairs, National Defense University; a Graduate certificate in PACs and Political Management from the Graduate School of Political Management, George Washington University; Joint Professional Military Education, Phase I from Air Command and Staff College, Air University; a graduate of Public Affairs Qualification Course from Defense Information School, Fort George G. meade; a Bachelor's of Arts in Political Science from Shippensburg University of Pennsylvania; and studied at Northampton Community College, Bethlehem, PA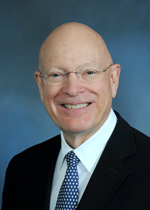 William A. Gindlesperger (Secretary)
As chairman of eLynxx Solutions, William "Bill" Gindlesperger leads the firm that he established in 1975. Under Bill's entrepreneurial vision, eLynxx Solutions has grown into a dynamic, international, technology-driven business offering print buyer's software for managing direct mail, promotional items and other marketing materials.
Bill's writings have been published in more than 150 national and international, professional and trade publications. He has been awarded special recognition by the president and board of the Printing Industries of America (PIA), received the only endorsement ever granted by the PIA, and was inducted into PIA's exclusive Ben Franklin Honor Society. Bill has been recognized as one of Supply and Demand Chain Executive's most influential leaders in supply chain management since 2010.
During the Base Realignment and Closure period, Gindlesperger was recognized for his role in saving 3,000 skilled jobs at the Letterkenny Army Depot. Bill has also provided consultation to governors of a number of states, as well as the United States House of Representatives and Senate, where he has testified on numerous occasions.
At home in his native Chambersburg, Bill is past president of the Board of Trustees of the Falling Spring Presbyterian Church, is a life member of the Pennsylvania Society, and is a member of the Pennsylvania Association of Councils of Trustees. He is also a member of the General James Chambers Lodge 801 F&AM, Valley of Harrisburg Consistory of the Scottish Rite of Freemasonry, Zembo Temple and the Tall Cedars of Lebanon.
Bill graduated from Dickinson College with a degree in religion and philosophy. He is married to his best friend and business partner, Maxine. They have five children, a foster daughter, and mentor children to afford them opportunities on which to build successful lives.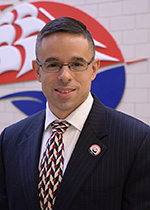 Andrew Alosi
Andrew (Drew) Alosi is a Shippensburg University alumnus earning his bachelor's degree in Public Administration. Since that time, he dedicated 20 years of service to youth rehabilitation beginning as a program director for Visionquest Inc., followed by serving as a treatment supervisor for Cornell Abraxas. Most recently, Drew worked with youth through River Rock Academy, an alternative education provider with campus locations throughout south-central and eastern Pennsylvania as a behavior coach and case manager. In January 2023, Drew accepted the position of compliance manager for Parx Casino in Shippensburg. He will work as a liaison with the Pennsylvania Gaming Control Board ensuring gaming regulations are adhered to.
From 2013 to 2017, Drew served as an elected member of the Shippensburg Area School Board including two years as vice president. He is also involved with Memorial Lutheran Church in Shippensburg where he has served as an organist and served on both the Church Council and on the Board of Directors of the church's preschool.
Drew was appointed to the Council of Trustees to complete the term of the late Jeffrey W. Coy, a mentor to Drew in his efforts to be involved in the Shippensburg community. He resides in Shippensburg with his wife Kara and three children.
Glen R. Grell
On May 1, 2015, Mr. Grell became the Executive Director of the Public School Employees' Retirement System (PSERS), a $51.9 billion public pension system headquartered in Harrisburg, PA and currently the 20th largest state-sponsored defined benefit public pension fund in the nation with a membership of over 263,000 active school employees and nearly 214,000 retirees.
Prior to being named Executive Director, Mr. Grell served as the elected State Representative for the 87th District in the Pennsylvania House of Representatives, which includes several communities in Eastern Cumberland County. He was first elected to the Pennsylvania House of Representatives in 2004.
During his tenure in the House of Representatives, Mr. Grell was the prime sponsor or House floor leader on legislation addressing many important matters, including: the 2010 public pension reform; eminent domain; the 2012 Justice Reinvestment Initiative for corrections reform; revisions to the Uniform Commercial Code on secured transactions; a recodification of the Notary Public Law; and tort reform.
He also served as the House Republican Caucus' representative as a member of the PSERS Board of Trustees from 2009 to 2015 and was Chairman of the 25 member South Central (GOP) Caucus.
Prior to his election, Mr. Grell was an attorney in private practice in Central Pennsylvania. From 2000 to 2005, he served as Solicitor of Hampden Township, the largest municipality in Cumberland County. He also served as Deputy General Counsel to Pennsylvania Governor Tom Ridge from 1995 to 2000.
Mr. Grell has been a member of the Shippensburg University Council of Trustees since 1995. He serves on the Board of the Pennsylvania Masonic Youth Foundation and is chairman of its foundation. Mr. Grell is also active in several pension industry associations including, the National Association of State Retirement Administrators and the National Council on Teacher Retirement.
Mr. Grell earned a Bachelor's of Arts degree from The Johns Hopkins University in 1978, as well as his J.D. from the Dickinson School of Law in 1981.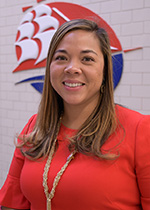 Antoinette Marchowsky
Antoinette "Toni" Marchowsky is Deputy Chief of Staff to State Senator Vincent Hughes, Chair of the Senate Democratic Appropriations Committee. In her current position, Marchowsky handles budget and legislative matters regarding community and economic development, housing, infrastructure, and military and veterans' affairs for the Appropriations committee. She is also responsible for managing a wide range of public policy issues impacting the City of Philadelphia and southeast Pennsylvania region.
In her previous post as the Executive Director of the Philadelphia Delegation for the Pennsylvania House of Representatives, she worked with members of the bipartisan Philadelphia Delegation with a primary focus on legislation, policy, and budget issues impacting the Philadelphia region. Toni also served as a director of government relations for the Harrisburg office of Duane Morris Government Services (DMGS).
Toni earned a Bachelor's degree in political science in 2005 and a Master's degree in public administration in 2006 both from Shippensburg University. She is a 2017 recipient of the Outstanding Young Alumnus Award.
Toni and her husband, Bobby, met as undergraduates at Ship, and they currently reside in East Pennsboro Township with their son and daughter.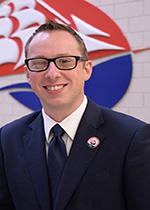 Bryan Lowe
Bryan Lowe is the Regional Director of State and Local Government Affairs for Walgreen Co., in this role, he represents Walgreens before state and local governments in Mid-Atlantic Region. Prior to this position he served as Senior Director of State Government Affairs for the Healthcare Distribution Alliance, representing a national trade associations members before state legislatures throughout the country. Previously, Bryan was an Associate at the Harrisburg based government affairs firm, Greenlee Partners. In this capacity, Bryan represented various client interests before the Pennsylvania General Assembly. Additionally, Bryan formerly served as a Government Relations Associate for the Pennsylvania Commission for Community Colleges.
Bryan received his Bachelor's in Political Science from Shippensburg University in 2008, and his Master's of Public Administration, from Shippensburg in 2017. At Shippensburg, Bryan played four years of club roller hockey and led the team to the national championship tournament on three different occasions. Bryan lives in Harrisburg with his wife Kristie '10 '17M, and their dog Ollie.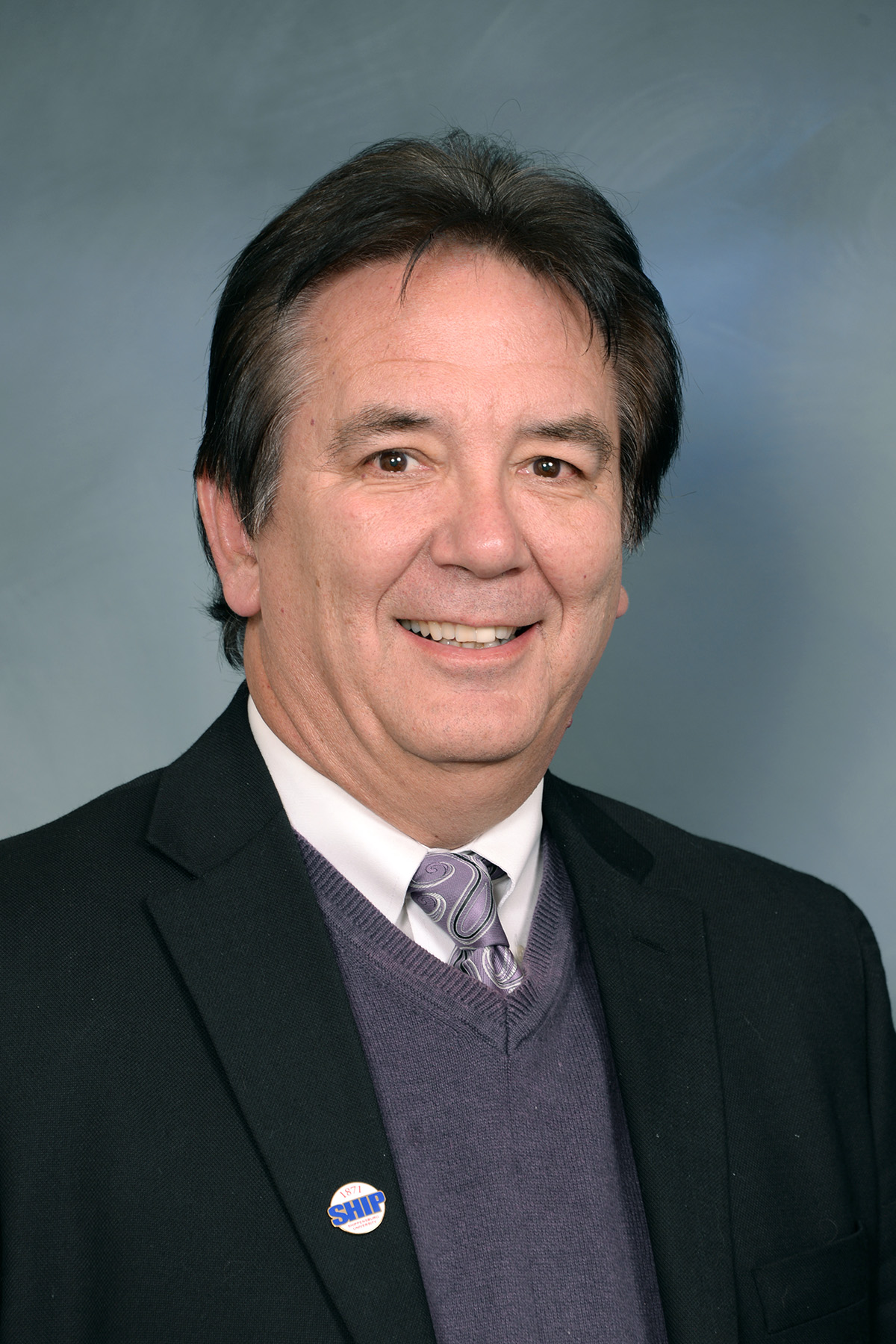 L. Michael Ross
Mike Ross has been President of the Franklin County Area Development Corporation (Chambersburg, PA) since its start-up in 1986. The Corporation is responsible for initiating, implementing, and promoting a comprehensive economic development strategy. The strategy is centered on the retention/expansion of existing companies, the selective attraction of new industries, and the start-up of new businesses. Since 1986, the FCADC has facilitated more than 775 projects throughout the County. The projects have resulted in more than $2 Billion of new investments. The FCADC has been able to support the projects with more than $335 million of economic development resources. Most importantly, the projects have impacted more than 50,000 employment positions. For its accomplishments, the FCADC is a past recipient of Small Agency of the Year and the 2012 Large Agency of the Year awards by the Pennsylvania Economic Development Association. (The FCADC is the only Agency to have received the award in each category.)
Prior to the FCADC, Mike spent more than eight years with the Pennsylvania Department of Commerce, where he held several positions. The experience provided him with a diversified background in many facets of economic development.
Mike has a Bachelor's in Political Science from Slippery Rock University; is a graduate of the Economic Development Institute, Oklahoma University; is a 2014 graduate of Commandant's National Security Program, U.S. Army War College, Carlisle; and is a designated Economic Development Professional by the Northeastern Economic Developers Association. He is married to Donna and has three grown daughters, a son-in-law, and three grandchildren. He enjoys reading, traveling, kayaking, and spending time with his family.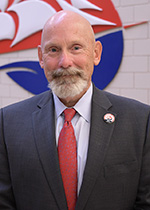 Matthew Steck
Matthew Steck is co-owner of Greenlee Partners, LLC, a government affairs firm specializing in federal, state and local lobbying, grassroots organization and procurement. Prior to joining Greenlee in 1990, he served as vice president of government relations for a three-state insurance producer trade association. He started his professional career on the staff of the Pennsylvania Senate Pro Tempore, and moved on to work for two additional members in the Senate focusing on local government and agricultural issues in the Commonwealth.
He serves on several community boards including the Dauphin County Industrial Development Authority, Dauphin County Economic Development Corporation, Pennsylvania State System of Higher Education Foundation Board, Capital Region Economic Development Corporation and Central Pennsylvania College President's Circle. He is also a member of the Mount Calvary Episcopal Church.
He earned a Bachelor's of Arts in government administration from Shippensburg University in 1983.
Rangeline DeJesus
Sophomore Rangeline DeJesus was appointed to the Shippensburg University Council of Trustees by Governor Tom Wolf. DeJesus will represent her peers as the student member of the council.
"Rangeline is ready and well-prepared to become the student voice on the Council of Trustees. While the entire council works to serve and advocate for students, inclusive of underrepresented students, Rangeline's voice truly represents the diversity of our student body and their needs, interests, and priorities," said Dr. Charles E. Patterson, President.
DeJesus, a graduate of Reading High School, is a sophomore international studies and Spanish major with a minor in political science. An active member of the campus community, she is a resident assistant and is employed by Shippensburg University Dining Services. In high school she was a member of the National Honor Society and served as lieutenant governor of Division 13 of Key Club.
In 2019 she was honored with the Key Club's Thomas Jefferson Award for Leadership and in 2020 she received the Robert F. Lucas Award as a Distinguished Lieutenant Governor.
"It's an immense honor to be selected to serve as the student trustee and I'm excited to work alongside students and the Council of Trustees," said DeJesus.
DeJesus will serve a two-year term.
Contact the Office of the President
Shippensburg University
1871 Old Main Drive
Shippensburg, PA 17257
Phone:
717-477-1301
president@ship.edu
Monday-Friday: 8:00 a.m. - 4:30 p.m.