Jump to Footer
CUB 124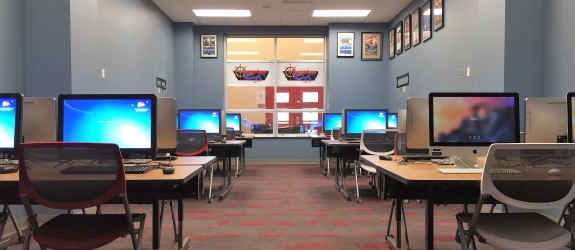 The CUB 124 microcomputer lab is a public lab conveniently housed inside the Ceddia Union Building that is available to all Shippensburg University students, faculty, and staff.
CUB 124 is a non-reservable space, meaning that it is always open for students to get work done, print, and receive technical assistance from trained lab attendants.
All of the PCs in CUB 124 are equipped with the same set of software, as outlined below. Software packages are targeted at students from any college or major at Shippensburg University.

Lab Hours
Fall/Spring Semester Hours

Sun.
Mon.
Tue.
Wed.
Thu.
Fri.
Sat.

1:00 PM - 6:00 PM

8:00 AM - 10:00 PM

8:00 AM - 10:00 PM

8:00 AM - 10:00 PM

8:00 AM - 10:00 PM

8:00 AM - 4:00 PM

12:00 PM - 6:00 PM
Hardware
Dell OptiPlex 7450 AIO (22 qty.)
Windows 10 Education
Intel Core i5 Processor
16 GB RAM
DVD-RW Drive
24-inch integrated flat panel display
Apple iMac (2 qty.)
Mac OS X
Intel Core i5 Processor
8 GB RAM
21.5-inch display
Additional Hardware:
Kyocera High Volume Laser Printer

Software
Standard software, plus...
Adobe Acrobat Professional
Adobe After Effects CC
Adobe Audition CC
Adobe Dreamweaver CC
Adobe Encore CC
Adobe Illustrator CC
Adobe InDesign CC
Adobe Photoshop CC
Adobe Prelude CC
Adobe Premier Pro CC
Adobe SpeedGrade CC
Audacity
Google Earth Pro
Microsoft Project Professional
Microsoft Visio Professional
Microsoft Visual Studio Professional
Minitab
NVivo
SAP GUI
SecureCRT
SPSS Modeler
SPSS Statistics