Jump to Footer
Worship
Our Lady of the Visitation Pastor &
Shippensburg University Campus Minister
Fr. Ben Dunkelberger
305 N. Prince St.
Shippensburg, Pa 17257
717-532-2912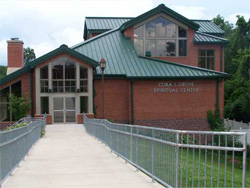 Shippensburg University
Associate Director of Catholic Campus Ministry

Ms. Nichole Schneider
Spiritual Center Room 215
Shippensburg, PA 17257
717-477-1244
ncschneider@ship.edu
Get Involved
Special Minister of the Eucharist/Lector/Choir/Musician
Become more involved at Mass.
Serve Christ as a Special Minister of the Eucharist, a lector, or a cantor.
For more information contact Fr. Ben Dunkelberger.
Mass Schedule
Daily Mass
Tuesday - Friday at 8:30 a.m. inside OLV Church Sanctuary
Saturday - 5:00 p.m. in Church Sanctuary (wear mask)
Sunday - 8:00 a.m. and 11 a.m. in Church Sanctuary now! Wear mask.
Confession
Saturdays from 3:30 p.m. - 4:30 p.m. (wear mask)
First Fridays at 7:30 a.m. and other times by appointment
Adoration
First Friday of the month from 7:30 a.m. - 8:30 a.m.
For Holy Days and other Special Services, please visit olvshippensburg.org.
Contact the Catholic Campus Ministry
Shippensburg University, Cora I. Grove Spiritual Center, Room 215
1871 Old Main Drive
Shippensburg, PA 17257
Phone:
717-477-1244
NCSchneider@ship.edu
Nichole Schneider - Catholic Campus Minister