Jump to Footer
Introduction to Psychological Research at
Shippensburg University
Students who are currently enrolled in a psychology class may be eligible for research participant credit. Please contact your course instructor for specific details. (Note, not all professors offer research participation credit in their courses.)
Instructions for using the Sona Systems Research Sign-up System
Students can sign-up for studies by logging on to the Shippensburg University Research Sign-up System (SonaSystems). You can access the system 24/7 from any internet connected computer or web-enabled smart phone. Most of the studies will be conducted in Franklin Science Center.
Using your web browser or web-enabled smart phone, go to:
http://shippensburg.sona-systems.com
Logging in to Sona Systems
Before setting up an account you should have your Shippensburg userid, your instructor's name, and the name, course, and section number for your class (e.g. PSY 101 - 18). You can find your course and section number on your syllabus or by going to the Ship Info System at http://portal.ship.edu.
If you have previously used the system at Shippensburg, simply log in with your userid and Sona password. Your userid is your Shippensburg email id, however your Sona password may be different than your email password. If you already have an account, but forgot your password, click on the link under the "Lost Your Password?" link in the bottom left hand corner.
To register as a New User, click on the "Request an Account" link under the "New Participant?" heading. After you enter your account information and select your courses that are offering researcher participation credit, you will receive and email with your Sona Systems password.
Sona Systems Main Menu
At the main menu you can view and sign-up for available studies, view past studies and credits that you have participated in, and change your profile/log-in information. It is a good idea to change your password to something that you will easily remember.
My Profile
Under the "My Profile" option you can change your password and psychology course(s) that you selected when you initially registered for an account.
Studies
Under the "Studies" option you can view and select studies to participate in. Studies that are currently accepting participants will have a "Timeslots Available" link under the "Available" column. Read the "Eligibility" information to ensure that you are eligible to participate in the studies. Click on the study name to view detailed study information.
Study Information
The study information screen will provide you with the duration, credit hours, study deadlines, and the researcher's contact information. You will also see any restrictions or eligibility requirements for each study. You can register for the study by clicking on the "View Time Slots" link and then clicking on the "Sign-up" button.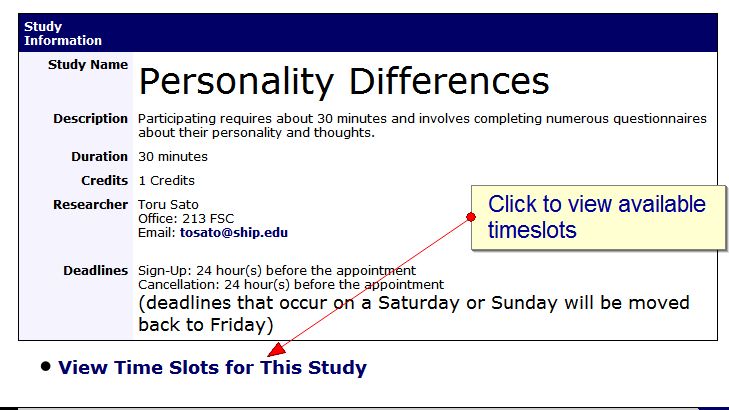 After you click "Sign-up" you will see a confirmation screen containing details about the study. An email will also be sent to you containing the study's information.

My Schedule & Credits
Under the "My Schedule & Credits" link you will be able to see how many research credits you have earned for each course and the studies that you are currently registered for. You are also able to cancel upcoming study appointments that you have scheduled.
If you would like to cancel a study appointment prior to the cancellation deadline, simply click on the "Cancel Study" button next to your study sign-up. Note that some studies will have cancellation deadlines (e.g. You can cancel 24 hours prior to the start of the study). If you have missed the cancellation deadline, you will not see a "Cancel Study" button and you will be expected to show up for your study appointment.
If you belong to multiple courses, you may reassign a credit from one course to another. To do this, simple use the Reassign link that appears when you view your progress. The link appears under the course entry for each item in your progress listing.
Contact the Department of Psychology
Franklin Science Center 114
1871 Old Main Drive, Shippensburg, PA 17257
Phone:
717-477-1657
psych@ship.edu