Jump to Footer
CUB Student Employment
The Ceddia Union Building relies on reliable and professional students to assist in the operations of the building. Students may work on a variety of crews that staff different areas of the building. We have 3 crews: EPIC (Events, Programs, & Information Crew), Tech Crew, and our Project Center Crew. All are necessary in performing essential functions of the building that support our student body.
Events, Programs, & Information Crew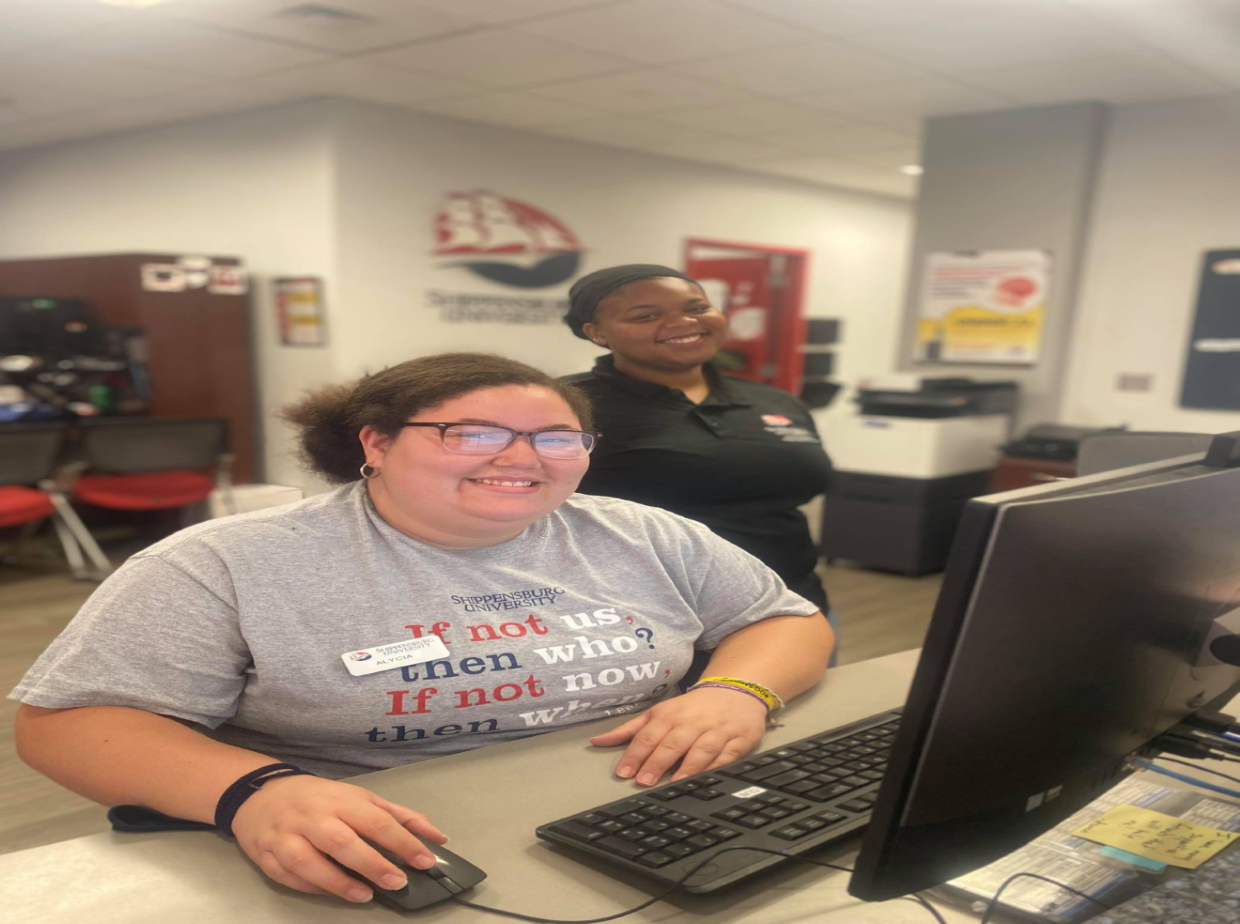 The Events, Programs, & Information Crew(EPIC) provide building support by greeting guests of the CUB and providing directional assistance to everyone at the information desk. EPIC team members also perform various set ups around the building to provide for different meetings and event requests. In addition, EPIC team members also staff the RedZone & Game Zone, providing equipment for the various games and other activities we have to offer!
Project Center Crew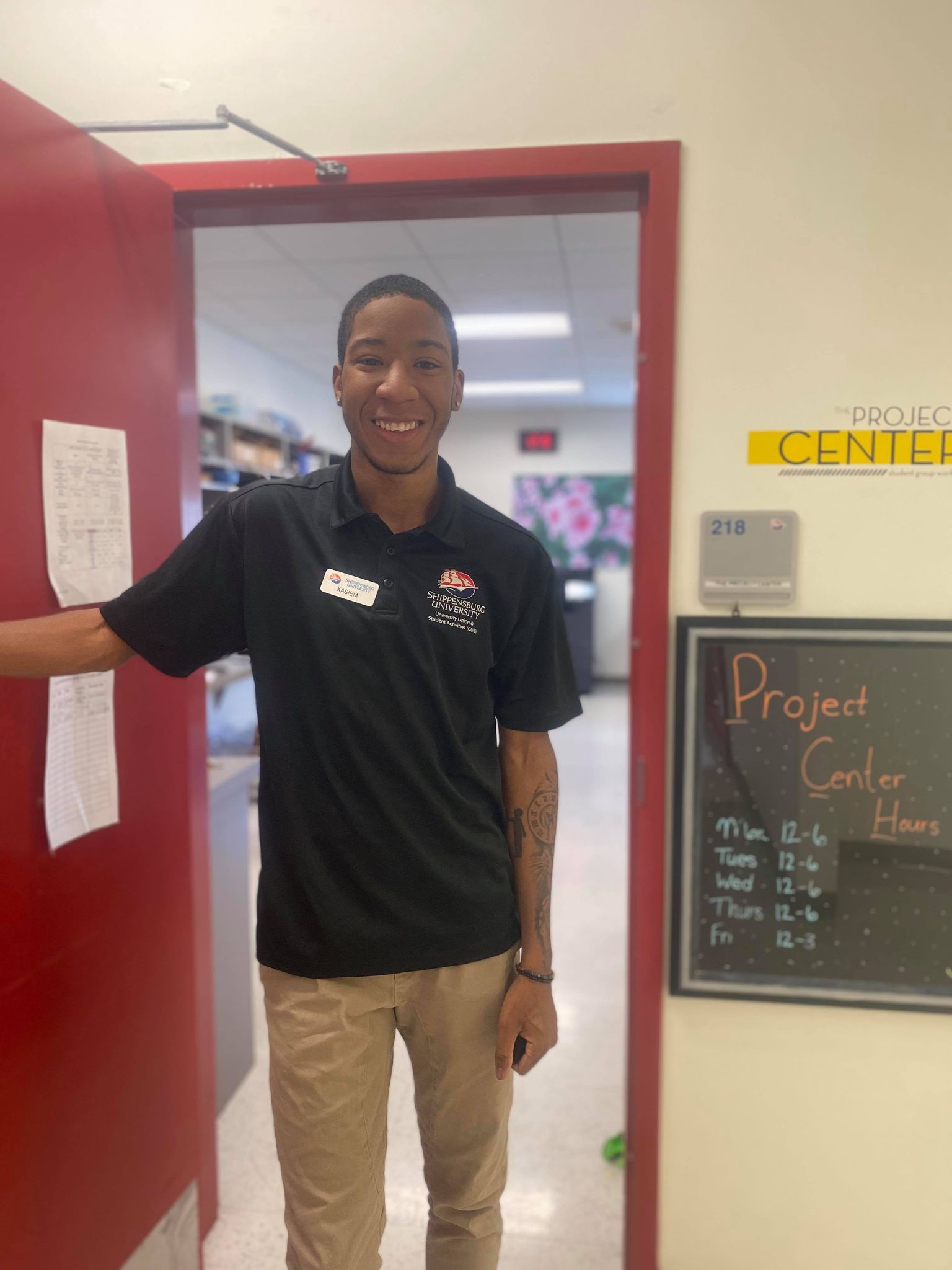 The Project Center Crew provides student group and university department support by servicing creative requests through the Project Center. The Project Center Crew will assist student groups with providing the resources they need to print, copy, fax, laminate, and much much more!
Tech Crew
The Tech Crew provides the CUB, Memorial Auditorium, and a variety of other on-campus locations with a variety of audio/visual technical needs. Whether it be an adapter for a laptop, or fun stage lights for an event, the Tech Crew makes sure Shippensburg University events look and sound amazing. While the Events, Programs, & Information Crew (EPIC) provides more of an upfront show of customer service, Tech Crew is all about collaboration with various groups and attending to the behind-the-scenes essentials in order to keep campus events running smoothly!
How to apply
Information for all CUB Student Employment positions can be found at SHIP Career Connection. To be considered for any CUB positions, you must complete your SHIP Career Connection profile and submit your resume and application directly through the site. Follow the steps below to access your account and apply for CUB positions.
To access SHIP Career Connection
Go to www.ship.edu/career
Under SHIP Career Connection, click "Current Students" (Login using the MyShip Portal)
Click "My Profile" to build your Personal and Academic information and be able to view all features of the system and apply for positions
Upload your Resume
(NOTE: You will be required to upload your resume for all on-campus positions posted in SHIP Career Connection)
Click "My Documents" tab
Click "Add New" button
Label: Type name for your document
Document Type: Select appropriate type of document you will be uploading
Click "Browse" to locate and upload your file
Click "Submit" button
To Find and Review Campus Jobs
Point to "Jobs" tab
Click "SHIP Career Connection Jobs"
Make sure "Jobs" tab is selected
Click "Advanced Search" to select job search criteria
Under "Position Type", select "On Campus Student Employment"
Click "Search"
Review Jobs
Click on Job Title for position(s) of interest
Click on "Job Title – Student Employment Application" pdf
Download and save application to your computer and complete
Upload Completed Application
Click "My Documents" tab
Click "Add New" button
Label: Title of the document you are uploading
Select "Other"
Click "Browse" to select your completed student employment application from your computer
Click "Submit" button
After reviewing the job description and completing/uploading your resume, student employment application, etc.
View the job posting
Click "Apply" button
Click "Add New" button to add resume you want to attach to the position
In the "Other" scroll box, select the appropriate application/document by clicking the down arrow
Click "Submit"
(You should see a green "Applied" button. You will need to do this for every position for which you are interested in applying.)
Note: Submitted Student Employment Applications are only kept on file for 6 months. Please be aware of this and reapply after 6 months if you do not receive a position.
Contact the Office of Campus Life
CUB
1871 Old Main Drive
Shippensburg, PA 17257
Phone:
717-477-1560
Fax:
(717) 477-4035
Mon-Thurs: 8:00AM-11:30PM, Fri: 8:00AM-12:00AM, Sat: 9:00AM-12:00AM, Sun: 10:00AM-11:30PM