Jump to Footer
First Amendment/Peacekeepers
As a public institution and government agency, Shippensburg University belongs to the public who all have the right to come to campus and exercise their freedoms guaranteed by the First Amendment.
The Silent Witness Peacekeepers Alliance advises for those who wish to protect members of our campus who are often the targets of groups who may traffic in name-calling, we should:
Ignore them, and they will go away
Do not engage with the group: You will not change their firmly-held beliefs
Do not yell or scream at the group: Your engagement with the group is their metric for success
Do not make physical contact with the group: Your touching may invite a civil lawsuit
Do take care of yourself: Educate yourself what groups who seek to condemn are all about
Do debrief and detox with friends and the campus community after the group leaves
Joining the Shippensburg University Peacekeepers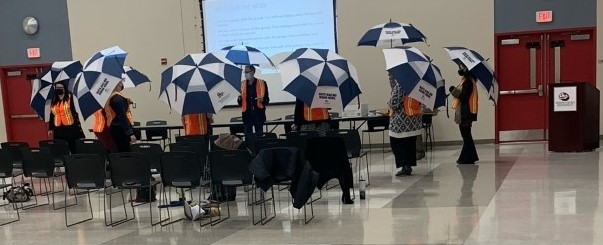 If you are interested in joining the Shippensburg University Peacekeepers to be trained as first-responders when groups come to campus and condemn our Shipmates, please email socialequity@ship.edu and introduce yourself. The SU Peacekeepers are a symbolic symbol of belonging for all students, staff, and faculty.
Our lively and interactive one-hour training shows how to be a human shield protecting all members of our community regardless of religion, race, identity, ethnicity, creed, orientation, ability, gender, expression, sex, veterans, or marital status.
For those who have been trained as Peacekeepers, the following locations have orange vests, "Hate Has No Home Here" Umbrellas, and "Do Not Engage And They Will Go Away" Yard signs to retrieve when groups trafficking in discrimination come to campus:
Admissions Office, Old Main 105
Ceddia Union Building (CUB), Director's Office
Lehman Library, Ask at Information Desk
Learning Center, Mowrey 112
The SU Peacekeepers will activate when groups visit campus and target members of our campus community, either actively or passively, not when a group merely exercises their constitutional rights in a way that may be deemed objectionable.